So, how about an old looking new house? I know, I am still carrying on about this dilemma from yesterday. I wasn't going to post today, really I wasn't going to bug you all again (I try to spare you all my thoughts unless I really feel inspired by something). But, I got all excited when I saw these photos. Excitement leads to posting. And I know you all love a great Drive By.
So, yesterday, a few of you suggested the idea of new houses that look old — trying to get the best of both worlds. Then one of my blogging friends shared some great photos she had on her blog and I couldn't keep them to myself. We (me and Leah of More Ways to Waste Time) had one of those weird, random parallel universe dual mind posts yesterday. Do you ever have one of those? This was a strange one.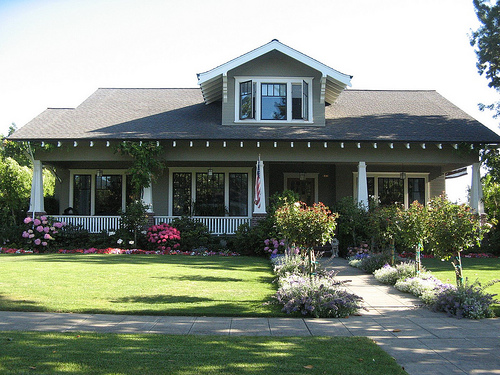 I was blabbing away about my old house new house dilemma and she was posting an interesting piece about a little neighborhood that looks very old but is new! So, we are joining forces on this topic and I am sharing a few of her photos so you all can enjoy them too (with her permission). You can read about this neighborhood and see more photos here on her blog. Tell us what you think!
There are some quality homes in neighborhoods with that "old look" in our area, all at around a million dollars each, but I can't say that they look as good as these. I love the variety of architectural styles. Somehow these seem to do a better job at capturing that new old look than most. Strange to see such lovely homes looking old but in pristinely new condition!
I know the sad thing for me about this solution is that homes of this quality tend to be very expensive. Ok, ridiculously expensive. But don't burst my bubble. I'm dreaming of a tree lined family neighborhood street and a new charming home with leaded glass doors that can open without scraping the floor, wide baseboard moldings, gables and front porches, reasonably sized rooms with sweeping views of open space, pocket doors, restored vintage hardware, solid walls, wood and stone floors, large kitchen with vintage details and modern conveniences, working bathrooms with old fashioned charm, real wood window trim, iron gates, solid staircases and railings, beautiful windows that open and close without a hammer or screwdriver… old house details and exceptional quality, new house energy efficiency and condition.
Oh, but I would have to make up a faux romantic history to go along with the house. New houses are missing the allure of a long history, but I guess I could get over that.
Do I ask too much?
Photos: copyright More Ways To Waste Time, used by permission