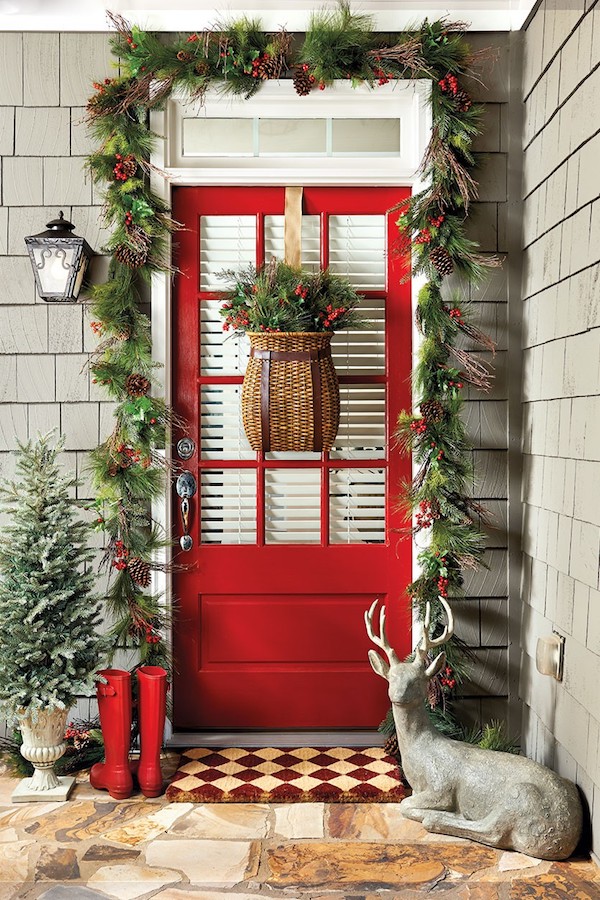 Ballard Designs
Thanks to everyone who stopped by Saturday to see my exciting kitchen update! It's been a great weekend, they even made progress on drywall! I'm starting to feel more optimistic that I'll have more pretties to share with you soon. But even though remodeling is making a mess of my house, I'm really excited for Christmas and so I'm trying to enjoy that, too.
As you certainly know by now since I have been talking about this for a year (so sorry, ha!), we will have a new front door by Christmas and if I'm really lucky, we'll have it before that. I'm trying not to get my hopes up too far since I'm getting used to things not happening on my timeline, but having my front door installed in the next few weeks would be a Christmas wish come true. It will even be installed already painted, so that means it will be all ready for a wreath! YES!
Even if the style of your door isn't picture perfect like the ones in these inspiration photos, a bit of greenery can do wonders to usher in the season. I think you'll be as inspired as I am by these photos!
On Sutton Place

DIY Christmas Garland via Nine and Sixteen
Hanging basket source / paint colors
In the Fields
original source unknown, anyone know it?
Southern Living Idea House via Thistlewood Farms
I'm clearly so excited about my new door, but I'll still decorate the one I have if the new one doesn't arrive in time. It's so fun to create a welcoming front entry. We even put up our icicle lights on the house already, can you believe it? I'm about to get on a roll here.
Tomorrow is the LAST DAY!
Tomorrow is the last day to get your FREE Mrs. Meyer's holiday gift set with free shipping on your first $20 order at Grove Collaborative (use my link to get the deal HERE).
And this is amazing, I just found out that Grove is also giving away THREE FREE MEALS through Feeding America to those in need for every new customer that comes through during this promotion. Isn't that cool? We get a thank you gift for our first order, but even more importantly, we also get to help give back. That's what this season is all about.

So, what should you get for your first Grove order, you ask? You can get everyday things you needed anyway like trash bags or paper towels, or you can even get some Christmas gifts! I'm buying Mrs. Meyer's hand soaps to give out as gifts this year. They're perfect for teachers, gift baskets, neighbors, stocking stuffers and last-minute gifts. If you're wondering which scents to get, my favorite is the Orange Clove, but Peppermint is divine, too. The pine is also awesome, but it's almost sold out already. Order soon so you don't miss out on your favorites and give back to people in need, too!
*Already a Grove customer? Don't forget you can get the Bubble Up dish brush from the holiday set for 50% off with my link here!
*Please note that Grove currently does not ship to Canada, Hawaii, or Alaska.