Do you have a dream that is just forming or maybe even barely starting to take shape in your heart or mind? Maybe you sense a significant purpose for your life is there beneath the surface, but you just don't know how to get it from fuzzy dream state to thriving rewarding reality. Maybe you feel too much doubt in yourself or have a paralyzing fear about your abilities. Or maybe you believe with all your heart you are called to something more, but you feel at a loss for how to figure out what it is or what to do with it. I so relate. That was me. All of it. If it is you too, be sure to stick around for the end of this long post. 
Ya'll, as I've mentioned a few times now, January 2017 marks the official 10th anniversary of The Inspired Room. I get kind of choked up even thinking about it. Ten years? This isn't the anniversary of the blog, but the anniversary of the day I took a leap of faith to start my business by the same name. While the foundation of The Inspired Room was essentially created during my lifelong passion for the home, I obviously couldn't see all that was was ahead during that time.
What started out like a very hazy vision of a dream about eleven years ago finally started to become a little more clear that January day.
Right there at my desk in my own home, I officially began this amazing adventure by giving that undefined dream a name. The name The Inspired Room reflected what my heart felt compelled and called to create.
I felt inspired to encourage women in creating an authentic, healthy, stable and beautiful home. I was passionate about the message of creating a home inspired by who we are and what we love.
Sitting there at my desk that day and giving my dream a name was a small first step towards a future I didn't even know was possible for our family. I seized the moment, even though I could only see a tiny bit of the vision. I seized the opportunity, even though I didn't know where I was going.
I didn't have a longterm business plan. I didn't plan to start a blog. My only hope in that moment was that the name would give me confidence and even motivate me to find a way to help a few people. If I could help a few people, it would have been enough for me. Helping others to see the potential in their home and the impact it could have on their life would become my mission from that day forward.  That mission was something that spoke to my heart and it propelled me to keep moving forward.
Ella Frances Sanders
One day at a time, one step at a time, I invested myself in small daily goals to impact others. I poured my heart into everything I did and seized nearly every opportunity that came my way. Months before there was ever a blog, I met with women one by one in their home, helping them to transform their rooms. In the process of helping others with their home, I grew more confident and overcame some of my own insecurities, too.
About seven months after the day my business had a name, I started a blog with the same name. At the time I saw a blog as just another way to find people I could help. Blogs weren't a big deal or even seen as a real business opportunity back then, so we had no clue what we were getting ourselves into! My goal was always to help others to see the potential in what they already had around them. Each step of the way, whether it has been through the blog or through other avenues that came along like book writing, my goal has always remained pretty much the same.
What do I have to give that might impact or even change even one person's life in some small way? Those answers became my why and my purpose.
As the 10th anniversary of taking that first leap of faith draws closer and New Year's Resolutions are right around the corner, I've found myself reflecting on what the past ten years have meant to me and to our family. I thanked you all for being a part of my journey a few days ago and I really mean it.
I'm so glad that I didn't dismiss that hazy vision that was so hard to see or understand at first. I'm so grateful that God nudged me strongly to push past the procrastinating, doubt and fears about myself because they nearly kept me from ever taking that first step at all.
It didn't seem like much, but I'm so thankful for the passion I had for my home. I'm especially grateful that I was inspired to get out of my own four walls and persevered in offering what I had to other people every chance I got.
Honestly, you guys, here's a thing I've learned.
IT IS THE GIVING of ourselves (yes, even with our limitations and doubts) that changes everything. Not only is it immensely rewarding to help someone else, but in so many unexpected ways for us, it was the giving that ultimately TRANSFORMED OUR FAMILY'S LIFE in every possible way, too.
Kate Alizadeh
If you are right now where I was back then, looking at a hazy undefined dream wondering if you have something or even anything worth giving away, believe me when I say that you DO. When you stop making excuses, stop procrastinating and especially stop doubting that what you have right now is enough and worthy and just start giving by pouring out what is already in your heart, IT WILL CHANGE EVERYTHING. I hope you'll remember that and take it to heart, no matter what bright or hazy dream might be welling up in you.
YOU have something special to offer and the world needs you to give away what you have!

Do you believe that? I hope you do.
Here's a special invitation for some of you to seize a moment that will change YOUR life.
As I've been thinking back on my first ten years in my business and dreaming about where I'll invest myself for the next ten, I sense a new mission and purpose bubbling up in me. I'm honestly both humbled and a bit scared (!) to put myself out there again but in a new way, but I know beyond a shadow of a doubt it is time again to take what has been given to me over the past ten years and give it away.
No, I'm not giving away the blog. Not even a little bit. The Inspired Room isn't going to change; I love what I get to do everyday and will still be here sharing about the home for the next ten years, just like always. :) But with ten years of successful business building behind me and many years ahead of me, I know the time has come for me to invest myself in personally cheering some of you on to build a successful business. I'm now passionate about helping others with their own business goals, too.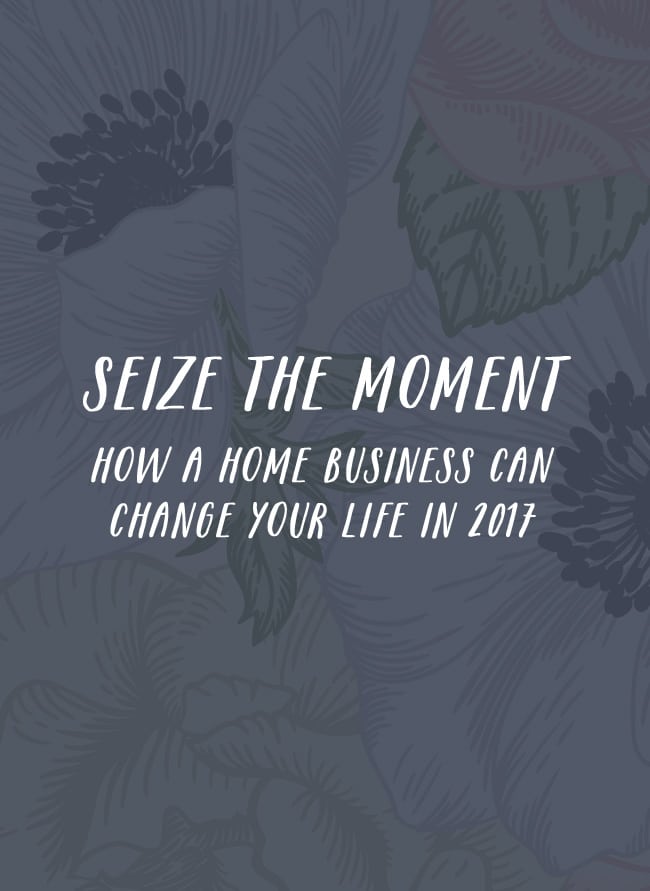 I've hesitated on how or if I could or should do that for the past year now, but just like that day when I named The Inspired Room, I know it is time to seize the moment. I need to stop making excuses for why I shouldn't do it and just do it. While I know this may not be the right time for you or even the right opportunity for many of you, I know there are likely some of you out there right now who have been hoping or praying for the right opportunity to take a step towards your own dreams and goals.
Maybe what I have to offer is just what you need.
Starting January 2017, I'm starting a new private Facebook group called The Inspired Tribe to help others to reach their dreams. While I wish I could open the group to more people, for this next year, we are starting with a small focused group. The Inspired Tribe will be open to new or existing members of my Young Living team who want to build a business with that platform (assuming there is enough interest in a group like this at this time).
If you are curious about my personal story and why I've been with Young Living (a health and wellness company best known for its top quality therapeutic oils) for the past few years, you can read more here.
As I've observed Young Living, I've learned that it offers one of the most generous, affordable, and successful home business models I've found. I've learned so much as a member of Young Living. Besides loving the products my family uses on a regular basis, I love that Young Living offers a simple, tangible and inspiring foundation for anyone interested in building or growing a new or even an existing home business. Even for myself, while I run The Inspired Room full time, I still find great value in incorporating Young Living into my business.
I know this new business group with my Young Living team won't be the best fit for everyone, but if it might feel right for you, this exclusive mentorship/support format will be designed to support those of us who are serious and ready to commit to business building and who are interested in helping others achieve their dreams, too. I think it will also be effective for those of us who desire a smaller group setting and accountability structure and are willing to walk alongside others to encourage and support. 
Social Proper
So what is required to join this tribe?
This group is free for Young Living wholesale members who are currently on my team or join my team with the purchase of a Premium Starter Kit. Click here to find out how to sign up as a wholesale member and get your kit with a special limited time offer, too!
You do not have to have a blog, plans to start one, or even a clear business plan yet. Don't worry, we can help.
You can potentially incorporate Young Living into an existing blog or business or build a business from the ground up.
Participants in this group will commit to using Young Living as a simple and effective platform to grow your own successful business and inspire each other to reach our personal, health and business goals.
This is not a course or instructor led group. This is a support group for like-minded business women.
I will lead and be in the group with my two daughters Kylee and Courtney. We'll be there to learn, grow and share right alongside of you.
Members of the group will have access to insights from my own amazing mentors who have a wealth of knowledge and tremendous success in business building with Young Living.
You'll have other free opportunities for fun groups, education and wellness support through every aspect of the business-building process.
You do need to be committed to succeed in your Young Living business and helping others to do the same. This group isn't for lurkers (but there are other groups you can be an observer in!). There are no gimmicks or tricks involved in this group. It's just a great opportunity to grow and learn and connect with others.
Does The Inspired Tribe sound like it might be the right group for you in 2017?
There are no fees to join or costs to be in the group, but you do need to have purchased your Premium Starter Kit through Young Living with my referral number to be a wholesale member. With that step, you'll be placed on my Young Living team and have the tools and foundation you need to begin your business, as well as the opportunity to apply for the tribe. If this all speaks to you or if you have questions, you're invited to email me at thenaturallyinspiredhome@gmail.com for more information.
If you're not ready for business yet, that's perfectly okay too! You can still join me to transform your home and life. There's no obligation to sell products or start a business at all. Sign up for discounts on products for your family with a no-obligation membership here.
See you here tomorrow for a kitchen update!