I've always dreamed about living on Martha's Vineyard, even though technically I've never been there. I stumbled upon this lovely home on Martha's Vineyard at New England Home and found so many ideas that inspired me, I thought it would be fun to share some take away tips. I love take away tips because they help me to think creatively about my own space and how I can incorporate the things I love on a budget I can afford, or in a way that suits our own home.
1. Small Space Style
Being a fan of small spaces, I'm always so pleased to see a tiny room that is both stylish and functional. Isn't this bed just the cutest? Even if you couldn't build in a bed to a small room, tucking a twin sized bed or day bed against the wall creates a cozy nest, perfect for curling up with a good book and watching the ocean waves outside the window. Okay, well…even if we don't have the ocean waves outside, we can dream, right? Another thing I love about this room is the built-in shelf and swing-arm wall sconce. These two elements give the most bang for the buck without taking up any floor space, and the light leaves the shelf free for bedside convenience.
2. A Simple Strong Statement
If your house happens to have little nooks and crannies or unusual rooflines, play up the personality and make a confident design statement! While those angled walls and ceilings can pose some unique challenges for arranging furniture, they sure can make a cozy and charming nook for a little desk or writing table. The paneling on the walls creates a perfect textured backdrop, but even without it, this little corner would have great personality. The simple black and white color scheme paired with classic furniture choices and the black frames make a strong statement with minimal fuss or clutter.
3. Play Up Your Dreams
While I definitely think it's a great idea to pay attention to your surroundings and part of the country as you decorate your home, there is nothing wrong with a little creative dreaming. I am a sea-loving girl, so I'm inspired by anything that hints at life near the water. I tend to not like decor that gets overly themey, but I just can't help loving nautical influences from maps, ships, stripes, and sea blues and greens. Incorporate what inspires you!
4. Symmetry and Repetition
One surefire way to have a clean and orderly feel to your home is to utilize symmetry and repetition. This room is a prime example! Check out the pair of linen chairs, the set of vases on the console table, the artwork flanking the mirror, and the neat stacks of books repeated across the bottom of the table.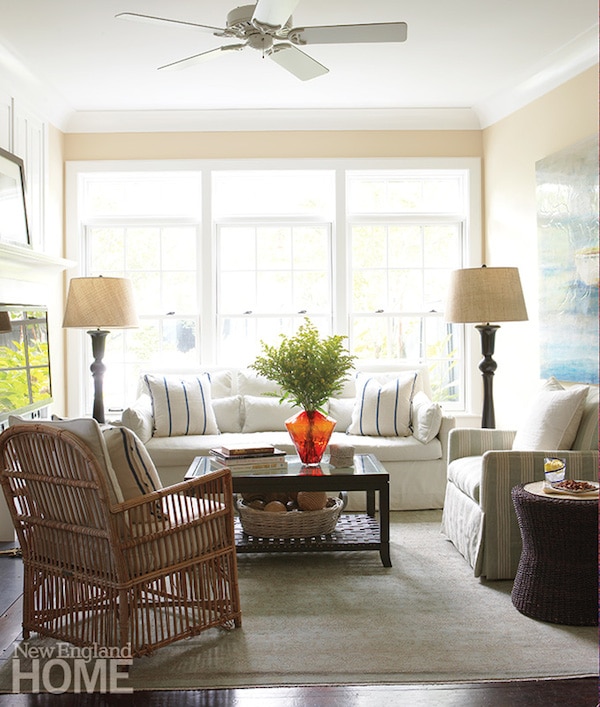 5. Focus on Essentials
For a cozy room that isn't cluttered or overwhelming, pair down to the essentials. Focus more on your key pieces of furniture like seating, a coffee table, end table and lighting and less on cluttering up the space with accessories or unnecessary extras. Bring more style to your essentials for an effortlessly comfortable and beautiful room.
Photos from New England Home Magazine (Architecture and Design by Dudley Cannada, Photography by Michael Partenio)
Thanks so much for your kindness over my book launch yesterday, I'm blown away by your support. Thank you to everyone who already posted/instagrammed about the book or shared it online, I'm reading and enjoying each one! Amazon and Barnes & Noble reviews are open now, too, so if you liked it I would LOVE to see your reviews! If you didn't like it, nevermind. Hahah.
Related Posts:
17 Take Away Tips from the HGTV 2015 Dream Home
A Memorable Kitchen: 4 Take Away Tips
Farmhouse Country Kitchen: 5 Take Away Tips
PS. I've been SO pleased by the excitement for our new community site, Home Love Stories! Over 560 friendly neighbors are signed up already, that's amazing! Every Friday, we will announce a new Block Party theme for the community. If you want to participate, upload your photos and stories in Home Love Stories on the related theme anytime using the appropriate hashtag in your post. Then use the magnifying glass on the site to search the hashtag to meet others joining in the party! Find details on the events here.
Snap a few pics this week (even with your phone) to show us your Favorite Corner #favoritecorner.
Or, simply share any home story that inspires you at any time, it doesn't have to be on the theme! It's so fun to meet you all there, so come join us!