Drill through glass for a DIY light!
How cool is this project? via  the amazing Vintage Revivals

Pallet Bookshelves
This is a rustic and clever bookshelf! There is always a new use for pallets, isn't there?
Check out the Pallet Bookshelf DIY tutorial at SAS Interiors
Whitewash Pallet Wall
I'm loving all the pallet ideas lately! So inspiring and so many ways to use them! And this one is super fresh and pretty!! I love it.
Here are some links to the DIY white wash pallet wall reveal and the technique involved! Check 'em out via Owen's Olivia: Whitewash Technique & Pallet Wall Reveal
Wood Ceiling
Wow, I wish I had a resident carpenter to whip out awesome projects like this at my house! Looks cool! Check out the DIY ceiling makeover over at Maple Leaves & Sycamore Trees!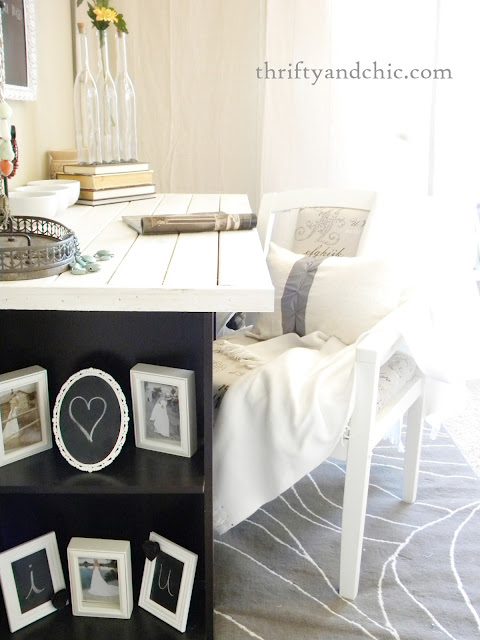 Update an Old Desk
I really love this!! I have an all black desk in my office and now my wheels are spinning!! I also love that this project created more workspace for her desk!
Catch the whole DIY project over at Thrifty and Chic!
Power Sander
My friend Traci from Beneath My Heart reviewed a power sanding tool that I absolutely want to try…check out this flexible sander! It comes with all sorts of attachments to suit your DIY projects requiring power sanding! I think I'm going to love it.
See what Traci has to say about her power sander over at Beneath My Heart!