Country Living
Awhile back I mentioned that mason jars were my top party decorating idea ever. Well, I must admit that a glass container of any sort has to be my favorite every day decorating and organizing accessory of all time. Is there no end to what you can do with a glass jar? Big jars, little jars, lidded jars, fat jars, tall jars, they are all good!
And the best thing about jars? You can collect tons of them for free when you buy food! Another frugally fantastic solution. And in all likelihood, you have glass containers and jars in your cupboard right now not being used to their full potential!
I love frugal ideas that can serve many purposes,
all through the house.

Sewing kit, Martha… other three from my personal collection
Use them in every room of the house….
craft areas, laundry rooms, bathrooms, bedrooms and kitchens…
Dress them up for decorating! Wrap a simple jar with
brown string, ribbons or decorative rub on stickers!
Double them up! Put two glass containers together and
fill the center with colored water, sand, or shells!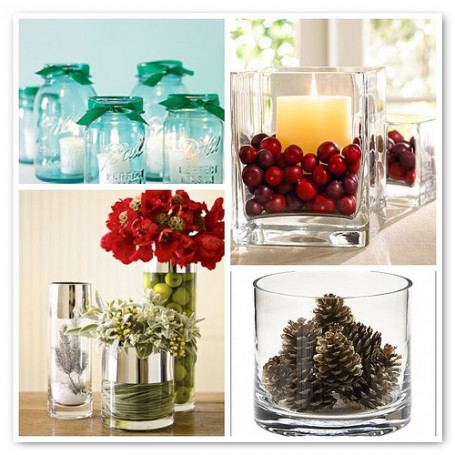 Jar with ribbon, Martha…all others Pottery Barn
Once you start digging in your cupboards for containers, you'll probably find all sorts of options.
Glass ice buckets, vases, canning jars, spaghetti jars, jelly jars, baby food jars….think outside the obvious about what you could use them for!
Do you have cupboards full of jars and vases you could pull out to use for decorative storage in the pantry or around the house?
Can you think of ways you could use the glass containers you already have to create fun centerpieces?
What are your ideas for jars?
Apartment Therapy Re-Nest has a list of 10 things
you can do with spaghetti jars….click here!