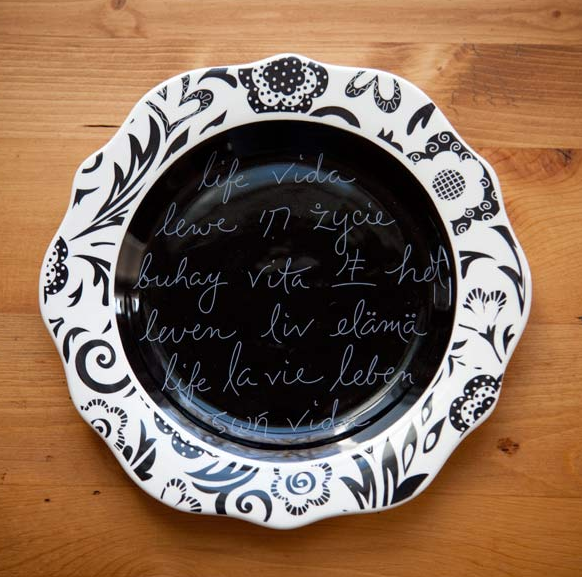 Between the stinky economy and swine flu pandemic, I'd say things are looking a little dismal out there! Good grief! So what can we do to keep ourselves inspired to find the beauty in life? You know me, I like to celebrate the little things! When things get a little gloomy, I try to focus on the positives and create a list of things to be happy about in life.
When I first start to make a list of happy things, I'll admit I sometimes have a hard time finding 20 things. I get a far off, spaced out look on my face. But the more I think, the happier I get because I realize I DO have 20 things to be happy about! At least 20 things! And that in itself is reason to celebrate. I turn my mood right around by thinking of just 20 little things that make life beautiful for me.
But, even if I could find only ONE thing, thinking about it would be a good way to focus on something positive amidst the craziness this world is dishing out right now. Oooh, how clever am I? DISHING OUT… mwahaa haa haa. OK. I'd blame it on the paint fumes. If I had started painting yet. Oh, stop. I'll get to it. I have TWO WEEKS!
Here is my random list of little happy things


(and notice the last thing on my list, A GIVEAWAY!)
These are in no particular order:
Sunny days
Chocolate with nuts
The smell of coffee
My son's laughter
Faith in a God bigger than my problems
Spring flowers
Scones
Makeover projects for CHEAP ;-)
Cute shoes from the thrift store
Paint (stretching it here)
Blogs to inspire me
Friends to encourage me
Friends I can encourage
Family I can adore
A cozy bed at night to curl up with my hubby
A roof over my head
Happy memories
Dreams for the future
Creativity
New dishes!! For one lucky winner, A $100 Retail Value Gift Certificate to DaySpring for anything from their new Life Collection!
** GIVEAWAY NOW CLOSED **
Just a couple of days ago DaySpring sent me some very happy dishes from their new LIFE TO THE FULL COLLECTION! Lucky me! I am a white dishes girl but I was thrilled to find these beauties to mix in for some outdoor fun this summer. These really are lovely dishes and very well crafted — if you want some for yourself, you will NOT be disappointed! You could hang these on a wall or eat off of them, either way, they are gorgeous! There is no better time to celebrate LIFE TO THE FULL than right now.

This collection would make a great Mother's day gift, so for everyone here is a 20% off code for your next purchase!
How do you enter this Happy Life giveaway?
You can enter any of these three ways, or ALL THREE if you want three chances!
1) Share your beautiful life post via Mr. Linky for one entry
2) Share some little things via the comments that MAKE YOU HAPPY in spite of all this crazy Swine flu and economy woes.
3) And if you are a subscriber (or become one) of The Inspired Room, I'm given you an extra chance to win! You'll find a secret code in your post. All you have to do is send an email to [email protected] with the word CODE in the subject line. Then tell me what the code is and you get another entry. You can subscribe via email right here! Or via RSS right here! The code will be in the posts next week as well so watch for it if you are just subscribing today!
So, three chances (I'll count every entry, so you may as well try for them all!) to win a $100 retail value (yes, a $100 retail value shopping spree!!!) of any Life To The Full Collection products from DaySpring!
Want to see more of the Life to the Full Collection? Click here!
PS. If your procrastination project goes wrong over the weekend, just take a deep breath and click The Magic Brush for a good laugh. Laugh WITH her. Not AT her. Really. I can so relate.



oops…Mr. Linky didn't work earlier, so if you still want to add a post here, feel free! Just make sure your link goes directly to a specific Beautiful Life post…and put a link back to The Inspired Room!
This giveaway is now closed.