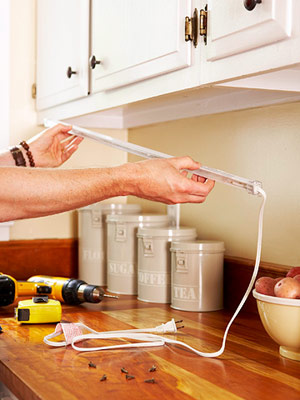 One of the most significant and relatively inexpensive things you can do to enhance the feel of your kitchen is to use under cabinet lighting. The options for under cabinet lighting range from lighting strips you plug in to an outlet, to various lights you wire in, or even just setting a lamp on a counter. But however you light your counter tops, the difference will be striking!
We waited about a year after we remodeled our kitchen before we installed our under cabinet lighting. I couldn't believe what a difference it made! I wish I had a picture of the lights themselves, but you can see in this old holiday photo how the lights reflect on the subway tile making it glow. Without those lights it was shadowy and not nearly as warm looking.
The counters have a bit of sun shining down on them in this photo, but you can really see the effect of the under cabinet lights on the subway tile.
You can find under cabinet lighting options at any lighting shop.
In addition to under cabinet lighting, I also love the warm glow of a lamp on a counter. Turning on a lamp and under cabinet lighting at night in the kitchen gives the room a homey and cozy ambience that overhead lighting just can't!
Do you have under counter lighting and lamps in your kitchen?