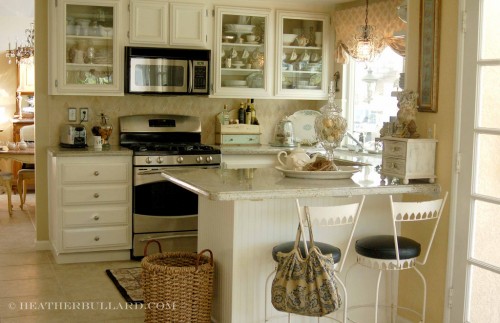 I have shown you this vision of loveliness before. It is my friend Heather Bullard's remodeled kitchen. I show it to you again today because it is almost exactly like mine. Except, mine is not white. Or pretty. Not yet anyways.
It is the layout that is similar, and sadly, that is where the similarities end.
Mine is still standard builder style, hers is full of Heather's personality! But, I have hope for mine. Mine has the stove and microwave in the exact same place, and I am putting glass doors and dishes in the exact same places Heather did.
Yes, even though it is near the stove. Tsk tsk. I live on the edge, don't I?
I like to live dangerously amidst the grime of cooking. I'll admit it. I will risk a little grime now and then if it means I can soak in the beauty of my dishes every day. That makes my heart happy.
And isn't that what living a beautiful life is all about? Living among beautiful things EVEN at risk of what MIGHT happen as you go about the daily process of life?
What are you waiting for? Live dangerously. I dare you.
g
It is another Beautiful Life Friday!
If you have followed my blog for awhile, time and time again over the past two years you have seen me turn the page to a new chapter in life. Some of it exciting, some of it wearisome.
We lost a job, we went through a long season of no income. Finally, my husband found a new job. We moved to a new state. Our house sale fell through. We started a new church from scratch in this new place where we knew hardly anyone. Last week, we sold our other house. And now, I think this book is FINALLY over and we turned the last page!
This week we closed on the house we are living in! Happy dance!
It now belongs to us. (Well, us and the bank went in on it together, LOL).
This long saga is over. Or is it?
Now, I think the real adventure will begin.

I'm glad you are sharing this journey with me! You all are the best therapy ever.
Where did YOU find beauty this week?
It is beautiful life Friday, where we pause to reflect on the beauty we found!
The beautiful life is usually right in front of us, if we only take the time to notice them.
Photo: Heather Bullard