I love traditional Christmas decorating, but after 23 years or so of decorating my own house for Christmas, I am really inspired to to find some new fresh ideas to mix things up a bit this year. I want to do something a bit different and a bit unexpected.
To be honest, the thought of dragging out 25 boxes of dusty old stuff makes me a little tired, is that a sign of old age? Don't answer that. Seriously.
I do love traditions and the memories involved with some of our things, but I am finding it fun to stretch myself and modernize my look a bit.
So, here are three ways to mix things up this Christmas and come up with something more unique!
1. Put a tree or other holiday decor in a new room.
This is an easy one, why not try some of your traditional items in a new room? Putting a tree in the bedroom seems very romantic to me (top photo). I've often thought about it but I don't think I have ever actually had a tree in my master bedroom. Even some branches with lights would be very pretty in the bedroom, wouldn't it? Hmmm…I think I really need to do this.
Two years ago I hung a wreath from my bed to try something a little different. The wreath is traditional but you'd expect to see it on a door or window. It was really pretty until it started getting crunchy and dropped leaves every time we rolled over at night.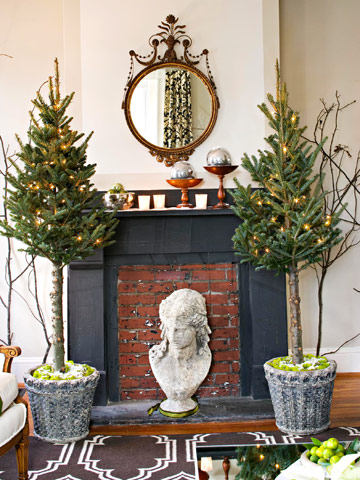 2. Try a non-traditional shape for your trees.
Some rooms just do not have enough space for a chubby Christmas tree. These almost bonzai style trimmed trees (above) would make an interesting statement even in a small space, wouldn't they? Confession: We've almost trimmed our tree branches like this on accident while trying to get the tree to fit in our tree stand, but never on purpose. This shape of tree would look very cool in a dining room or entry too.
Even sticks and twigs can give a real wintry and festive look in a room. I love how these sticks are in a container of white rocks, it looks like snow!
3. Look for ways to reinterpret the expected.
Think outside the box. What are some ways you could make a new statement this year? Maybe instead of (or in addition to) a tree you could try something like this table arrangement with the brightly wrapped gifts below it.  The table and greenery stand in for the traditional tree quite well.
images: Remodeling Center/BHG except for my own wreath photo
Want more Christmas decorating ideas? Here is a link to my Christmas and Seasonal Decor Category!