Welcome to my home! I'm happy to say this year, I'll be HOME for Christmas! Yay! If you remember my long saga from the past couple of years, you'll know how special it is to be able to say that!
For those of you who are new here, this is my new house after a two year long ordeal with my husband being without work and then us moving to a new state and our old house not selling for a whole year. Finally, we bought this house about 8 weeks ago! Happy dance.
We have lots to do to make it our own (like painting and curtains, for starters!), but it feels great just to know we can actually get settled!
Even though I am relieved to be HOME, I didn't go hog wild with my decorations this year. This year it was all about simplicity and sanity. And no perfection allowed, as you will see. Real life. At my house, we are decorating for ourselves, not to show the world how perfect our home is (because it isn't) or how magazine cover worthy every corner is (because CLEARLY it isn't).
I'm not going to pretend to have it all together and expect you all to do the same. In fact, I hope you'll have lots of imperfection in your holiday decorating too. That way we can all feel more hospitable and friendly and not overly impressed or overly stressed about our homes. That is just not at all what Christmas is supposed to be about. There are much more important things to be concerned about.
So, head up on the porch and you'll find a little greenery and colored lights.
To the right of the front door I have my epsom salt candles, which I forgot to light. oops!
Welcome! Come in and get out of the cold! It has been about 4 degrees here at night and about 20 during the day lately. And we live in Washington, which is not exactly the mid-west. Brrrr…..
Come on in! Here is my ever changing apothecary jar display on the old familiar cabinet in the entry! If you have been to my blog before, I have shown this cabinet 10 million times now. And now you get to see this jar with the Christmas balls.
I skipped all the greenery on the stairs this year to simplify, but I did add a ball wreath on each post.
This is a peek at the living room, which is to the left when you enter. I got those mercury glass candlesticks at Costco! We'll swing back to the living room at the very end of this tour.
This is a little table in the entry, the wise men are offering gifts.
Now, let's head back to where we hang out most of the time before we head into the dining room…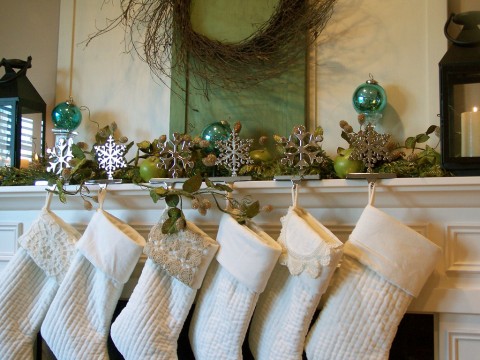 I showed these shots a week or so ago, this is our family room fireplace and my refurbished cabinet doors turned shutters.
Pulling back a little, this is where we spend most of our time, all huddled up by the fire.
While I'd like to say that we are huddled up by the fire every day reading holiday classics or listening to Christmas music, here (and above) is the unstyled and realistic look at our daily life. But, this is a party so let's pretend Sponge Bob on a big screen didn't ruin it. Ok? Moving on.
Red candlesticks and some candy canes (which have almost all been eaten, eh hem) bring in a little red to the recently painted green hutch in the kitchen!
I just tucked in bits and pieces of leftover greenery here and there to make what I have already a little more festive.
And here, you can see how we view our tree from the kitchen and all the way from our family room! The perfect tree location, for our not so perfect but lovable tree! We cut down our tree in the dark one cold night, so once we saw it in the light we realized it came to us with its own charming imperfections. But it is a beautiful shade of blue green and smells heavenly!
At our old house our tree was in the living room but the only way to see it was to hike across the house and down a flight of stairs. I am loving this smaller house!
We are having a little get together at our house this week so I decided to put out the chargers to set serving plates on, rather than using a tablecloth. And that bird tree thingy in the middle of the table was a late night attempt at an easy centerpiece, using what I had on hand. I just hope no one thinks it is edible. I'll be very embarrassed if someone tries to eat the moss.
This is my everyday dining room buffet display, with the addition of the snowflake garland and a jeweled glass ball on the candlestick.
We were excited to realize that if we put our tree in the dining room we could see it from just about everywhere on the main floor, and it was out of the way enough to make room for entertaining!
See the light wires hanging down on our tree? It is my husband's job to do the lights and he was too busy this time. So, they are just strewn on there every which way. We might straighten them. Or, we might not. Right now, I'm thinking not.
I love my ornaments. I didn't put everything I own on the tree this year — not all the lights, not the ribbons, but it is still pretty to me in its simplicity. It is hard to capture simplicity in a photo, but even without all the extra "stuff" a real tree is beautiful!
I gave the kids some of the memorable ornaments from way back when…and they are now happily residing on their own trees in their rooms!
After all my intentions of using a more unique container this year for my tree, I realized THIS tree drops SAP on the floor! So, a tree skirt, er quilt, DOES have its advantages!
Here you can see the tree from the living room. Notice how the photos in this post go from day to night outside, and then back to daylight and back to night. Fancy.
I made some felt garland this year, every year for the past few years I've made an easy garland for fun and this was it this year. I saw something similar in my Christmas book from Country Living. Very simple (here is a tutorial!)!
The green glass jars are always on the living room window sill, but I just added a glass ball wreath to make it a little more holidayish! Just a quick peek upstairs and we'll be done for now! …
This is our little bedroom tree. I've always wanted one and this was the year! I kept it simple and just added a sparkly monogram ornament for each person (and Winston, of course) in our family.
Thanks for stopping by!
For more Christmas posts click here!