Coastal Living
Red white and blue stripes, oh so patriotic and coastal.
Coastal Living
Striped rugs on porches are the perfect coastal touch.
Coastal Living
Striped trim on those curtains are just the right touch of pizazz.
Coastal Living
A simple striped rug and striped pillow happily coexisting in one room.
I loved striped walls. These are a little intense,
but in small doses, maybe black & white stripes would be fun.
My Home Ideas
I have that exact chair (above) and it would be soooo cute in stripes.
I have this chair in my family room — slipcovered  with two different stripes.
BH&G
Stripes make this window seat so adorable.
My Home Ideas. Love that striped sink skirt!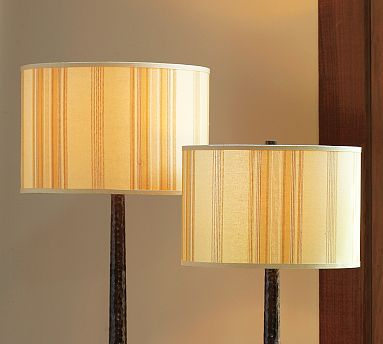 I was seriously tempted to buy these lampshades from Pottery Barn
when they went on sale, but it looks like they are sold out now. Humpf.
But I do have this lampshade, which is no longer on that cabinet
but now happily lives in my son's room.
I have a new striped rug but I don't have a picture of it yet.
I have a striped shower curtain. Don't have a picture of that yet either.
Stripes would have to be my absolute favorite pattern of all time. It is the one constant I have always had in my home, no matter what my decorating style or current fads were at the moment. I just love stripes. Striped carpets, fabrics, on the walls … wherever.
You can add stripes to any room. I see a lot of striped throw rugs at discount stores, they are a fun and inexpensive way to add some stripes. Or make a little striped skirt for a cabinet. Cover a seat cushion with stripes. Maybe find a striped valance for your window. Or buy some striped kitchen towels! So many easy ways to add stripes to your decor.
I love stripes. Yes I do.
I love stripes.
Do you?
(I'm feeling a little bit like Dr. Seuss}.