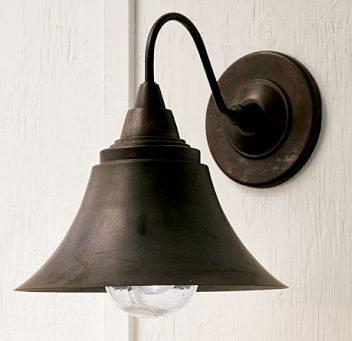 **Please welcome Tim the Remodeling Guy to The Inspired Room!**
You've seen him around here before, and over at his blog. The big news is that I've invited Remodeling Guy  to "join the team" at The Inspired Room! (Wait, can you have a team with only two people?).
Inviting him to "join the team" is a fancy-pants way of saying he has some fabulous ideas that I think you'll all love…so, I am going to have him share his remodeling genius around here now and then.
I'm not going anywhere (um, except for Blissdom), but having Tim's point of view here will fill in for those moments when I'm staring at a blank screen with nothing to say. That doesn't happen very often (my husband is nodding in agreement right now), but you know what I mean!
So, WELCOME TIM!
…
Are you looking for an idea that will give your room character and style, while hopefully being simple and not too expensive?
Here's a thought: turn things inside out!
Use Exterior Wall Finishes Inside
Think about the cool restaurant you like to hang out in. How often do you see an interior mock-up of an exterior look? Sometimes they go to extremes and build roofs and put in street lamps, but you don't have to go that far.
Doing something really simple, like using lap siding (see photo above) on an interior wall can completely transform your room in a single day. You can start nailing up siding on a wall in the morning and have the job totally complete by nightfall. It's that simple.
Trim Windows and Doors With Exterior Materials
I love the look of windows above, but that is probably the result of a room addition… that wall probably actually was outside at some point. Even if you don't actually have a window, you could created the look of one with shutters (closed) and some exterior style trim.
Let's play a little mind trick. Do you see that window above? What if what you see in the glass was actually behind you? Can't you imagine that window with mirrors in it rather than clear glass? Or maybe stained glass.
The real selling point comes by faithfully recreating the exterior details. Use hinges even if your false window doesn't open. use 1×6 lumber for baseboard and install cornerboards in the corners. Maybe even bang-up the wood a little to make it look more authentic.
Consider The Background
Some interior siding treatments have a more rustic look that allows for gaps between the boards. If you choose something like that, make sure you remember to paint the wall a dark color first. I did something similar in my sons room once. Even with tiny gaps, I was able to see the race car wallpaper border through the cracks! Take a look at this:
Isn't that beautiful? I'd love to sleep in this space, though I might need to move the bed to the center. My 6'2″ frame might not work so well around the edge!
Remember: to create a great looking accent wall (or even a whole room) that has character, ease, and isn't so expensive: turn things inside out.
All images (except top one from Pottery Barn):  www.CoastalLiving.com