Easter Ideas
Since it is just a little over a week until Easter, I'm on the last minute "hunt" for ideas! I nearly fainted dead away when I saw the cuteness of these Easter ideas from Leigh Ann at  Your Home Based Mom! These Peep Bouquets and Chocolate Covered Peeps are just perfect! I knew they deserved to be featured. Peeps are the best.
These could be an Easter centerpiece, a fun craft for kids, a treat for a neighbor, a fun Easter idea for the family…all rolled into one! I can.not.wait. to make them!
For all the details on how to make these adorable Peep Easter projects, visit Your Home Based Mom. Tell her I said I LOVE THESE PEEPS!
Her post is adorable too, I love the pictures of the peeps swimming in the chocolate, you must go see it. Maybe I have a weird sense of humor but seeing peeps swimming in chocolate just makes me smile. I would smile if I was swimming in chocolate too, come to think of it.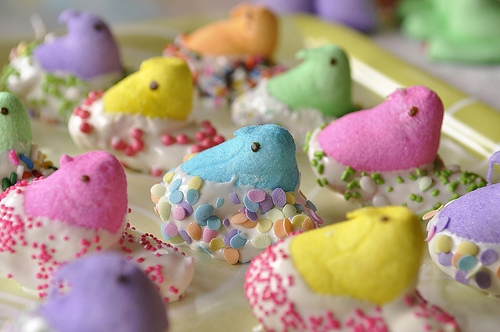 Just look at them! Ha! I just want to EAT THEM UP!!!
Aw. So cute! Don't you love peeps?
She also has a tutorial for how to make your own Easter Grass Table Decor, perfect for Easter Centerpieces! The Talent!!

Check out Leigh Anne's ideas over at Your Home Based Mom!