how to paint stripes
Well, hello! I thought it was high time I finally do a little post on my striped wall. I know you all have seen it numerous times over the past few weeks, but due the holidays and all I didn't actually show it off in a proper blogger form with photos, tips and before & afters. So I'm catching up to myself today! Yahoo!
If you have never painted stripes before but are thinking about it, I have a little secret tip you might want to try that works really well for getting crisp paint lines.
It is really pretty simple. Of course, you need to start out with carefully measured, eye-balled and level stripes. Nothing will make you more crazy dizzy than looking at stripes gone wonky on a wall.
But in addition to measuring and leveling, you need to do two additional things.
One, get yourself some Frog Tape, that is the brand. I know, it is a silly name but it works great for taping off your stripes. The secret to using Frog Tape successfully is to press it down really well.
Then, two, you need to SEAL (swine, frogs, seals….all KEY decorating terms around here) your tape with paint before you switch colors.
Painting Stripes: A Quick How To
To start out your stripe project, first paint your wall whatever color you want to use as your base. Let's say you paint your whole wall a flat gray. In my case, I used Studio Taupe from Behr All in One (a brown gray) so it would go with the rest of my walls.
Then, do all your careful measuring, leveling, eye-balling in case your walls aren't straight, and carefully Frog Taping for your stripes.
But before you actually paint your stripes, let's say you are going to use a semi-gloss white as I did, paint your gray paint right over the edges of your tape in the area where you are going to paint white stripes. Once it dries it will seal up the tape so your white paint won't bleed under into the gray and make the stripes all wonky. Then you can paint your white stripes and remove the tape before it dries.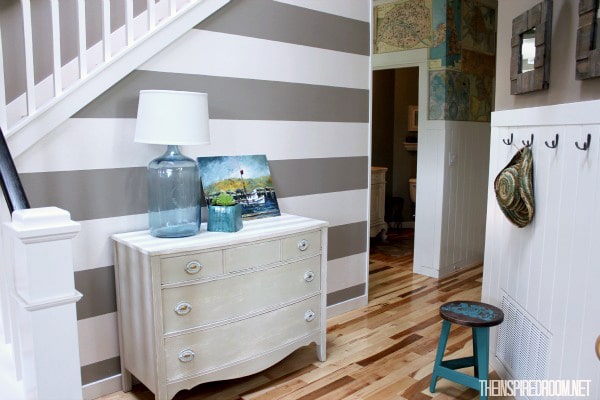 There are tons of detailed posts online for how to paint stripes so it is good to research any project before you begin! Here is a post by my buddy Kate with more tips and suggestions for how to paint stripes.
So there you go. Go forth and paint crisp stripes in confidence.