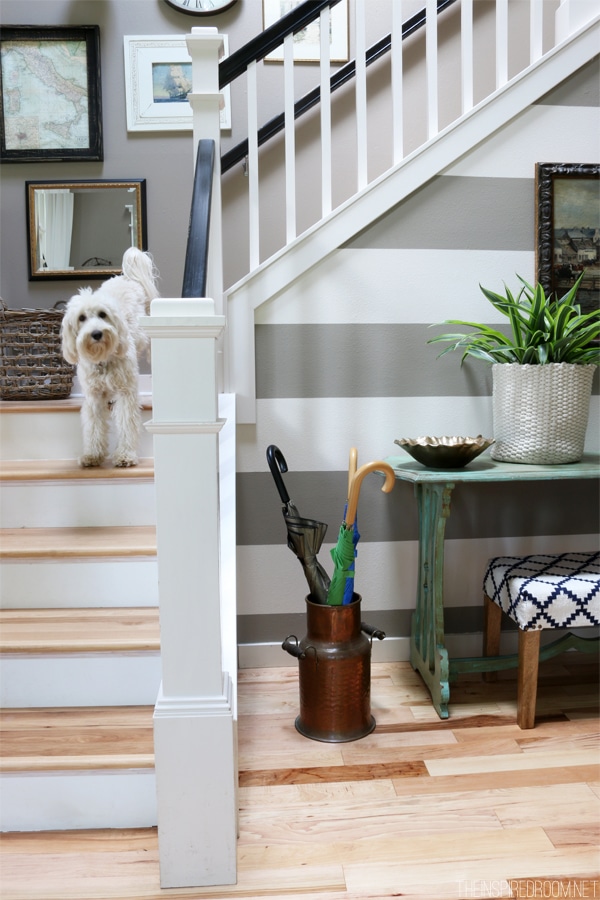 Gray and white striped stair way and wall {stripe tutorial}
COLOR INSPIRATION
For most of my homes over the many years I've been a homeowner, I have chosen mostly neutral wall colors. In fact, most of my rooms have been painted a simple white or off white. I felt like the architecture of an old house spoke for itself and color wasn't really necessary to highlight what was already attractive.
While my new house is a craftsman style and I'm so grateful it has some character, it still doesn't have the same "chunky feel" or texture as an old house. It has boring ordinary drywall. But even so, I try to stay true to myself and my general sense of what feels like home to me and my husband. So, I want to keep our basic surroundings cozy, neutral and dignified (with a touch of quirky and fun here and there to keep everything from being too serious).
Instead of choosing white for the main rooms this time, I am going with a muted gray with brownish undertones for the walls. That color or a variation of a neutral like it will flow through most of my house. I need to create a new paint colors post with updated paint colors I'm using, so bear with me until I get it done.
So as far the neutrals for my house, white walls alone would have been too bright and not cozy enough for the rooms where I have a lot of large windows. Funny that white walls in this house would have actually felt too bright and contemporary for me and yet in my old house, they were perfectly aged and charming. Hmmmm. What a difference a new house makes!
I am still using white on some walls and on board and batten and trims for contrast and brightness against the gray.
And I'm going to have a couple of rooms with colored walls to keep things unexpected! Note: I'll be talking about our bright turquoise bathroom hopefully next week. Really. I've already taken the photos.
Inspiration for color schemes might come from a piece of fabric, a rug or a favorite painting, just about anywhere! I even have a Pinterest board where I'm starting to stockpile color inspiration!
We sometimes live in fear of color and pattern, and end up too safe, boring, predictable and gasp, matchy matchy in our homes.
If you think about it, there are so many color combinations in nature and do you ever think nature doesn't go together? Of course not! 
I find personally that I'm more drawn to a color scheme that:
1) captures the general mood I'm after in my home
2) reflects the surroundings both outside and inside my home. For my surroundings, I consider things like the part of the country I'm in, the style of home I have, and other permanent things like my wood floors and woodwork. I guess I feel most at home with neutral backdrops and punches of color as my whims dictate.
Speaking of my part of the country, there are a couple of other NW bloggers that have some pleasant neutral color schemes for their walls if you are interested! Janelle from Isabella & Max (I linked you to a post about her favorite room, her bathroom) and Emily from Jones Design Studio (that link will take you to a post about her kitchen). Both of them use some dark wall gray walls too, but do it well as you'll see if you poke around their homes! I recently asked Emily about her color scheme and thought you might enjoy her explanation (used with her permission, of course):
"First, I just love neutrals. They are calming, easy on the eyes and neutral – which means you can be fickle about changing accessories and still have them look good. Our walls and major furnishings are all shades of white, gray or black and I like being able to add red at christmastime, green in the spring or yellow in the summer in the form of pillows, books and flowers and still have everything look cohesive. Because it can get gray and dreary in the NW, we have lots of white to keep things bright."
I agree with Emily! With mostly neutrals, you can go crazy with color any time you want to without so much restraint!

I always love a good design quiz, and this one (see below) from My Colortopia (the awesome new site I write for!) is pretty fun.  You can also find the quiz on My Colortopia.
If you answer the questions in the box below, it will give you a custom color palette you might like!  You might have to click over if you are reading this in an email or reader. Try it out, I think mine was pretty accurate and even gave me a couple of ideas for accent colors and perhaps an entire palette I might use for my bedroom! WOO HOO!
PAINT PALETTE QUIZ
How about you? Did the quiz give you a color scheme you like?
Are you fearless or scared when it comes to choosing colors for your home?
I have partnered with Glidden/ Akzo Nobel Paints for this post and the My Colortopia program but the thoughts and opinions expressed are my own.