BHG
Small Space Organization Ideas
This image from Better Homes & Gardens is one of my favorite small rooms. Not only do I love how this room looks, I love how it functions. It has so many solutions for small spaces.
The furniture has small or tight arms.
The round ottoman allows an easy flowing traffic pattern in and out of the conversation area.
The tray on top of the ottoman doubles the use as a functional coffee table.
The nesting tables are slender and of course can be separated to offer another table to a guest.
The tall vertical bookshelves offer a lot of storage in a small room.
Do you live in what you would consider a small house or feel like you could utilize the space you have a little bit better?
Well, I was browsing through Pottery Barn online yesterday and kept running into some pretty great ideas for living in a small space. So, I thought we'd take a look at these Pottery Barn ideas together and maybe one of these ideas would work for you!
While my house is 2500 square feet and not really considered small by tiny or small house standards, it is about half the size of our old house. But, I've lived in a couple of smaller houses that this one in my day and I know the trials and troubles of trying to make everything "fit" in to the space you have.
First off, I love that metal organizer for the back of a door. I always used those white wirey ones on the backs of kitchen, bathroom and basement doors in my small old houses, but I never had a cute one like this metal version! Especially if you are using it in a bathroom or other place it will be seen when people close a door, why not make it charming too?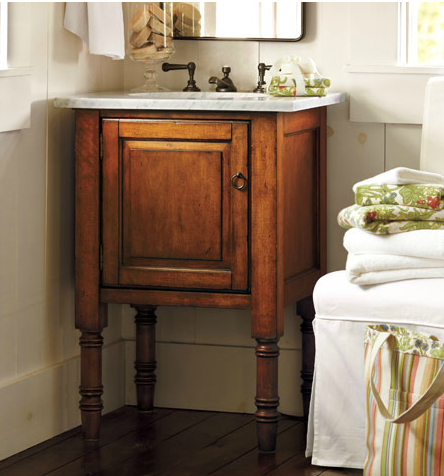 One of the many challenges of remodeling a small bathroom is how to fit in storage! Often it is recommended to go with a pedestal sink in a small bathroom. While they do work well visually, they don't offer any place to put your toothbrushes or hand towels. So if you are remodeling a small bathroom, I think a little sink cabinet like this would be just great!
This is another way to gain visual space and storage in a small space! An "open vanity" with suitcases or baskets below to store bathroom essentials. Small suitcases or baskets work well for storing cosmetics or extra supplies if you are lacking enough cabinet space.
Nesting tables always give a lot more function in less space. These are airy and open enough to not take up too much visual weight in a room, and the nesting feature means you get two end tables in the space of one. Easy peasy to pull the extra table out for entertaining or as needed.
I'm kind of smitten with this slender little wire rolling cart. I like that you could roll this around wherever you needed it, and even tuck it into random corners without it taking over a lot of space. While it wouldn't store a lot, obviously, I can see using this for a designated useful purpose such as shaving supplies, nail polishes and creams, items for the shower or bath, or cosmetics for your morning or evening beauty routines. In the right house, it could also function as a unique little side table or end table for remote controls or paperbacks for nighttime reading.
They key to actually using little carts like this effectively is to assign them a specific purpose and function. If they are filled with random junk, they take up more space than they are worth. Use them wisely.
Hooks are the best. I have had this exact iron hook system for years. I probably got mine at a garage sale or something, but this one pictured is from Pottery Barn. Even though old house was huge, my husband didn't have his own designated closet. So, he used these hooks as a little mini-closet on the wall for jeans and belts and everyday wear. It takes up next to no space but fits a lot of stuff on it.
I'm always a fan of multi-functional pieces. So of course, a small ottoman with storage is perfect for more than one use. While open airy items take up less visual weight in a room, closed storage is beneficial as well because it keeps clutter hidden. Always try to aim for for a balance of open and closed storage!
Most bookcases and shelving units are big and bulky. Not these! They are open, airy and take up very little floor space! Perfect for just about any room in your house.
This chair, above, will make an impact on how spacious your home feels. It has two features that make it a good choice for a small room. One, the arms are slender and tighter to the chair. Big rolled arms just don't work as well in a small space. The second feature are the legs, which take up a less visual weight.
And last but not least, this vertical tiered wire storage would be great for showing off attractive things you need near the sink (hand soaps, lotions, scrubbers) or for decor items on a buffet or dresser. It doesn't take up much room visually or space wise, but holds more than a single bowl or basket would.
So, there you go. A round up of random small house ideas found while browsing Pottery Barn. Pottery Barn did not sponsor this post, these are just my random musings after browsing their always inspiring store and products.

Here some related small house posts:
Making the Most of Your Small House