Now and then I let myself dream a little bit about my future bedroom makeover. I haven't done anything to my bedroom in this house. Not even paint on the walls. I just have had too many other projects going on in life and around the house (such as finishing up my office!!) to work on my bedroom.
Layered Bedding via Sarah Richardson HGTV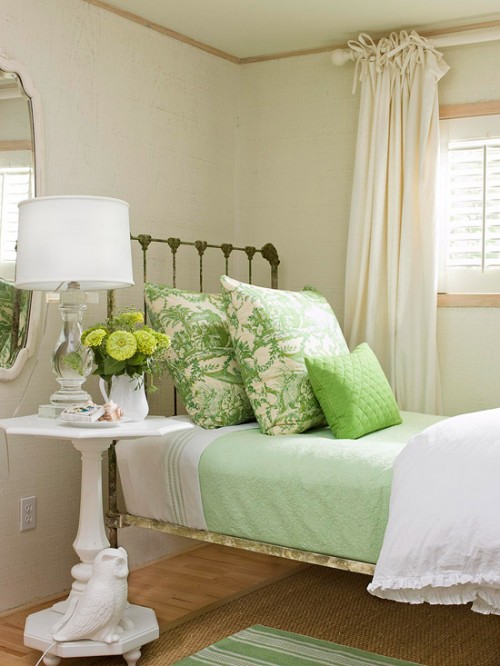 Layered mint green bedding BHG
Honestly, although it feels like a far off dream, my bedroom is actually a room I need to work on in the upcoming months — for my sanity. Bedrooms are so important to me. They are where we spend so much time, where we retreat from the world. Our bedrooms should feel like an escape, not a place we want to escape FROM.
Teal and white layered bedding BHG
The truth is I don't like my room at all. Not at all. Mostly I feel I need to give my room a makeover because the carpet is yucky (old dog/puppy) — I'm just ready to rip it all out and start over. It is a project that really cannot wait any longer.
Red white and blue and patterned bedding via House & Home
Besides getting rid of the nasty carpet,  I'm excited about getting new bedding. My bedding is not something that is an emergency to replace, it is more of a "I want." I've had the same bedding for maybe 12 years. I can hardly believe I've had it that long (how does time fly by so fast??).
Fieldstone Hill layered bedding
Of course, it is awesome that so many years ago I went with a classic soft white matelasse coverlet that is always in style. And fortunately the quality was excellent and so it still looks good! It was all money well spent. But, I'm just ready for a new look. I think after 12 years of the same bedding I'm entitled to a bedroom makeover, right?
So if it is in the budget, I'm hoping to update my bedroom — but first I want to replace my flooring. It is always like waiting for dominoes to fall to get things done around here!
I love this striped headboard! Kerrisdale Design, Inc.
Good thing I like thinking about what I want to do even though I can't get started yet. It helps me to process what I really want and hopefully helps me from making hasty decisions.
One of the things I know I love for a bed is a layered look. Always have.  Mixing and matching patterns gives a bed so much personality. I also love the informal feeling of layers, it keeps the bed from looking too stiff or stuff. And I don't think I'm a formal kind of girl so this style suits me well.
I really adored this bedding at West Elm when I was in their store recently. This is the bed that reminded me of my love for layers and got me thinking about wanting to get new bedding! I should never go shopping. It is always dangerous.
So how about you? Is your bedroom just like you want it be?

What would you want to change if time and money were plentiful?
Related Post:
How to Create a Layered Bed {my guide on eBay}