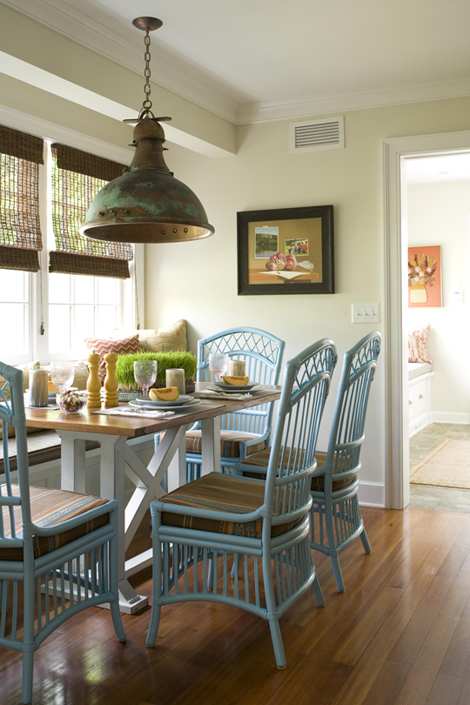 Traditional Home – kitchen with cheerful blue chairs and charming oversized light
Kitchens with Charm and Personality!
If your kitchen makes you yawn, maybe there is something you could do to give it a little more of a WOW factor!
How about a big oversized light?
A fresh color on the cabinets or walls?
What about colored furniture or a new patterned fabric?
Or maybe a unique design element?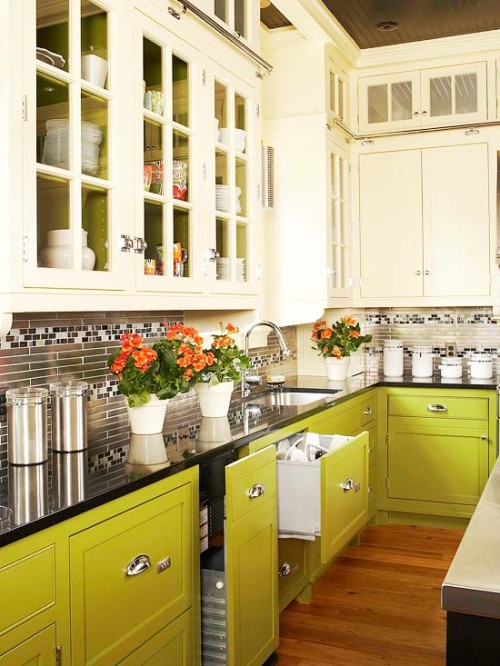 BHG – fresh color on lower cabinets
I think a kitchen should have something about it that grabs your attention and that makes you happy every time you see it. I mean, think of how often we are in our kitchens? Um, several times a day? Or more? I want to LOVE being in my kitchen.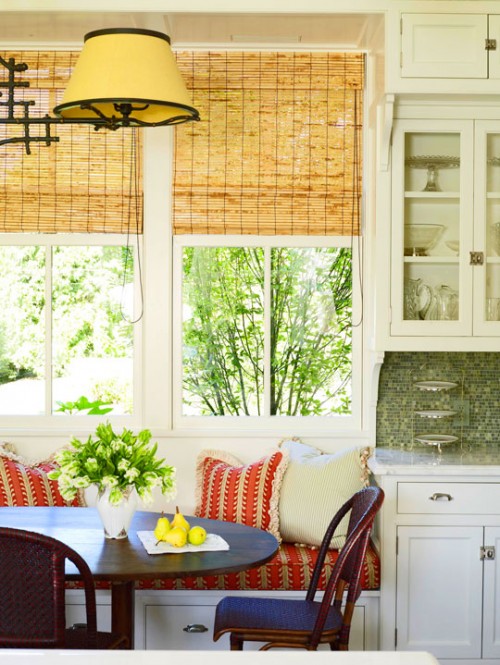 Traditional Home – unique orange banquette fabric
I love to see design that is fresh and fun and not the same ol' same ol' white cabinets or predictable popular fabric. I like a little charm, a little personality and a little eye catching something that makes me fall in love!
I don't really care whether the attention grabbers are furniture, fabrics, lighting or the cabinets themselves, I just love seeing something that shows the owner's personality, creativity or love for their home. It doesn't take a lot of detail to make a kitchen special and unique!  A little thought and creativity will go a long way towards making your kitchen YOURS.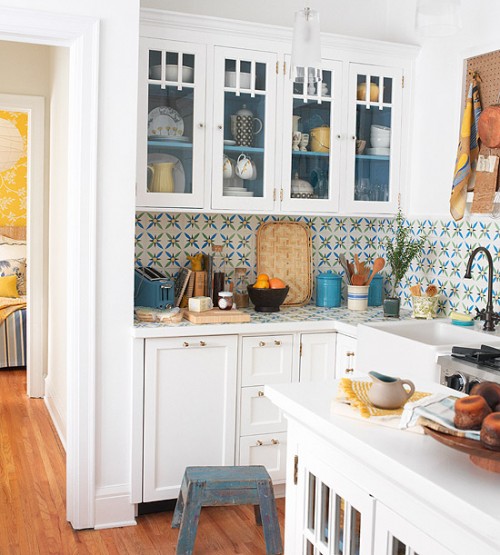 BHG Colorful tile backsplash and painted cabinet backs
I'd love working in a kitchen like this!
A fun backsplash
and painted cabinet backs make this
kitchen charming and cozy!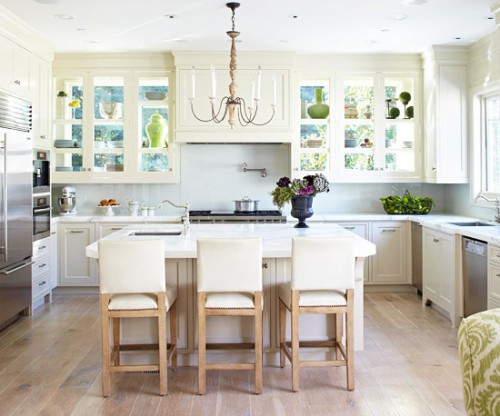 BHG – windows behind glass cabinets
The windows behind these glass cabinets
caught my eye! They definitely
make the room special and unique!
Not exactly sure how you'd clean them but
I'd be willing to figure it out
in order to have the benefit of the cabinets
with the light streaming in the room like that!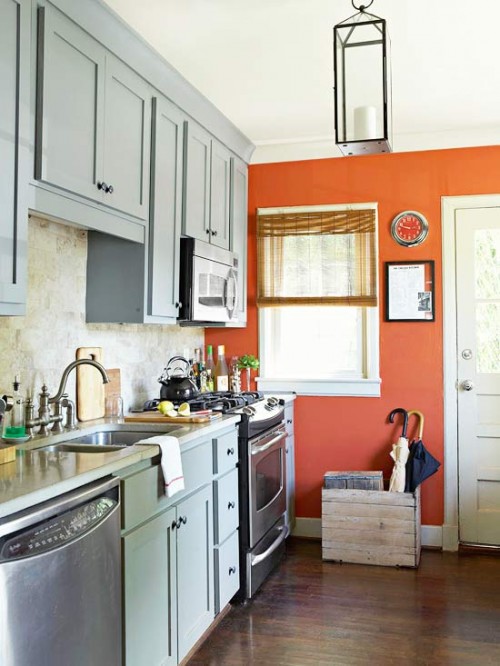 BHG – colored cabinets and orange accent wall
No predictable white cabinets and walls here!
The color combo warms up the kitchen and
gives it a charming personality all its own.
If you are wanting to freshen up a kitchen you already have without gutting it and starting from scratch, it really helps to be open to the unique. Anyone can redesign an entire kitchen with a big budget and make it charming and lovely, but if you are on a budget you can create a wonderful new-to-you kitchen using simple and affordable tricks such as color and accessories! I'm definitely dreaming up affordable charm for my own kitchen!
What design elements grab your attention in a kitchen and make you want to stay awhile?