Ever dream of hosting an outdoor movie night in your own backyard? Now that I've seen this amazing outdoor room, I can't stop thinking about how I could create one on my deck! Right? I mean, wouldn't an outdoor movie party be SO FUN?
So where did I find this delightful outdoor movie theatre inspiration?
Well, as I've mentioned, I was in NYC last week kicking up my heels with my hubby for a rare (rare, as in as far as I can remember, we have only ONE OTHER TIME in our long marriage flown off together without the kids on a plane for a REAL vacation? Seriously. We generally stick close to home for more budget friendly weekend trips!).
But, part of the reason we were able to make this dreamy getaway a reality last week is I was invited by Lowe's Home Improvement to attend a really great event in NYC showcasing three outdoor rooms created by some very talented designers! It is all for charity, which makes it even better!
Similar to the fantastic Lowe's event I attended last year in a SoHo loft with Nate Berkus (I KNOW, like I said last year, I cannot make this stuff up!!), this party was in another UNBELIEVABLE loft. The view of NYC from the balcony was INCREDIBLE, like it took my breath away! Kate (Centsational Girl) tried to scare me by leaning on the railing and my heart nearly came out of my body.
Lowe's wined and dined us all evening with drinks and hors d'oeuvres while we chatted with the designers and guests and took in all the details of these three lovely outdoor rooms.
It is a rough life, but someone has to do it, right? Ha!
So, having an outdoor movie theatre like this one created by the talented Danny Seo really got me thinking about how easy and FUN this would be to try at home! With a drop cloth (!) movie screen, a cozy seating area and a table filled with drinks and popcorn, you've got the perfect setting for the ultimate summer party!
Or maybe your idea of the perfect party would be serving dinner under the stars in your own outdoor dining room! Yes, PLEASE! I could enjoy that.
This charming outdoor dining space designed by Marcela Valladolid featured lush plants, beautiful flowers, artwork, colorful dishes and fun star lights strung over the great table and slipcovered chairs!
And as a unique and eye-catching focal point, she created an incredible succulent wall — true living art!

This would be an absolutely lovely outdoor room in which to entertain this summer, don't you think?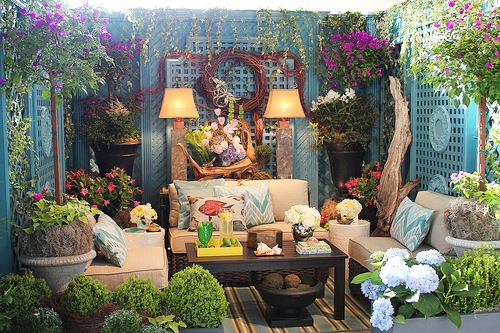 And this outdoor sitting room by designer Elaine Griffin! Oh my! It was layered with color, texture and pattern, which of course I can't help but love!
From her choice of fun accent pillows, layered rugs, furnishings and plants to the creative use of stock trellises embellished with ceiling medallions painted such an amazing shade of blue, she designed a private oasis I could hang out in all summer long. I'd invite you over and we could sip iced tea and chat!

Oh, and I really adored the outdoor lamps! Can you believe those are approved for outdoor use?
LOVE the ambience the lighting brings to the space.

I'm totally going to layer my outdoor rugs now. I have neutral dirt hiding rugs on each of my decks, which are perfect for our muddy Seattle climate.  BUT, I've been craving something more fun and colorful this summer. Now, I am for sure going to add another layer!
How could I ever choose just ONE outdoor room? I think I need them ALL! So what are we waiting for? It is time for summer projects! I have to tell you, I really love Lowe's Creative Ideas magazine and their website! If you want creative ideas for your summer projects, you've got to check it out!
So, which is your favorite outdoor room?
The designers need YOUR VOTE starting today! The winning designer wins a $50,000 donation for their favorite charity! Go vote over at Lowe's Facebook page and help them win!
**A big big thank you to Lowe's and their great team (thanks Jackie!) for including me in this wonderful event in NYC! I'm honored and had an ah-mazing time!! This is not a sponsored post, but a portion of my trip to NYC for this event was provided by Lowe's.