2012 Trend Report via Kate at Centsational Girl
Hey ya'll! How are you? My friend Kate did a little post on 2012 Fall fashion after she visited New York. You know how home decor styles often follow fashion trends, right? So if something is popular in fashion you probably will see variations of it in home decor too.
Even though I'm not much of a trend follower and always prefer to just do my own thing, it is interesting to see how connected fashion and home decor actually are. It is fun to see if we all start following along in our home decor preferences too!
Kate put together a collage of a popular color combinations and styles she saw everywhere in NYC. She is a good trend spotter, so I thought I'd take a peek at her post to see what is up in the fashion world. See one of her collages on electric blue, above?
Here is what she said about it:

Electric Blue.   Wow this color was in 80% of the stores, I couldn't believe how much of electric blue (or royal blue) was on display in both men's and women's fashion, and it was mostly paired with black.  It's a saturated or vivid version of cobalt and it's everywhere.
So, first thing that I thought about after reading that? Hello, my vivid blue office walls and black desk.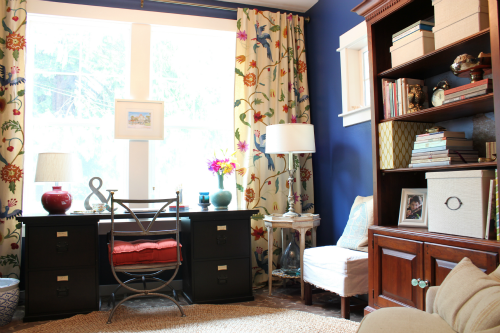 Yeah. If home decor follows fashion, guess I'm getting my trend on by total accident. I do love my office paint color (Rich Navy by Glidden), it sets such a happy mood when I walk in my office door. I didn't choose it to be trendy, just chose it because it looked fabulous with my curtains. But my black Pottery Barn desk was in there because it was what I already happened to have. Cause that is how I roll.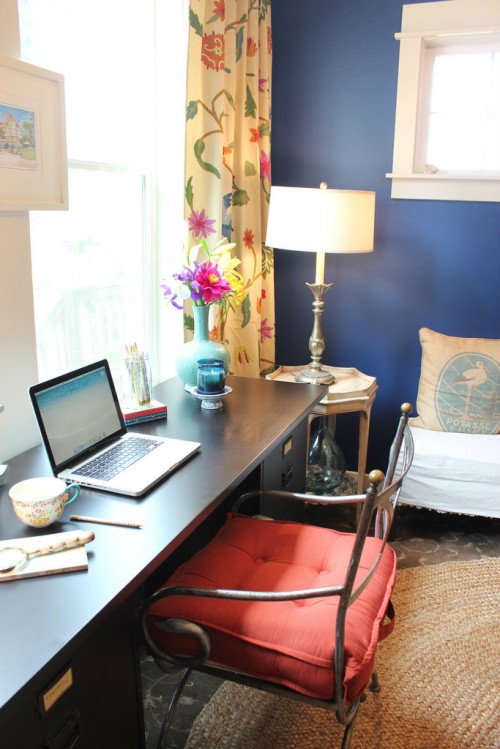 I had no idea I might be all trendy color-wise with my use what you have office. I was just trying to have fun with something a little different! Maybe it is so different it is about to be IN?
So now I'm thinking maybe I should dig around in my closet for that blue and black dress I used to wear back in the day, the one with the removable shoulder pads? I loved that dress. What goes around comes around, right?
Or maybe shoulder pads should just never come around again.
Thoughts?