instagram pic of my new settee ….still with tags!
Did I scare you or are you excited? 9 weeks til Christmas??! YES! I'm definitely in a holiday nesting mood. In spite of the projects going on around my house, I am really looking forward to the holidays. I'm already thinking about how to make it the best possible season I can. Really it has been many years since we've had a truly relaxed and nearly perfect holiday, meaning a holiday where we weren't moving, getting settled, overly busy trying to keep our heads above water, or remodeling or whatever. If it's not one thing, it's another.
Despite my desire to be DONE with everything I've been working on around our house before the holidays, this year we wil probably still be in the middle of projects. Not surprising!
Clearly I over estimated what could get done before Thanksgiving and Christmas.
Or maybe I add too many new things to the list!
Or maybe I'm crazy!
Don't say it. I know what you are thinking.
Probably a combination of all of the above. Wheee! Never a dull moment, I guess.
But I'm not going to let my CARAAAZYNESS  interfere with holiday plans! I'm used to it! I think I can still create a relaxed and enjoyable holiday by my advance planning, and compensate for other things we might have going on in life! Sometimes that is what we need to do, simply plan ahead for what really matters and let go of the unrealistic picture of perfection. Otherwise, we'll be running around like that gingerbread mom with her head chopped off. And if mama looks like that, nobody's having a good Christmas.
Lowering our expectations of what we can accomplish and raising our level of creativity and flexibility really helps.
In the spirit of preparing ahead, I've already set up my Thanksgiving centerpiece (excited much?) and started dreaming about where our Christmas tree will go this year. I may or may not have ordered a couple of new holiday decor items to get me motivated to decorate. I've been thinking about the rooms I can set up now to be the most comfortable for holiday gatherings.
I'm really excited to be working on a few more long-awaited updates to our living-room-turned-gathering-room to make it extra cozy for holiday gatherings and day to day living. I'm still rearranging furniture and shuffling things around the house to better suit our needs, finding new affordable things as needed to make our space work for us and I'm bringing in more reddish/orangish tones for the season with some pillows and throws! Things are feeling more comfortable by the day and we are using more of our rooms than ever before. It's almost like we added on to our square footage, but we didn't!
I'll share more details about the most recent updates and plans for this room in another post, but you can see a bit of a preview today! I'm really excited about getting this room the way I want it since it is the first room you come to in our home and the gathering space for guests and family alike.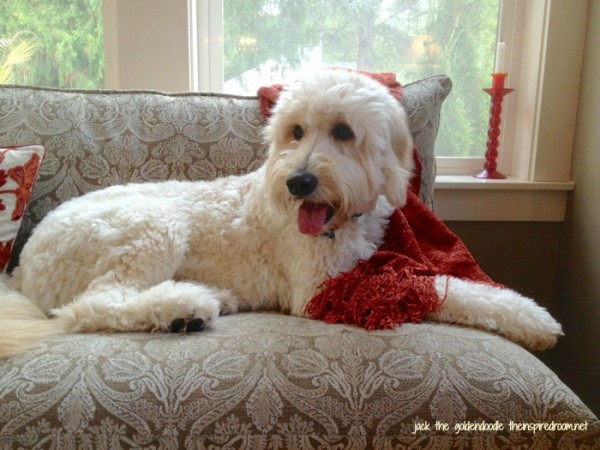 instagram pic of Jack lounging on our new settee
(settee, pillow and throw from Pier One)
Avert your eyes and bite your tongue if you don't like animals on furniture. Normally Jack is wandering in this room unsupervised (he still has his puppyish tendencies so we don't let him have full unsupervised access yet to the house), but he wanted to try out the new settee to make sure it was comfy enough. We caught him laying on it and covering himself with the throw. Honestly. Spoiled, perhaps? Have to admit, he looks pretty cute there.
For me, holiday nesting isn't about creating the perfect magazine cover most-Pinteresting holiday home, it is about creating the most warm, welcoming environment we can for our friends and family, having FUN and making memories along the way.
We will all interpret holiday nesting differently, of course, and that is the fun of having your own space. You can create your own special holiday ambience!
Whether holiday nesting right now means you need to get rid of STUFF you don't need or like, shuffle around the furniture, get the carpet cleaned, plan out your gift list or make your own Christmas ornaments, it is time to get going, ladies!
I'm excited to see YOUR holiday nesting, whether you are working on Halloween, or figuring out what you have planned for Thanksgiving and Christmas — as long as it is holiday nesting related, it's fair game. Share your posts in the linky below and let's inspire each other for the holidays!
9 weeks 'til Christmas. Ready? Or NOT?