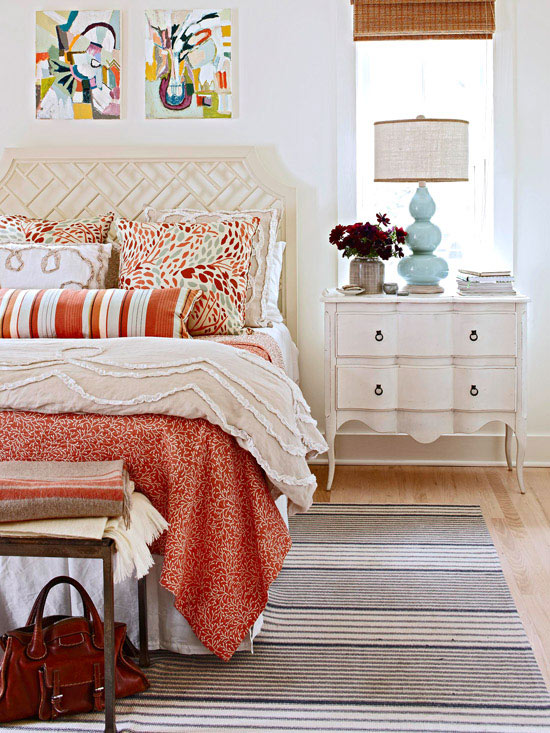 Colorful bedroom via BHG
Do you like the look of layered patterns in a room? When it is done well, I think mixed patterns can give a room a special warmth and unique personality you just can't get with a more subtle or "play it safe" scheme of solids or very few patterns. I can like a neutral room too, don't get me wrong. But there is something about color and pattern that just creatively energizes me. I can't imagine living in a house void of pattern or color.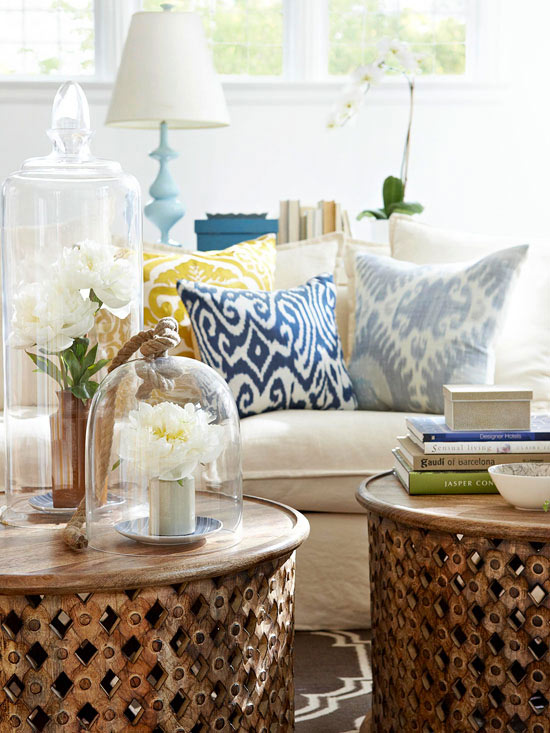 Mixed patterned pillows via BHG
Mixing patterns well is a bit of an art form though and it may take a bit of practice! Unless you happen to have "the eye" for mixing! I saw a quote from Sarah Richardson where she said, "I've got a laissez-faire approach to patterns," Richardson said. "I like to jumble them up and not overthink it." Perhaps we just need to develop our eye for mixing patterns so we don't have to overthink it, we can just tell if the patterns play nice together and and the room works or not. I think a lot of that "eye" comes through trial and error and a willingness to try to put things together in a way you might not normally try.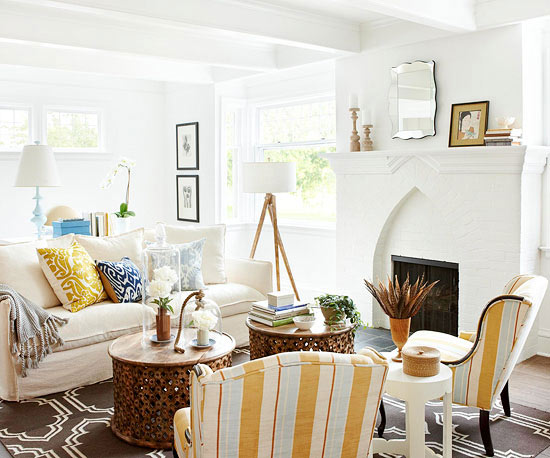 Decorating mixing patterns via BHG
Starting with a solid white as a foundation and then adding in one basic color in both a large scale and one small scale pattern is a simple way to start mixing patterns. You can hardly go wrong. But from there, you can try getting a little more complicated by mixing in more colors and several scales of patterns. I love the look of the stripes with a large scale geometric!
I have great respect for people who can mix and match patterns well. It seems like some designers just throw everything together and say it's fabulous, but to me it can just look like a hot mess. But that could just be my lack of tolerance for too much stuff in a room. It hurts my eyes. I like a happy and lively mix, but I also don't like for everything to be competing for center stage.
Others seem to have a way of putting complicated layers together, but in a way that doesn't scream crazy chaos. That (to me) is talent! But like I said, it is also just a matter of personal taste.
I'm the girl who has wild mood swings in decorating.And, I want both tasteful AND fun. But we don't always have to agree on what looks good in a room, that is the beauty of having your own home. You get to create a look you can live with while still appreciating what others like too.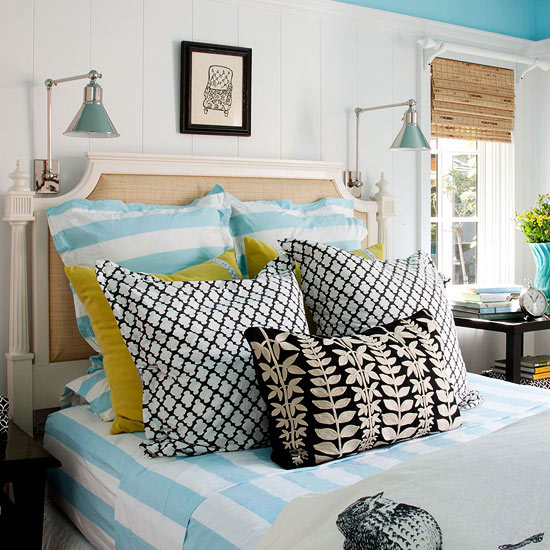 Layered patterned bedding, turquoise ceiling, wood walls & bamboo blinds. via BHG
So the way I have to visualize patterns together is to lay everything I might want to mix together out on the floor or table before I buy. It is somewhat embarrassing to pull furniture around and grab pillows and lay out the existing fabric swatches to create my own little grouping right there on the store floor, but it really helps to visualize how things will work together. The goal for me isn't to make it match or be perfect, just to have things look pleasant together!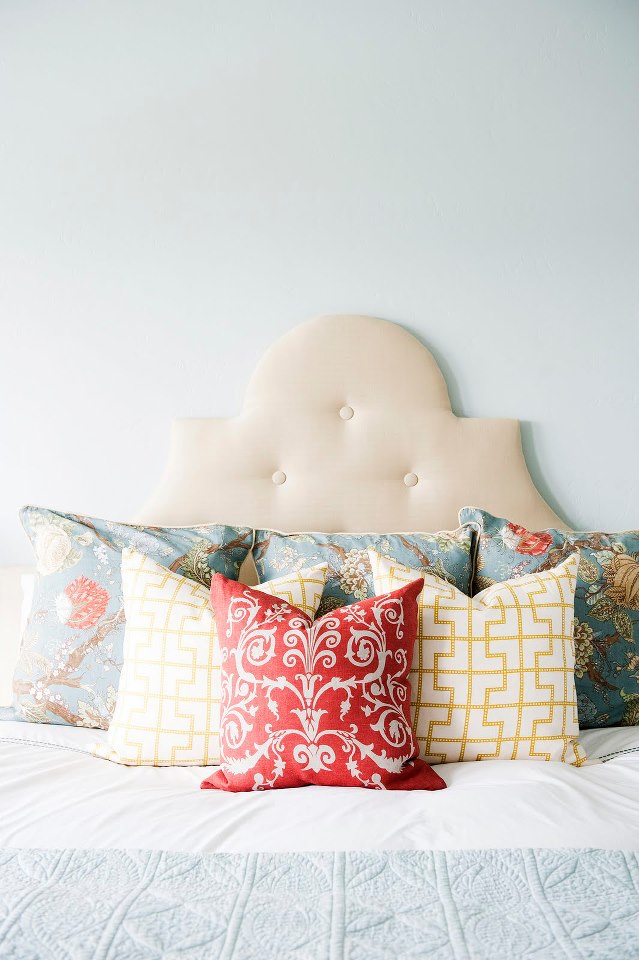 Bedroom via 6th Street Design School
If you can't carry around your fabric samples when you shop, if you have a phone with a camera take a picture of your rooms and close ups of rugs and pillows and store them on your phone. That way you can see what you already have when you run across a great deal on an awesome geometric pillow that you just aren't sure about. If you scroll through your photos and check out what you already have with the new pattern, you can save yourself the hassle of a mistake.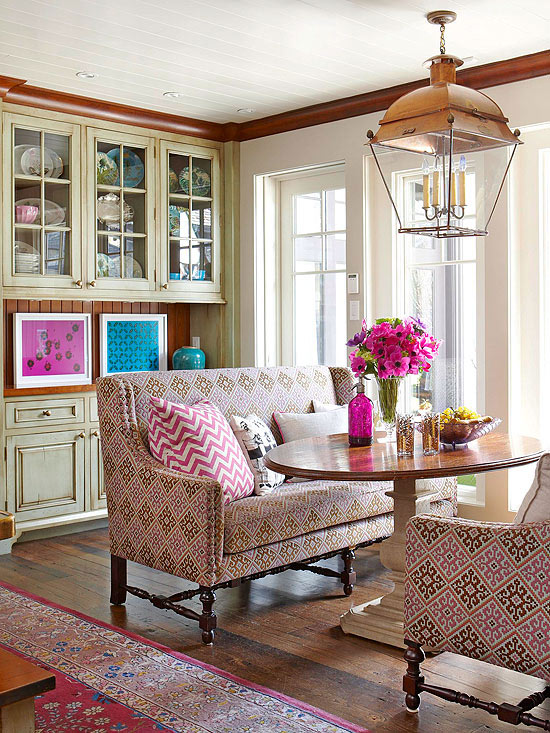 Mix and match patterns and colors BHG
I find it much more challenging to mix and match patterns using things you already have collected over time. It is pretty easy to start over and create a nice mix in a room when you buy everything new that all goes together. No big challenge there.
But when you bring in your grandma's colorful persian rug, your aunt's vintage crocheted blankets and pretty quilts, your mother-in-law's favorite antique sofa with your collection of flea market throw pillows? That is a little more complicated than a one day shopping spree to buy a room full of what pattern mixes are popular right now. But if you can bring random things together that have been in your family or found over a long period of time, your house is probably amazing and one of a kind and we should bow down to your mix and match genius!
I read an interesting article on mixing patterns over at Houzz. It has quite a few helpful tips on mixing patterns, so you might want to check it out! Also, on a related topic, see this post on The Inspired Room 5 Tips to Mix Up a Great Decorating Style!
How do you feel about mixing patterns in decorating?