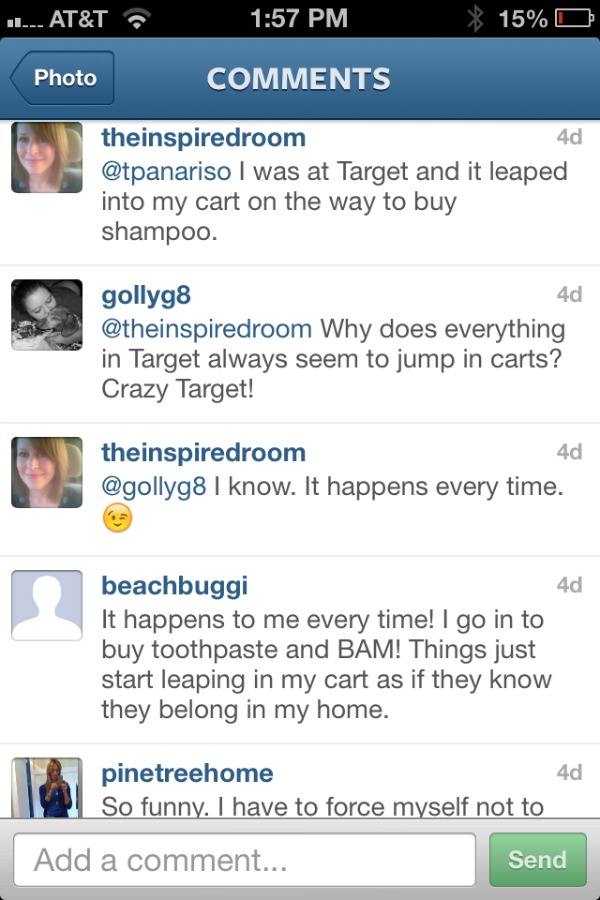 I've mentioned this a couple of times recently, but I really am enjoying Instagram. I don't have much time for social media, but this one is just FUN to me! I love being able to take a quick pic on my phone and show friends on Instagram what I'm up at the moment, or show something new around my house without always doing an entire blog post about it on the spot,  or just being able to share a funny pic of Jack. I like the instant connection and the creative fun of taking pics with my phone!
The other day I bought a new lamp at Target and I was not only able to show it off right away on Instagram, but I also got a little chuckle with a few others in the comments over how things just seem to LEAP into your cart when you are shopping at Target (always when you are on the way to buy shampoo).  Right? It is apparently a common phenomenon. I adore Target. LOVE it.
Anyway, if you combine Instagram and shopping, I'm totally IN. I can't help myself! And that brings me to the reason for this post. It really has nothing to do with Target even though I love shopping there haha, but it does involve Instagram and shopping in general.
Just for fun, how would you like a $600 visa card, to spend on whatever you wish? Nice, huh?

After a long winter, I say a little spring retail therapy is in order.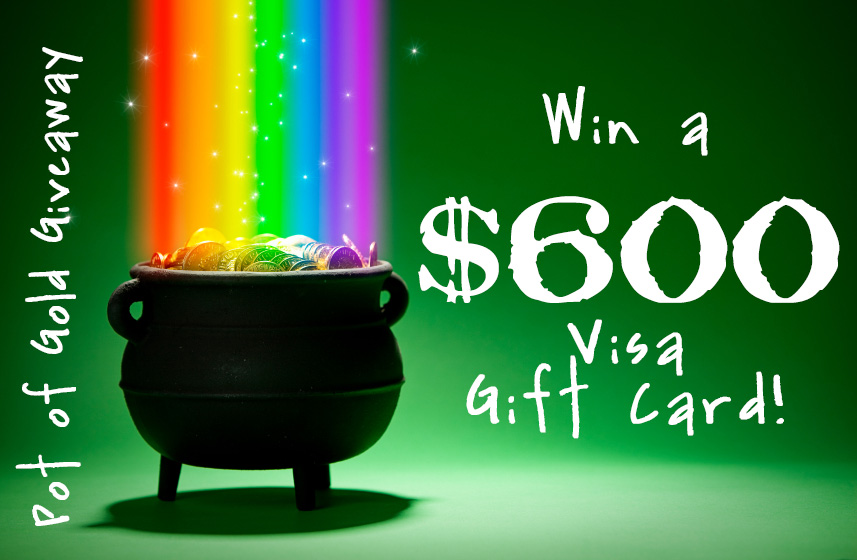 Some blogging friends and I pooled our hard earned cash so one of you can win the $600 "pot of gold" to buy whatever your heart desires! Well, it isn't really a pot a gold and it probably won't buy everything your heart desires, but it is a $600 Visa Gift Card! And that is a nice little shopping spree, don't you think? And honestly, SOMEONE is going to win this. I totally think it should be YOU.
What do you need to do to enter? That's where Instagram comes in!
Just follow each one of these nice ladies on Instagram or Pinterest (if you don't have instagram) or both! That's it! Painless. You have to have at least some small hoop to enter so that's it! Easy peasy.
You can click in the boxes below to follow really easily online!
Optional or Alternative Additional Entry Follow All of Us via Pinterest:
Enter to Win a $600 Visa Gift Card.
You only need to enter once, all entries will all be collected in a central location. GOOD LUCK!
Rules: You must be following all of the bloggers via Instagram. If you are not on Instagram, you can still enter once for following each blogger on Pinterest. The Winner must be 18 years or older to participate and a resident of the continental US. Visa, and or Instagram do not endorse, nor are they liable for this giveaway in anyway. The giveaway is open from February 25t through March 3rd. The winner will be selected and contacted via email no later than March 5th . The winner will have 24 hours to respond via email. If the winner does not respond within the allotted time a new winner will be selected. Your email will not be sold or shared in anyway, however participating blogs retain the right to save and use it in their email lists.
PS. Thank you all so much for your sweet sweet comments on the loss of our pup Winston. Each and every word meant SO much to us.