My girls and I are working on a starting a new gallery wall for the family room, I'm so excited about how I think it is going to turn out!
We lined up all the frames on the floor as a first step to figuring out what we want it to look like, and then next we will add the art. I think it is going to make a big impact in the room and be a great conversation piece since all the artwork is from an adventure to Europe! Definitely some great memories going up on the wall and out of the dresser they've been sitting in for years! YAY! YAY TO FEEL AT HOME HERE!
Remember this stairway gallery wall? Every day I see it as I go up and down the stairs — still LOVING IT!
This is the part of decorating I really love, working on the smaller details of a room to pull things together a little bit more. I enjoy being able to focus more in areas that never felt quite right to me. I feel so much less overwhelmed in my house these days since we did so much work last year to update everything, now I'm really to the fun part!
Besides working on the gallery wall, if you are using your super sleuth eagle eyes, you might notice we've also changed slipcovers on our Pottery Barn sofa! See?
Changes can throw a whole new and unexpected twist in a room but it is fun to see how a room evolves.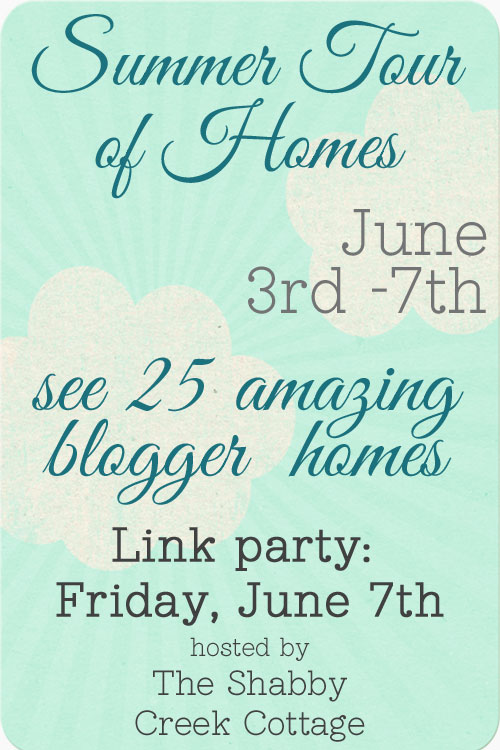 You'll get to see more pictures of most the recent updates around our home at the Summer Tour of Homes, visit Shabby Creek Cottage for more details! Lots of bloggers involved so it should be a REAALLY fun day! Mark your calendars!
Meanwhile, you can visit my general house tour pictures right here, or get inspired for your own projects via my How to Decorate series.
Tomorrow I should have an update on my entry makeover, so check back later for that post!
Ch ch ch changes are happening, little by little around here!
What are you up to this long holiday weekend? Any fun projects?