I couldn't resist this face.
The first time I saw her, just a week ago, I knew her name was Lily.  It suited her.
I told my husband I had to have her.
I knew Jack would adore her, so we brought her home to live with us.
We already can't imagine life without her, she belongs here.

Her face is the sweetest ever.
She's an Australian Labradoodle. Jack is a Goldendoodle.
She was well-loved and cared for and had lots of siblings and cousins. Before we had even met Lily, her owner prayed that her new family would be a blessing to her and that she would be a blessing to them. I think that's why we fell in love with her. She is a blessing already.
Her human brother fell in love with her, too, just like we did.
She plays hard and naps hard. As everyone should.
Jack was intrigued with Lily from the first moment he saw her.
But Lily adored Jack even more. And her sisters are head over heels for Lily!
She doesn't care where she naps, as long as she's with us.
Jack is 45 pounds and Lily will probably be around 25 pounds, but right now she is just a little pip squeak.
Jack and Lily already play well together, even though Lily is clearly the Alpha dog around here and calls all the shots. Fortunately, she has a sweet personality and isn't bossy about it. She's just confident about what she wants and doesn't mind letting Jack know she's in charge now.
Ha. Jack's a good sport. I think he finds her amusing.
See what I mean?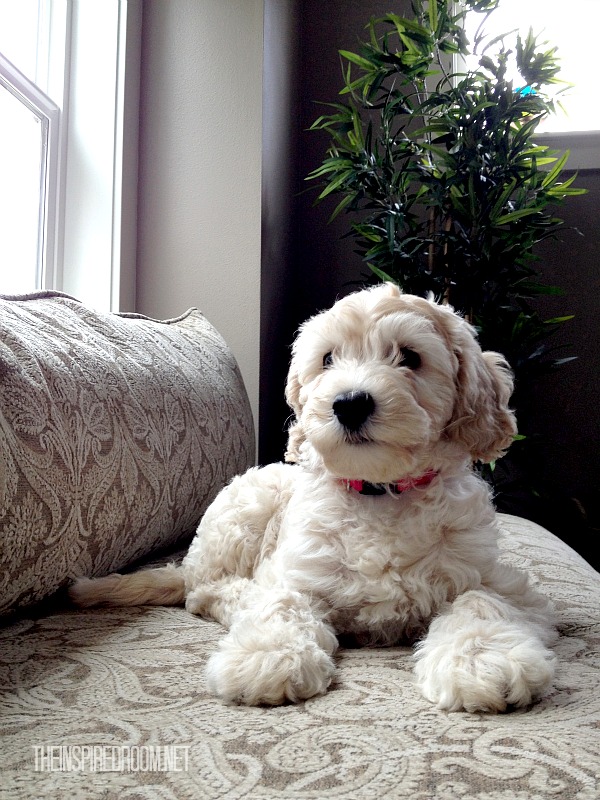 She wants to do everything Jack does. And she loves all of his spots in the house.
I see some mischief in their future. They are a funny pair.
But she is seriously a precious girl.  I know you'll love her adventures and sweet photos as much as you all love Jack's. And I love sharing them! They sure bring happiness and joy to the world. Jack's talking about meeting Lily today, go check out his post!
You can follow these two crazy and lovable doodles at The Inspired Dog Blog or on Jack's Facebook page.