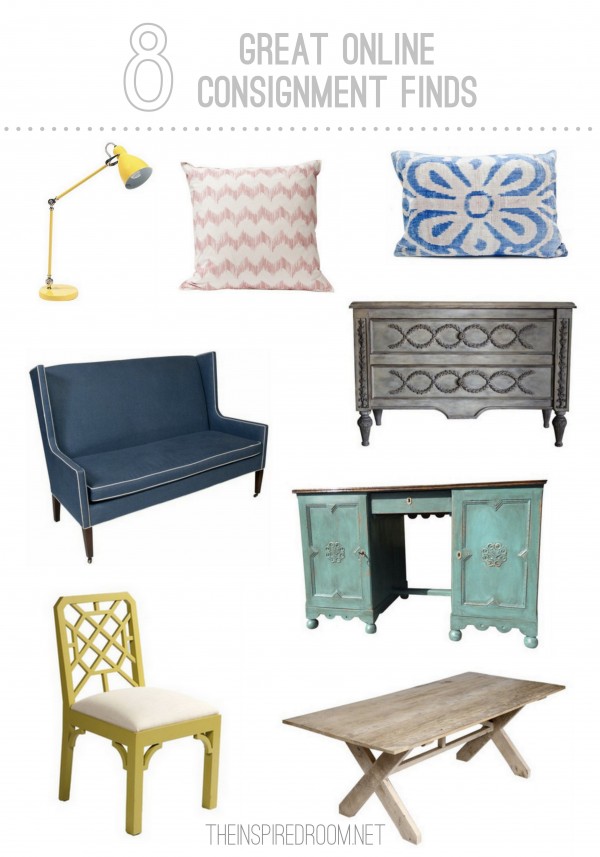 1. Axelwood x base dining table  2. Chartreuse Chippendale chair  3. Blue linen settee  4. Yellow metal table lamp  5. Pink chevron pillow 6. Blue ikat pillow 7. Hand carved chest 8. Antique Green Two sided desk
This post is sponsored by Chairish.com
Once upon a time, I learned a design secret for saving money on great quality stylish furniture. The secret was scouring consignment shops for the perfect find. I remember going to consignment shops with my mom when I was younger. Sometimes we'd find the perfect item and bring it home that day, and sometimes we'd describe what we wanted to the shop owner and she would call us when what we wanted came in the shop. It was a fun way to find unique and one of a kind antiques and brand name quality pieces without breaking the bank.
We would also take our gently loved but no longer needed pieces to our local consignment shop and once they sold we would pocket the money.
When I started my decorating business years ago, I would shop at consignment shops for clients. They were always thrilled with my finds and  clients never had to pay retail prices for what they wanted!
Because my love for consignment shopping is still alive and well, I was thrilled to find out about a new and even easier way to shop consignment! Chairish is a new online consignment store that makes shopping consignment easier and more fun than ever before!
At Chairish you have access to amazing pieces you can't find anywhere else and they all come straight from the owners who loved them. Plus, if you live in the continental US you can sell your own items on consignment and their white glove service will take care of the shipping details. Cool, huh?
Sound too good to be true? Well, it's not… it's for real! I LOVE it! Go check out the fun finds over at Chairish and see for yourself! You can see my own curated page of finds from The Inspired Room!
Chairish is giving away a $500 shopping spree to one lucky reader! I hope you win!
To enter the sweepstakes click here and enter your email. The sweepstakes end on Friday August 16th at 11:59PM PT
THIS SWEEPSTAKES IS CLOSED! THE WINNER (SHEILA B!) HAS BEEN CONTACTED AND WILL RECEIVE HER SHOPPING CODE! CONGRATS!