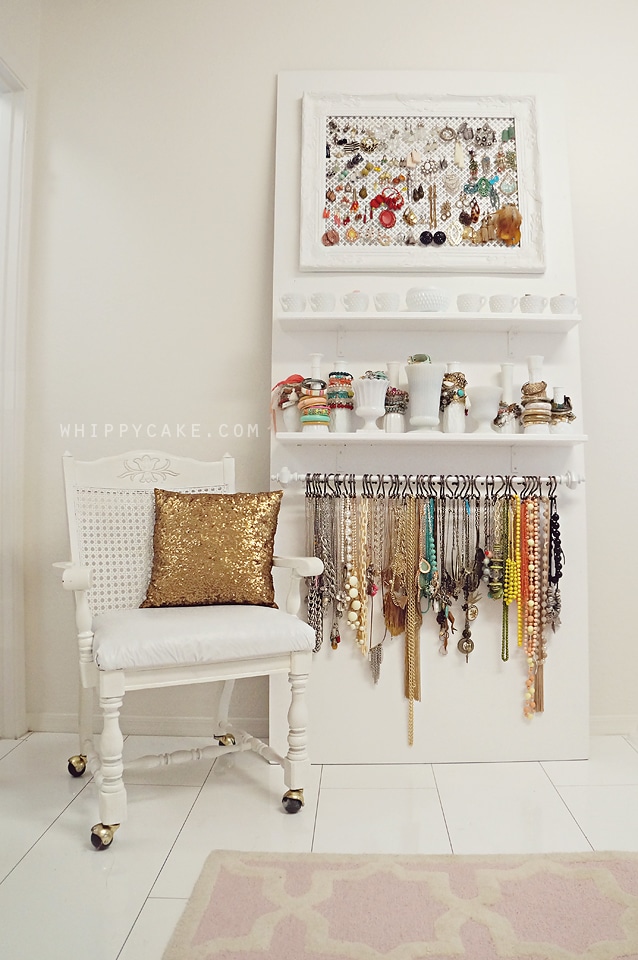 DIY Jewelry Storage via Whippy Cake
Along with the craft closet we are planning for our guest bedroom, we want to tackle our master bedroom closet this year.  I'm REALLY excited about it!!! I have a kind of small walk in closet but it is seriously lacking in personality and could use A LOT more function. I'm starting to gather inspiration to get a better idea of what I want to do!
Here are 7 creative ideas for master closet storage (that I plan to use!):
1. Add charm and personality. 
When it comes to cleaning and organization, I do not do well with boring normal spaces. I don't know what is wrong with me. I need personality in a room in order to care enough to clean. I'm weird. So I'll be all over anything I can do that is a bit out of the ordinary and fun, but still helps me to be organized. I love that jewelry board, above, because it is not only so useful but it makes a great artistic statement against the wall. If I can create a charming closet on a budget, I'll be a happy girl.
2. Tuck creative storage in small spaces.
I love these cute little drawer systems (I'm guessing you could find something like it at IKEA) for organizing accessories. They would really bring so much more practical storage to a small awkward space. I will be on the lookout for creative ideas like this to maximize our storage in small spaces.
3. Find ways to organize and contain items by activity.
I absolutely function most efficiently when I can grab what I need to head out the door, cozy up in my bed to read, or work to take downstairs with me in the morning.  I don't like to search for stuff. I keep tote bags with books, magazines, notebooks or quiet time activities to take with me when I think I'll have a few moments to myself. It saves me time. I would love to hang hooks for several more of my cute bags and use them to organize all my on the go or type stuff or even nighttime stuff like fuzzy slippers and cozy robes or old sweaters since I'm apparently a grandma who gets cold easily. Plus, baskets double as cute decor! BONUS!
4. Find additional storage alternatives in other rooms.
Because we never have enough storage for both of us IN our master closet, I will be utilizing our bathroom and bedroom and possibly another area of our house for extra storage as well. A dresser as a nightstand in a bedroom is a great double duty solution for storing clothes that don't fit elsewhere! I also love baskets with lids tucked in here and there!
5. Hooks, hooks and more hooks.
Could there be any more useful invention than hooks? I think not. I'm planning to go crazy with the hooks. Everywhere. And while a hook all by itself might not really be all that creative of an idea, when you tuck them in here and there for jewelry or scarves they not only make the most of unexpected space but they make it look really pretty too!
6. Think outside the expected wire shelves.
I don't really love the usual wire shelving (although that is of course what we have right now). I prefer to find more unique or eclectic ways to organize stuff if possible (remember my pantry?). I love this little bookshelf turned purse and tote storage and will be definitely thinking along those lines for my own closet!
7. Freestanding closets.
We've had a freestanding wire closet and shelving unit with a cover like the one above (we got ours at The Container Store years ago) forever. Sometimes you just simply don't have enough closets, especially in an older house. We used it for everything from our girls' clothes when they were younger, to a craft closet in two houses, to space for extra coats. Right now our freestanding wire closet is in our garage holding all our extra throw pillows! You can find freestanding closets on Amazon, too.
We also have a large armoire in our bedroom which can hold quite a bit of extra stuff so it too will likely be part of our organizational plans. I love organizing in creative ways so I'm really looking forward to my projects this year!!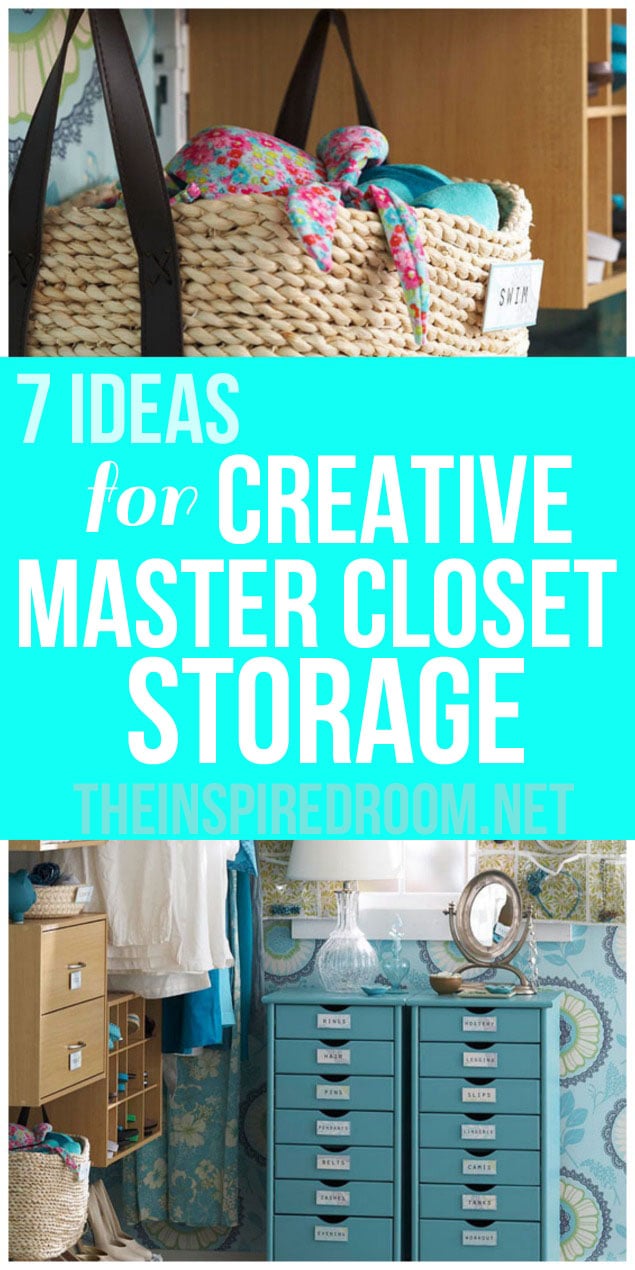 Do you have an organized master closet?