I've been on the lookout for barstools for my kitchen. While our island doesn't actually have a bar countertop, we discovered when Better Homes & Gardens was here that the island was actually really comfortable and convenient to sit at with a cup of coffee or while you are chopping vegetables. The stylist had brought in a yellow stool for the shoot and while the pop of color was really fun for photos, I just wasn't ready to commit to it.
So when I spotted these adorable white stools with wood tops at Target the other day, my cart came to a screeching halt! HELLO, CUTE LITTLE STOOLS!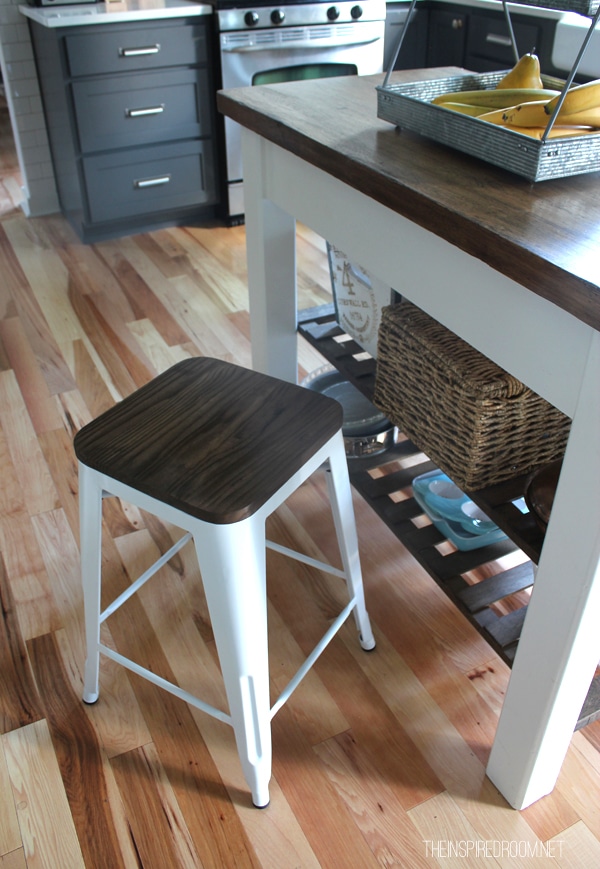 I knew I would probably want two, but like a dork who never learns her lesson, I decided to take just one home to see what it looked like it the room. And of course, I loved it. What is not to love? Sigh. When I returned the next morning for a second stool, they were GONE. Story of my life.
After searching every nook and cranny of the store just in case and asking the clerk just to make sure they didn't have more in the back, I immediately went to my phone and ordered another one online. They only came in sets of two from their website, gah, so I now have two more on the way. Which is actually fine, I think the stools will be adorable next to our dish cabinet or tucked here in there just about anywhere. We can just pull the trio of stools around the island when we need them! :-)
They are cute, aren't they? I still love adding new things to my kitchen! I also found that metal plant stand thing on top of the island at Target, I have some fun ideas for it, too!
Have you found any cute things for your house lately?
. . .
{this post is not sponsored by Target}