While I admitted my plant challenges with the tale of my Fiddle Leaf Fig troubles, I still adore creative gardening in small spaces. It doesn't matter whether the small garden is in a tea cup on my window sill, an old box on my porch, a pot on the deck, a pallet or even a little courtyard or small patio in my backyard. I just love being creative with plants in small spaces! I am not a plant or garden expert at all, it is just something I find therapeutic and fun! I look forward to creating more little spaces for plants every year. Eeek, I'm excited for spring!
This front garden near where I used to live in Lake Oswego used to always intrigue me. Such a small space, but so charming with all the plants! It was gazing and dreaming about gardens like this that inspired me to find creative ways to have my own tiny gardens inside and out!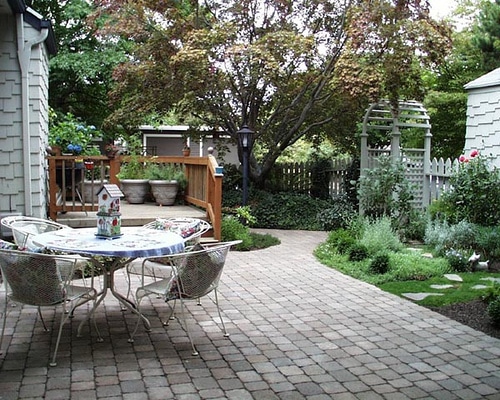 This was one of my own small backyards, where we lived about 12 years ago in the Eastmoreland neighborhood of Portland. I designed the patio and planted the gardens myself and it is still one of my most favorite memories.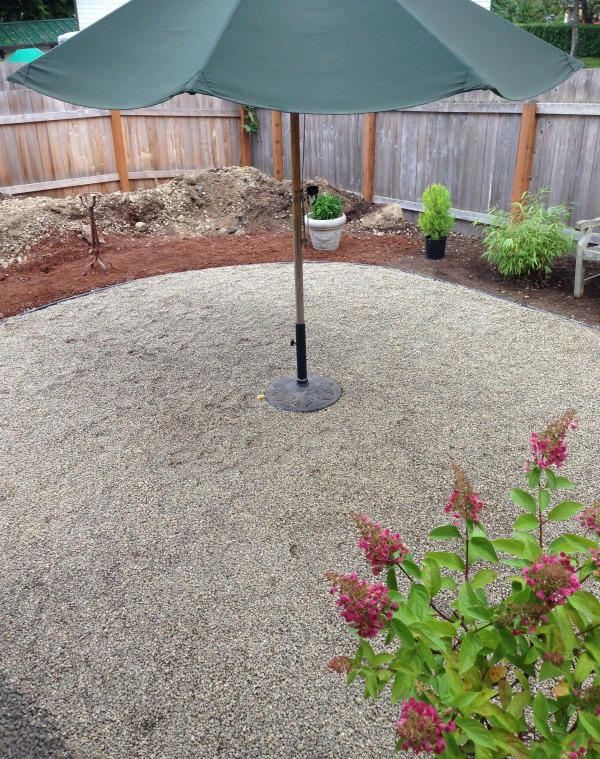 Last summer we created our own pea gravel patio and it is just begging me for a tiny garden with pots and plants! WOO HOO! I can't wait! I'm going to have so much fun with this.
Whether you have space for a small backyard garden or only enough room for a tabletop variety, I'm rounding up some of my own little garden creations for you today!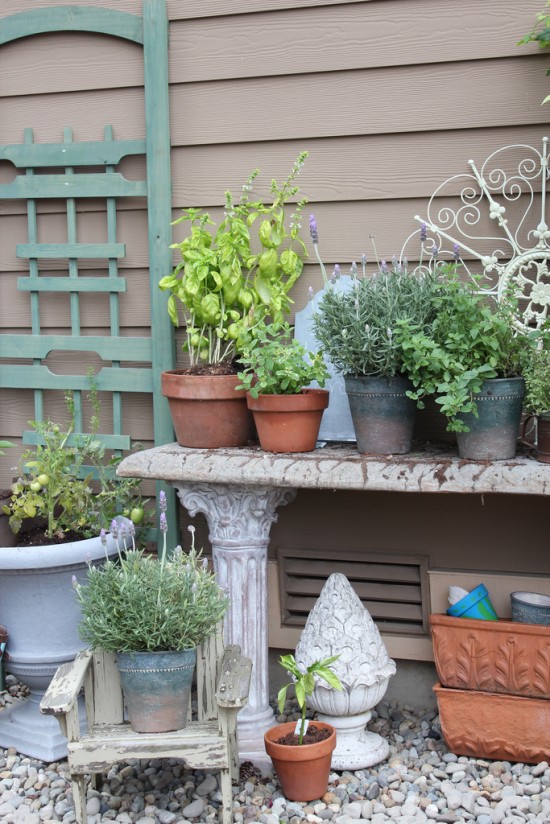 I love using this old cement table for potted plants and herbs! I even grew some tomatoes! You really don't need much space.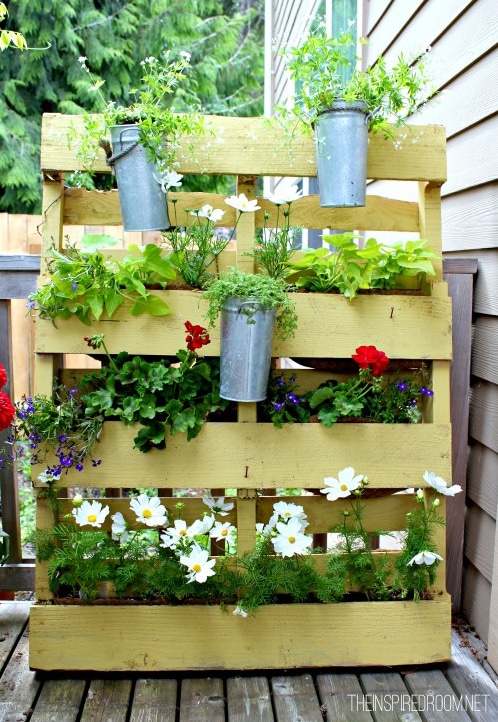 You might remember my pallet garden, it is fun to find new creative ways to showcase plants and flowers and gain a little privacy too!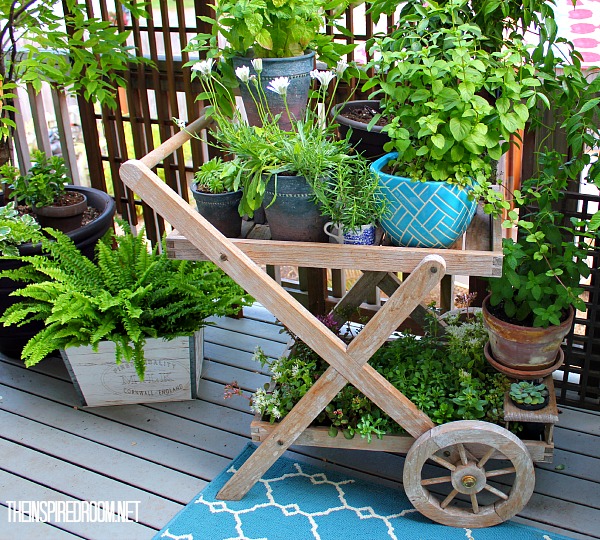 Last year I used my teak teacart to show off herbs and plants. It provided plenty of room for plants but also brought lots of personality to the deck.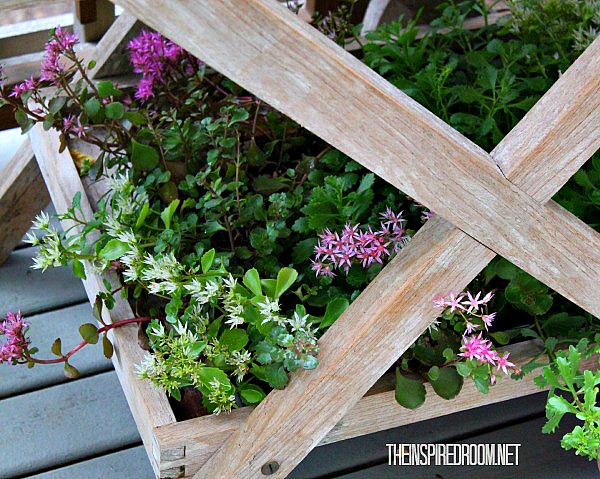 I loved how cute the succulents were peeking out the bottom of the cart!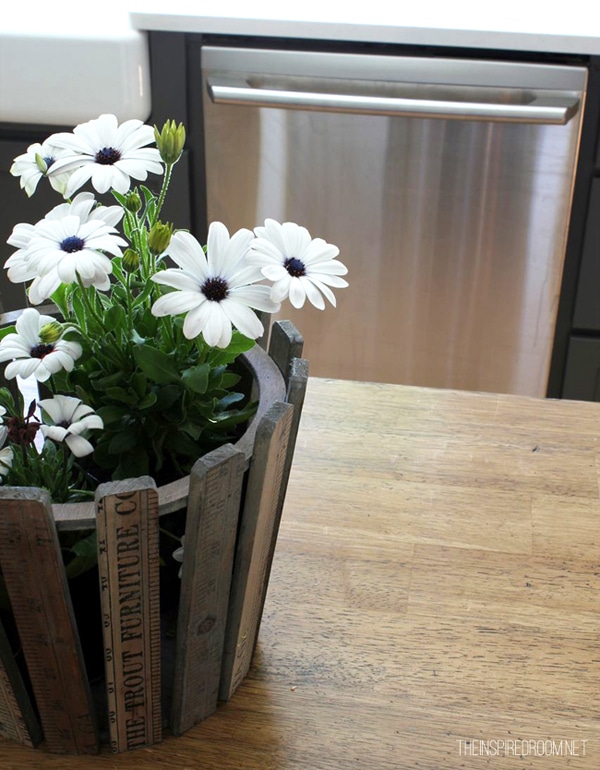 Just one sweet potted plant in a unique container  is like a small flower garden!
Of course, I am always a sucker for a little fairy garden! FAIRY GARDENERS, UNITE!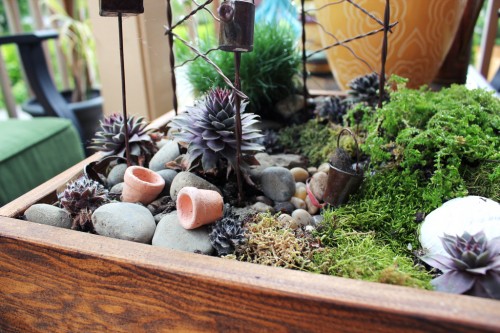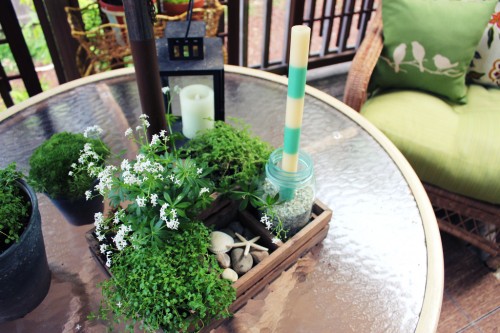 I loved putting together these sweet little boxed gardens in a crate, too. The crate had six sections so I just stuck some plants and random things in each section.
A terrarium is also a fun way to have a little tabletop garden and they are so easy to make!
You might remember we started planting a very small secret garden in my backyard last summer! Soon this will be my very own space to hide away.
Well, I guess I'll actually be sharing it with Jack & Lily if they get any say in the matter! They can't resist a small garden either.
I cannot wait to do more planting here!
A front porch is a perfect place to create a small garden — a few plants make such a welcoming place to come home to.
A dresser or table top is a fun place for tiny gardens, too! We set  an old dresser outside and it's a unique statement for plants on our porch.
Look for unexpected containers for your plants, you can put plants in just about anything! We used our fireplace log holder for mums this fall.
And, who can resist a funny little owl with purple hair? No one.
Happy Gardening!
Do you love tiny gardens?
PS: Have you heard the NEWS?!? Better Homes & Gardens has nominated The Inspired Room as one of the TOP FIVE bloggers in the Decorating category of their Blogger Awards!
If you have a second, I would so appreciate a vote from you! It's an easy one-click vote, you can vote every hour or anytime you think of it, and you do NOT have to have the vote published to Facebook for it to count. I'm so excited to find other new blogs too, I'm pretty blown away by the talent and just humbled to see my face there. I am so grateful for your support. Thanks everyone, you make writing this blog so fun and quite a wonderful journey! Click here to vote!