Hi all! Michaela here again for my monthly Entertaining post on The Inspired Room. March is a strange month, isn't it?! It's not quite spring, but it's not really still winter, either. There's not a huge holiday to celebrate (except, of course, St. Patrick's Day, if you celebrate that!) When I was thinking of something to post about this month, I was stumped. After a little help from Melissa and her girls, we came up with How to Create a Housewarming Present, because as it turns out, it's definitely the season for moving!
Today I'm showing you a great little gift basket or tray you can put together for new neighbors or friends who have moved into a new place.
Start with a pretty tray or basket:
Get a fun mug, some tea, Starbucks Via's, paper straws…

A cute notebook to jot notes in…

a pretty dish towel, some recipe cards, and coasters…

…and last but not least, don't forget a yummy candle!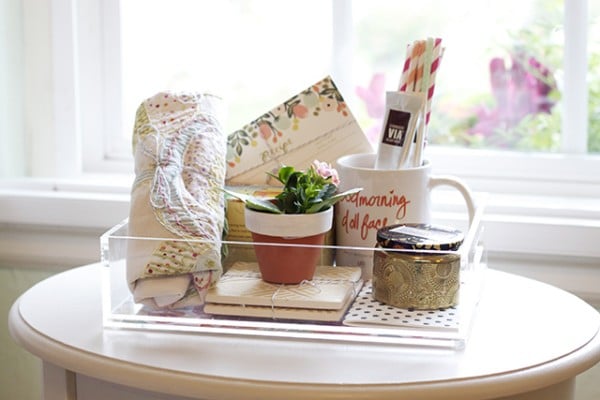 DETAILS: Tray / Dish Towel / Recipe Cards / Coasters / Candle / Notebook / Mug / Straws
To top of the Housewarming Tray, I included a small little potted plant from Trader Joe's. Every new home needs some life and color, don't you think?!
Do you do anything special for neighbors or friends with new homes?
Have a great week!
xoxo