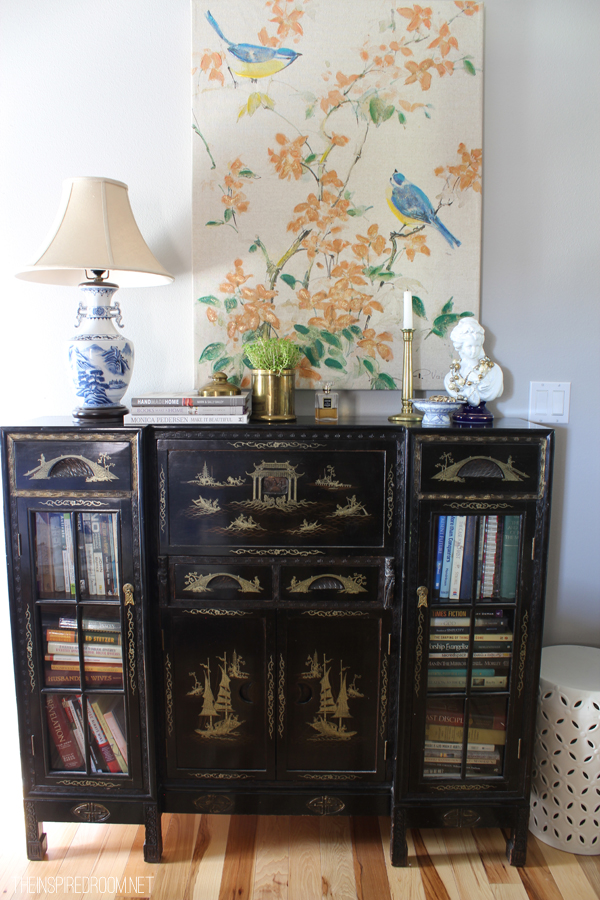 Recently a few blogging friends were asked to do something a little crazy and different. What if we went to our local Goodwill or a thrift shop and picked up something random of our choice to send to the next blogger on our list? And in turn, we would receive something in the mail? It sounded fun, but it was risky! What if my person sent me something I couldn't figure out what to do with? Eeek. Nobody's got time for that. Well, fortunately, my sender had mercy on me and found something that just needed a little TLC. PHEW! Crisis averted.
So what was it?
It was this little lady, rescued from who knows where by Laura of Finding Home.

She was a little tired from life's ups and downs. She lost her sparkle somewhere along the way. But after mulling around various ways to turn this lady's life around or give her an entirely new look or color, I decided she really didn't need to be something she wasn't! She just wanted someone to care about her.
After a little cleaning up, putting on a new shiny white coat and the hope and excitement that comes with a new sense of purpose in life, she is looking like a brand new lady!
She has a new home and is living the high life, wearing some baubles and bringing her graceful femininity to the top of an antique cabinet that my husband uses to store books in our bedroom.
Isn't she lovely? Her sparkle is back.
Now, you  might be wondering, what did I send to my friend next on "she sent me WHAT?" list?
Did I go easy on her or was she faced with a creative challenge? 
Go see (I can't wait to see it myself!) … it's time to visit Ashley of The Handmade Home to see what she did with the random thing I sent her!
Enjoy the party and be sure to follow the links on each post to see what they all got in the mail and what they did with their treasures!
Jennifer Rizzo
Funky Junk Interiors
My Sweet Savannah
My Uncommon Slice of Suburbia
Four Generations One Roof
Home Stories A to Z
Today's Creative Blog
Jeanne Oliver Designs
French Country Cottage
Finding Home
The Inspired Room
The Handmade Home
Eclectically Vintage
Makely School for Girls
East Coast Creative
Infarrantly Creative
At Home on the Bay
Thistlewood Farms
Serendipity Refined
At the Picket Fence
Not Just a Housewife