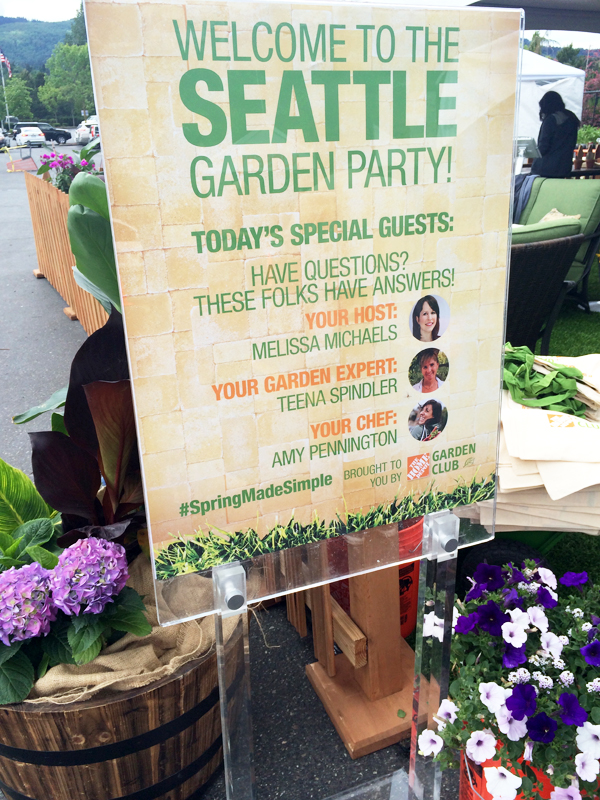 Last weekend I had the pleasure of hosting the Seattle Garden Party at The Home Depot. I had a blast! My girls (Kylee and Courtney) were able to join me and we spent the day meeting families and local readers, painting pots, planting herbs, learning gardening tips from Teena Spindler the Master Gardener, and enjoying delicious food from the recipes of Amy Pennington! The weather was glorious all day, even though the forecast originally predicted rain (true to Seattle fashion)!

We hosted several hundred people throughout the day, and everyone went home with a cute pot planted with basil, cilantro, or oregano. It was so fun to watch everyone get creative and design their own pots with stencils and Sharpie paint pens. I put some of these cool pens in my online shop if you want to do this craft yourself! It was such a fun and easy activity, perfect for both kids and adults to enjoy. We couldn't stop making them!

The theme of this event was #SpringMadeSimple, which I love. Gardening can be intimidating sometimes, but I'm always so proud of myself when I give it a try and create something pretty! And when my plants stay alive longer than a few months, I am even more proud. I'm definitely in the mode of wanting to grow our own vegetables for our health, so it's great to learn everything I can!  love events like this that inspire you to try something new. The Home Depot hosts many events like this on various topics throughout the year.
Teena Spindler, the master gardener, has a blog called Grow It Now. Check out her tips for creating a wine barrel garden here!
The first 50 guests to attend the event even got a canvas bag filled with some great quality gardening tools, which you can find at The Home Depot! If you ever need inspiration to get started on some gardening projects, treat yourself to some new cute gardening tools. You'll be outside gardening up a storm in no time.
They also handed out these little cards of gardening ideas and some delicious recipes by Amy Pennington. You can find all of Amy's books here. So many inspiring ideas…and I want to make those meatballs ASAP.
This cucumber-basil lemonade was so refreshing!
Thank you to The Home Depot for inviting me to host this fun event!
If you haven't already, you should definitely sign up for The Home Depot's Garden Club to hear about future events, get discount coupons and great gardening advice! Click here for the sign-up page!
This post was sponsored by The Home Depot.