I can't believe this week is already half over, and TOMORROW is Thanksgiving! HOW? I had all these big aspirations for this week and basically none of them have been accomplished yet. I imagined my house all decorated for Christmas by this point since I am SO excited about it (and I dreamed of doing more than last year? Ha).
The reality is, for everything I've accomplished another thing has fallen apart! Picture this little gem: I was setting up some Christmas decor and trying to talk on the phone at the same time and BAM! a curtain rod fell down off the wall in our family room, bonking me on the head. One thing accomplished, another project added to the to do list.
Sometimes you just gotta laugh, give yourself a little grace in the busy seasons and keep your attitude of gratitude.
To be fair with myself, as I've mentioned I have been working A LOT on the books (finishing edits on one, nearly done with the second book and starting the third already! EEK!), so I really don't have as much time right now to decorate as I wish I did. I am always learning lessons about time management and how to keep life "balanced" if that is even possible.
The truth is, I can usually do more than I think I can if I put my mind to it and manage my time well, and yet I often end up accomplishing way LESS than I dream I can. If that makes sense :). Somewhere in the middle is where I like to be, where life isn't all about DOING but more about just experiencing life to the full. It's a happy balance.
Keeping that attitude of gratitude and enjoying life to the full even in busy or challenging seasons is often a matter of what things you say yes to and what things you just say no to. And when you feel like on any given day you are getting hit in the head with curtain rods more than you are accomplishing all the things you dream of around the holidays, you can just call it a night and go watch Sleepless in Seattle with your hubby. It all works out.
We are having Thanksgiving dinner with new friends on Thursday and then hosting a few family members this weekend at our house, so in and around everything else, my daughter Courtney and I went grocery shopping and now have a 24 pound turkey in our fridge! YAY! We can't wait to just slow down, cook a tasty meal and then relax and give thanks around the table. PS. My metal star garland is from Season in a Trunk (the Winter Trunk). I love it!
What are you doing this week to keep your attitude of gratitude?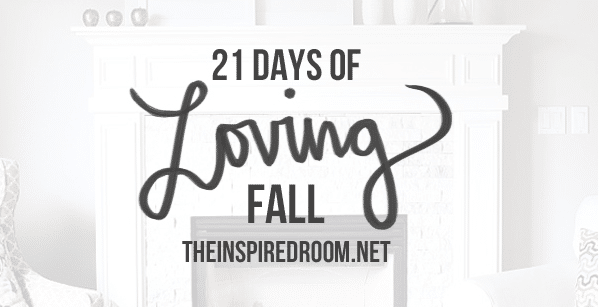 Related Post: 20 Little Attitudes of Gratitude
Only a few more posts left in my Loving Fall series! Catch up here:
Intro, Day One: Getting In the Rhythm, Day Two: Quiet, Day Three: Cozy Imperfections, Day Four: Rust, Coral, and Orange Fall Inspired Rooms, Day Five: Fall Nights by the Fire, Day Six: Candlelight, Day Seven: Turkish Towels, Day Eight: Fall Traditions with the Pups, Day Nine: Settling In, Day Ten: Displaying Small Trinkets and Treasures, Day Eleven: Christmas Dreaming, Day Twelve: Organization, Day Thirteen: Mulled Cranberry Apple Cider, Day Fourteen: Fall Nesting for Holiday Entertaining, Day Fifteen: Holiday Cooking, Baking, Bloggers and Cookbooks, Day Sixteen: Simplicity in the Laundry Room