The day has arrived!! Welcome to the online launch party for Love the Home You Have! As of today, Love the Home You Have is officially released into the world! :) HOORAY! I can't believe it's been TWO whole YEARS since I came up with the proposed title and created the outline for this book.
It's been a big part of my life for so long that I'm really happy to finally be able to share it with you all! (I can't take ALL the credit for the book, of course, I had a wonderful team of people putting their hearts into this, too.)
OK, let's get this party started! I have a special gift for YOU at the end of this post, but first, I'm excited to introduce you to the Love Your Home Challenge and 33 friends who will inspire us today!
In the back of Love the Home You Have, I offer readers a special section called a 31 Day Love Your Home Challenge. It has fun, no-fuss, easy-to-do activities to inspire you to love your home and life a little more.
So I thought it would be super fun to all do these challenges TOGETHER! Let's all show our homes a little love.
You can do your own Love Your Home Challenge project (select one or more from the back of the book, or make up your own!) and post it on your blog and Home Love Stories (a perfect way to share, even if you don't have a blog!), or on your Facebook or Instagram accounts! Do one today or anytime you are inspired, or do all 31 to make loving your home a habit!
If you do a challenge, be sure to use the hashtag #LoveYourHomeChallenge when you post it on social media or Home Love Stories so we can find your posts! You can do them anytime this week or beyond! Feel free to grab the Love Your Home graphic from this post or any of the special graphics from the book page. Thanks for inspiring others to love their homes, too!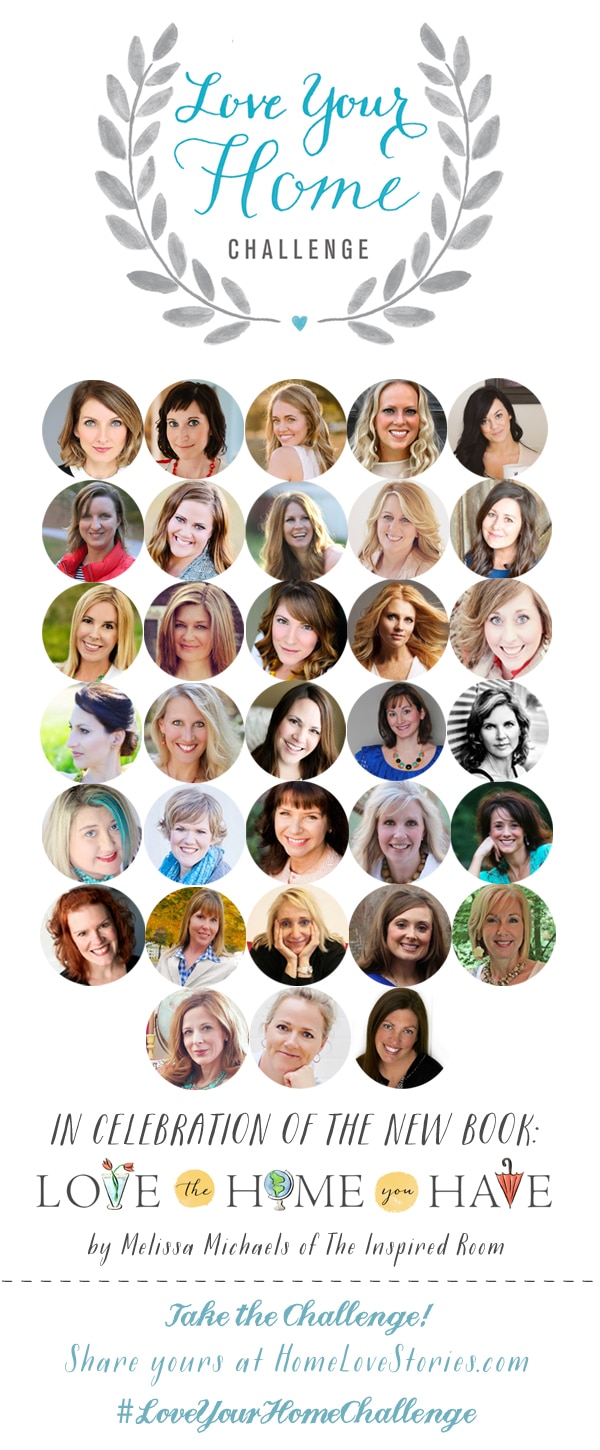 To help kick things off, I asked thirty-three friends to see if they might want to join me in launching the book today by doing their own Love Your Home Challenge! Happily, they said YES!
So, take a moment to click through to visit of these pretty faces TODAY (their links are below) to see what they have to share. You'll be inspired by their projects and heart for their homes, so enjoy!
PS. I wanted to give you a special thank you gift! I appreciate you all so much, I can't even tell you the wonderful support I've received from you all on this journey. As a little token of appreciation, I have a gift for you. The wonderful designer (Nicole, from Harvest House Publishers) who created the book art also designed the adorable hand illustrated art print, below, just for YOU (for personal use only)!
You can download the art for FREE in many sizes from small to huge (and one with a white background) to use as art for your home or a gift for someone special. Wouldn't it make an adorable housewarming gift?

Find the art on the Love the Home You Have book page, along with the cutest hand drawn quotes. Free free to download, pin, share and use these on your blog, Facebook or Instagram to spread love for the home far and wide! Click here to download!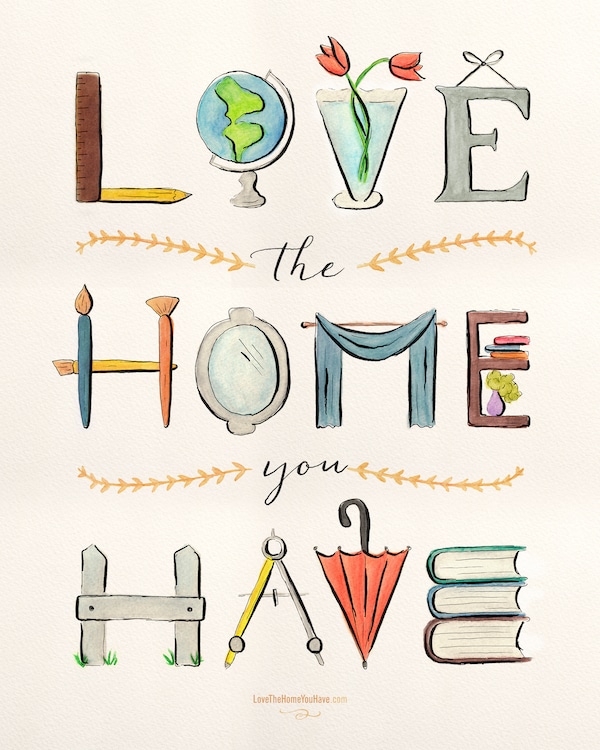 Don't forget to visit all the participants (linked above) and join in with a home love project of your own!
If you don't yet have a book, you can order it here!
 (P.S., today is the LAST day to get 50% off the digital version)!