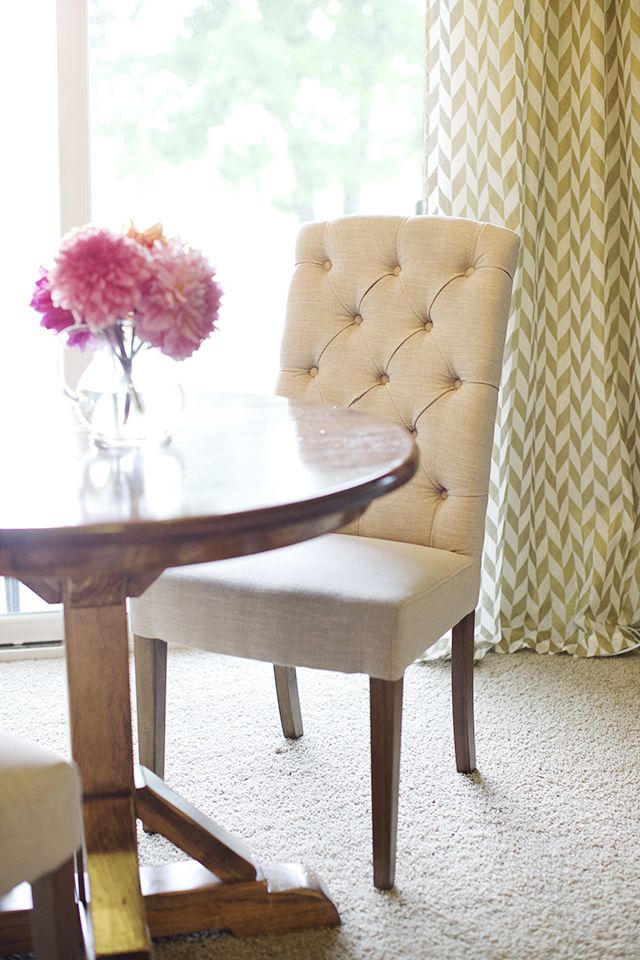 Hi friends! It's Michaela! I'm excited to be back here sharing a bit of my home with you today. About a year ago I shared with TIR readers that I had moved across the country from California to Michigan. I made the move because my boyfriend lives here (he's extra handsome, so it didn't take much convincing!) As an interior designer myself, I was excited about finally having my own apartment to call home. I would be able to decorate it any way I wanted, instead of community decorating with my roommates in college. This apartment would reflect my style and personality and I couldn't have been more thrilled.
When I moved to Michigan I barely had anything furniture-wise to my name. I had ordered a headboard and shipped a mirror to my new address, that I'd previously found in California at a vintage market. Other than that, I had a lot of art prints, small accessories and glassware I had collected over the years (I have a thing for beautiful breakable pieces. Sad thing is, most of them actually did break on the move over!) When I got the keys to my apartment I was excited! THEN, after about 5 minutes of being inside I felt extremely overwhelmed and didn't know where to start. My boyfriend brought over his old TV to keep me company, but since I didn't have any furniture, it was casually resting on a cardboard moving box. You could find me watching it from a pouf or on the floor, until my couch came. My makeshift dining table was the smallest, most wobbly card table I'd ever seen. I threw a pretty table cloth over it to try to disguise it, but mostly I did that just to keep myself from crying.
You see, I loved the idea of moving and having my own place, but I also had this completely false expectation that everything would be set up and ready to go right away. What a dream that was! As a designer, you'd think I would have known better than to think everything would be done lickity-split. Well, it's been a year and I've learned a lot about moving, being patient, giving myself grace, decorating and keeping my own home. Here is the evolution of my apartment and some (hopefully) helpful insights!
Here's the apartment the day I moved in: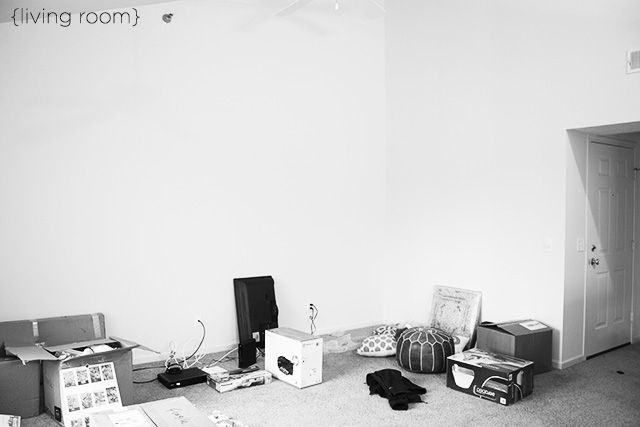 Can you see why I felt overwhelmed?!
After a few days of living there with my TV sitting on a box for a media console, I went out and got this media stand. One that was OK, but I didn't love, because I was rushing into things.
I also started hanging my gallery wall to make myself feel more at home. No couch, but this girl's got a gallery wall! Ha ;)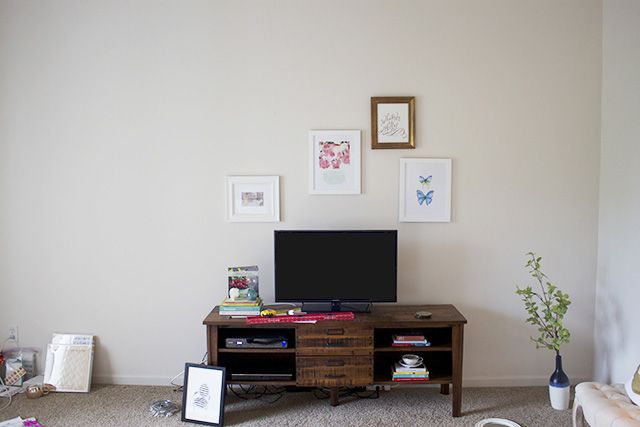 Just a few months ago I decided I made a mistake buying that media console, so I tried my best to give it a little love with some chalk paint. It's totally changed the look to a more vintage, shabby chic style instead of a modern one. Much more my style! I find myself loving my apartment so much more now.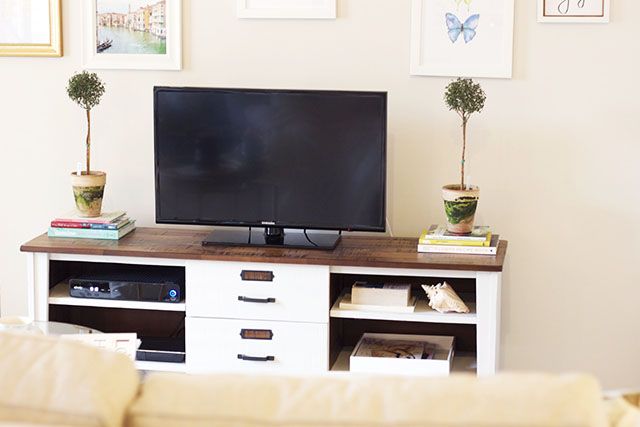 When I initially moved in, one of the best pieces of advice I received from someone else was to get the bathroom put together first. It's the smallest room in the apartment, so it would be a manageable space to get finished right off the bat. This was a huge help for me! I'm one who likes things in their place, so having at least one room put together was great. Just a few months ago, my apartment changed ownership, so I was excited to learn we could paint! I recruited my boyfriend's help and we knocked out my bathroom walls in a few hours. It has made SUCH a big difference!
We painted it Stonington Gray by Benjamin Moore and it's amazing how it has helped brighten up the tiny room and make me love it a little more. The white shower curtain now actually stands out, which I love. Another simple update I made was replacing the knobs on the vanity with pretty ones from Anthropologie (aka my happy place!)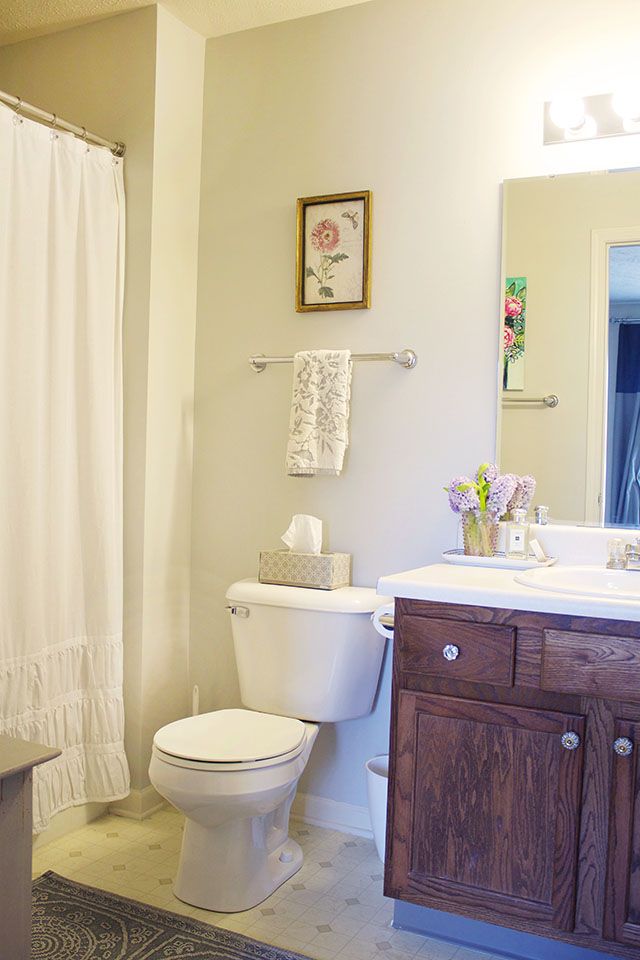 Back when I moved in I purchased a small love seat for my living room, because I made the mistake of going cheap and thinking that only a love seat would fit in my small apartment. Those sofas that are advertised as "apartment sized" are a silly thing! Sometimes they are the only thing that will fit in your home, but often times a regular sized couch will fit, and funny enough, will make the room feel bigger. My boyfriend is 6'3″, so the little love seat didn't make watching a movie very fun. I mean, it was actually hilarious watching him try to get comfortable on that couch!
After a few months of living there, I decided to sell the love seat and invest in a small sectional from Pottery Barn. I decided on the Cameron and LOVE it!! It has a reversible chaise (so if I move and need the chaise on the other side, I can move it!) and it fits perfectly. It actually opens up the space a ton. Here's a glimpse of the room back at Christmas time ;)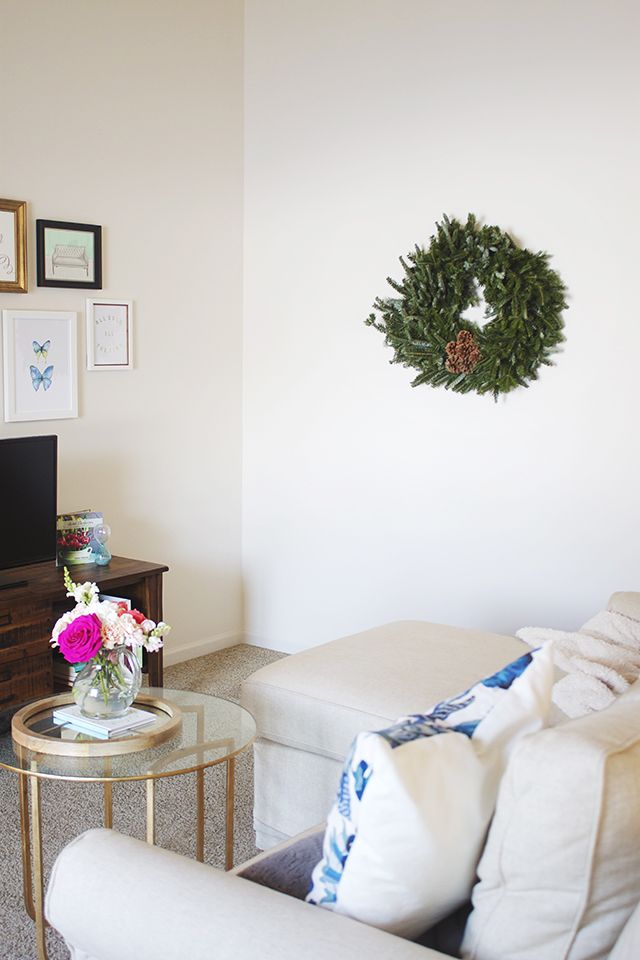 Adding new pillows, sewn by my interior designer grandma (her etsy shop is here!) was a fun added touch and something that really makes my house feel like home.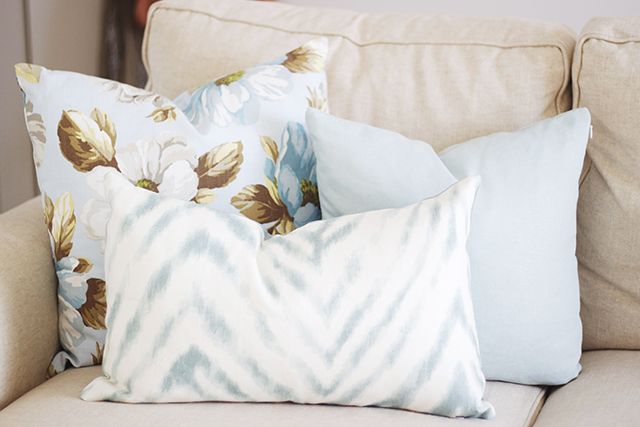 The biggest key to moving for me, was to remember it is a process. Giving yourself grace in those first few weeks (or months) and remember it will eventually come together is so crucial to your sanity and joy. I can honestly say, after a year of living in my apartment, that building a home I truly love has been so much more FUN when I started telling myself slow decorating is best. Can any of you identify with my story?
Stop by my blog anytime. I'd love to meet you!
xoxo