One of the things I'm pretty excited for in my move is my ability to do more drive-bys for you guys. Remember how I used to do those periodically? Yeah, way back then? Well, it was a lot easier to find a lot to show you when I lived in Portland. But now that I'll be in Seattle, WOWSA! I'll have lots of snooping to do in the lovely neighborhoods near and around where I'll be living. :)
If you live near my new place (once I figure out where that will be!), watch out. Ha! I'll be the one in dark clothes, crouching down behind the bushes trying to take a photo of your front door, or the one driving three miles an hour in front of your house. That's how you'll know it's me. :) It's going to be like old times!
My husband and I went for a little drive the other day in Seattle and had such a great time. We love looking at everyone's landscaping, their fences and gates, their window boxes and paint colors and just gathering ideas for our own home. Sometimes we just dream. It's a free summer date night :).
Queen Anne neighborhood drive-by in Seattle
Ever since I started blogging and going on my drive-bys for you all, I've DREAMED of seeing YOUR drive-bys. I have always wanted to see what your favorite houses look like, what neighborhoods you love to drive around or walk in and even a peek at your own house! But there really wasn't an easy way for me to see, let alone for your fellow friends here at The Inspired Room to see!
But now, I have the solution! On Home Love Stories, you can upload photos of your house, your dream house, your favorite neighborhoods and show off any architectural features that you love look at! I'm so crazy excited about this, y'all, this is really cool and I hope you'll join in.
It's easy! Just take your phone camera to your favorite street, a neighborhood of inspiring houses, show off charming houses in your favorite vacation destination, or take photos of great fences and front yards to inspire us. Show us where you live! Here's a drive-by a reader shared of her hometown of Tacoma, Washington! Just look at those houses! I love getting a glimpse of other parts of the country, world or even in our own neck of the woods. It's a small world, so come meet your neighhors!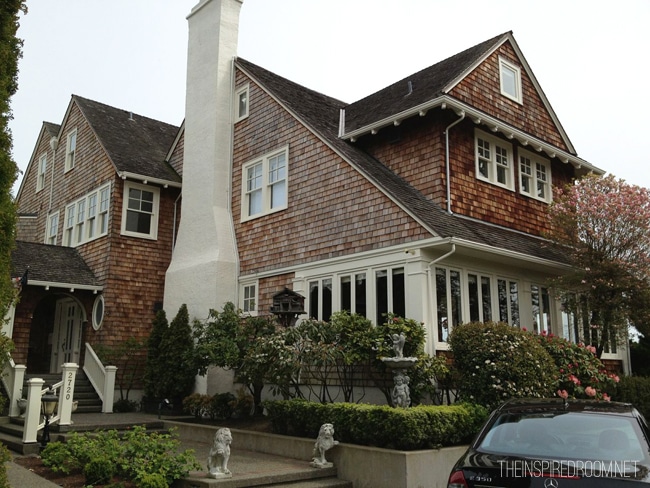 Magnolia neighborhood drive-by in Seattle
Yeah, I know you might worry that it is an invasion of privacy but if the front of the house is visible to anyone passing by and the Google camera could broadcast the same view. And I promise it won't be nearly as flattering as what you would share, so, no one should be mad! Just avoid showing off their dirty laundry or messy yards for the world to see (which Google does all the time). You can always ask permission if it makes you feel better. I avoid personal details like license plates, people or anything that might upset someone. You don't have to tell us the street name. I've never had anyone complain about their pretty home being featured and complimented, but more than once I've had people thank me! 
You can also show off your own home! Many readers have shown me their homes and it's so much fun to see where you live. I know many of you live in some really cute houses or in charming neighborhoods, so LET'S SEE THEM!