The past couple of months have felt like a whirlwind (to say the least). The thing I knew I would miss the most through this transition to our new home was feeling settled enough to just relax, enjoy our home, set a beautiful table, or even just style a shelf. You know, just puttering around the house for a little fall nesting? Those are the simple things I love to do.
Being unsettled is a little unnerving, so when The Bouqs Company, a new florist, offered to send me a couple of housewarming bouquets the week we moved in, I was so excited. In fact, in the days leading up to the delivery, I couldn't stop thinking about the fact that these flowers were coming! You wouldn't think a bouquet would be that big of a deal when you are just moving into a house, but somehow when the flowers from The Bouqs Company arrived, they brought with them a dose of joy just as I knew they would.
The Bouqs Company's flowers are cut the day you order them and shipped (with free shipping!) the next day. Their flowers are grown on the side of an active volcano in Ecuador, because more sunshine and mineral rich soil makes for better flowers! The flowers are shipped directly to your door from the farms, so they aren't waiting around in warehouses until they're ordered. That means your bouquet arrives fresh and pretty, just as you imagine it should.
All flowers are grown at sustainable, eco-friendly farms that follow strict responsible farming practices and are 3rd party certified by Veriflora and The Rainforest Alliance.
My bouquets came neatly packaged in an attractive box with a card. All I had to do was unwrap the bouquet, cut the stems, place them in water and ENJOY! Any blooms that were still tightly closed began to open into their full natural beauty by the next day. I've been enjoying them for days and they still look just as pretty as they did when they arrived. I love the mix of flowers and the unexpected combination of colors. They are gorgeous! You need to go check them out to how many type of flowers they offer, you'll love browsing their site.
I didn't even have a special vase unpacked yet or a beautifully furnished room to set these in, all I had were a couple of random containers and a pile of moving boxes. But what more do you need to enjoy flowers? They offer you a smile, no matter what your house looks like or what kind of day you've had.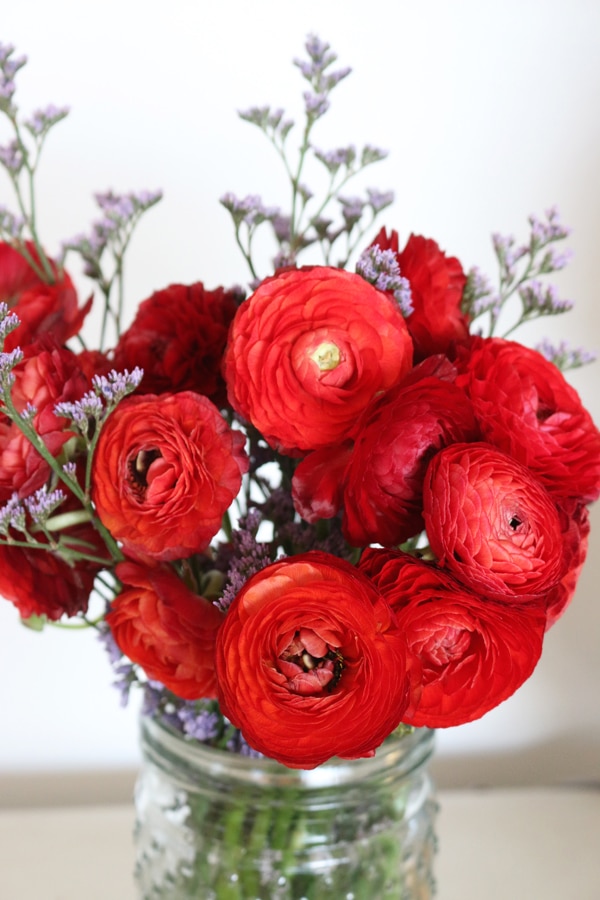 These bouquets have made such a difference in my week, by simply bringing beauty to the chaos around them, I decided I wanted to start sending more flowers to friends to brighten THEIR day!
If you'd like to bring a little joy to a friend (or to yourself!) this week, here's a coupon code for you!
Get 20% off of your Bouqs.com order with code GETBLOOMS (offer expires 9/17).
***************
9/11 … We will never forget