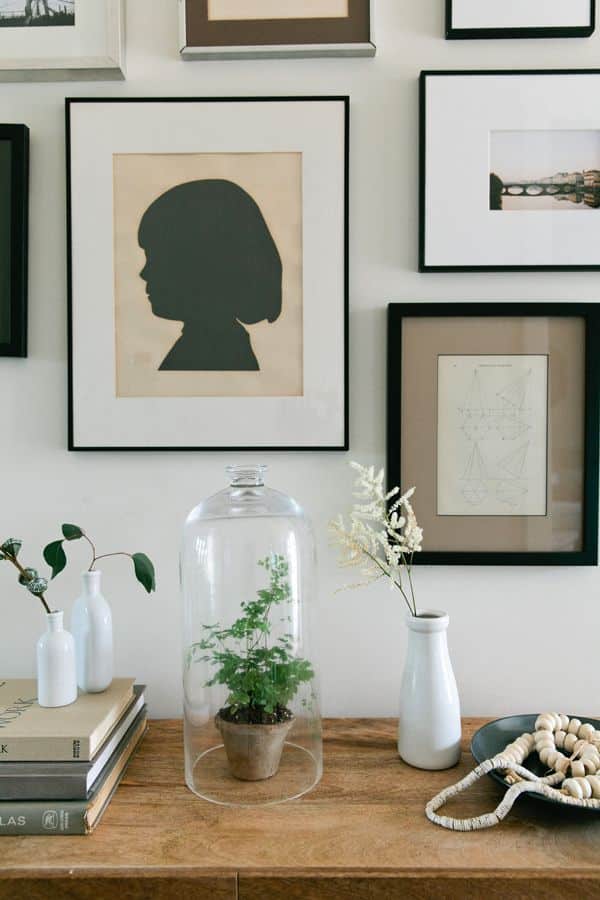 A simple color palette Once Wed (styling by Ginny Branch, Photo by Ali Harper)
Our home should be our happy place. It's the place where we should be fully comfortable and where we can be surrounded by the things and people we love. But when the surfaces in our home become too cluttered, we can't enjoy them, or we aren't sure how to display the things we love in a way that might inspire us every day.
While empty surfaces in some cases can be a relief to the eye in a cluttered house, you can still display what you love without adding to the clutter.
I normally don't like to give too many do's and don'ts or rigid rules for decorating (since it is your home, after all!) sometimes a few guidelines are helpful to achieve the results you want.
Here are five simple guidelines that I think help create effortlessly inspired spaces:
1. Make a Statement
Select a statement piece for your vignette. Add something that is eye catching in some way so your eye will know where to look (such as a great shape, a pop of color or even repeated colors or patterns, or something oversized and unexpected). Add a piece that sparks conversation or commands attention, such as an oversized clock, a large letter, or an intriguing and unique work of art.
Your vignette can tell an interesting story through a unique mix and variation of materials, but just because you happen to own a lot of cute things doesn't mean if they are all set in one spot they will work together in a pleasing way. It might just feel like clutter if it doesn't have one special statement piece or a unifying color scheme that can can pull it all together.
Show off pretty things you use everyday in an artful way, that's the best way to make a statement! Shelves can hold your favorite mugs, console tables can hold a favorite collection of vases and kitchen counters can hold a beautiful arrangement of wooden spoons ready to be used.
If you are setting up a vignette on a console table or mantel, layer your items front to back from the wall and use varied heights to make the composition more interesting. Your eyes will be very happy if you repeat a color several times in a composition.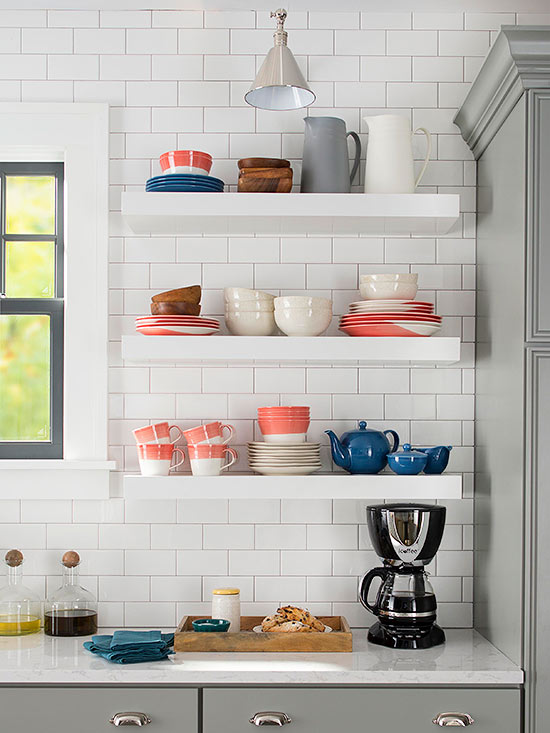 Repeat impact color in three places for impact BHG
2. Be Realistic
A vignette should be practical for day-to-day living. If you are draping, teetering, stacking and layering items that are likely to fall down or even trip you if you walk past too briskly, it's time to rethink the purpose of styling.
I feel that any styling in a home should make sense and be enjoyable for the people who live there, rather than feel like just an assorted product display in a store. Styling in a home should be about creating spaces that are pleasing to our own eye, but for the purpose of enjoying what we have and use everyday.
Each piece should be a welcome and pleasing addition without appearing risky or dangerous if you were to reach out to pick up one of the pieces. A vignette won't feel natural or comfortable if you sense something might fall over or trip you if you actually wanted to pick up or use anything in the vignette.
There is a time and a place for more "staged" styling, but in real life we don't want to trip on blankets puddled artfully on the floor or knock over a whole shelf of precariously stacked dishes when we reach for a cup.
It's also helpful to think about the purpose of your surfaces. If it is a surface you need to use, like your counters or island in a kitchen, you might want to have less stuff on them so you have more space to work. Include just a few practical things you use, but make sure they contribute to the homey feel of the space and don't just add unnecessary clutter.
If it is a surface you don't use for anything (like an open shelf), enjoy styling it!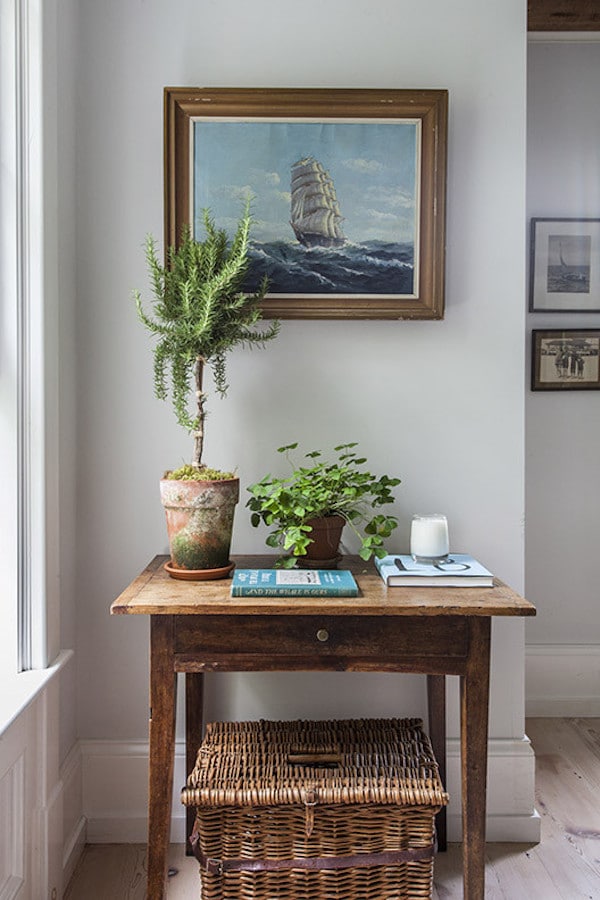 Books, plants and candle, basket underneath table Lonny
3. Keep It Effortless
While everyone will have their own preferences on style, I prefer vignettes that seem to be more naturally created from living in a home. I love to see a vignette where things the owner loves were pulled together simply and effortlessly because they are items that are really used or enjoyed.
I think a natural more effortless look is great because if you really use what you have and enjoy your home in all seasons, a vignette will evolve as you live in the space. You might set down a pretty hardback book on a table or a white pitcher on a shelf after using it and it will look lovely effortlessly, even if it isn't a perfect composition. You will put things you don't enjoy seeing away in a drawer, because you love puttering around your house and only keeping out what you really love.
You can create pretty vignettes from pretty things you love and enjoy and mix and match them around the house as your mood strikes.
The most interesting vignettes to me have something about them that isn't perfect because they feel real and authentic. Select items for your vignette that hold their own and speak for themselves, not items that need a lot of fussing and primping to make them work. Imperfections in the arrangement or spacing or even in the items selected for the grouping will help keep things effortless and real.
Simplify surfaces Domino
4. Always Simplify
Once you set up your tabletop vignette, take away a few items and see if you like it even better. Usually less is more. Try for commonality in several items, repetition will be pleasing if you have several items to display. When in doubt, you can't go wrong with simple collections in a common theme, such as a collection of blue bottles or a stack of colorful books.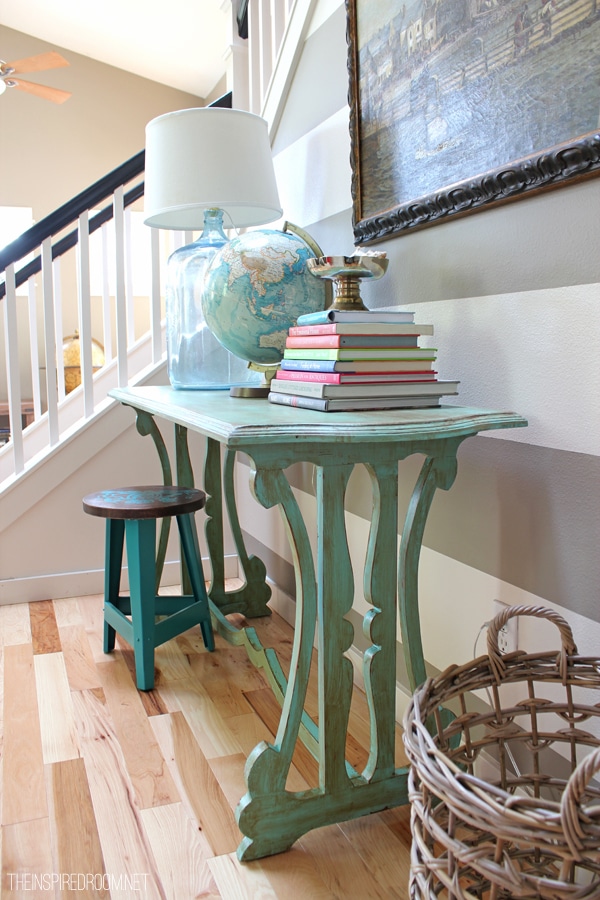 Show off your collections
5. Use What You Have
Look around for items you already have that could be used in a fresh way. While shopping for new accessories each season can be fun, eventually you'll end up with too many seasonal items to store. Think about what you already have that could be refreshed and used in several seasons. Plants or natural items add an organic and seasonal touch that is always stylish and never fussy. Think about colors and patterns that can be mixed in and enjoyed no matter what the season is!
Enjoy puttering around your house and styling your tables in a way that will inspire you everyday! For more ways to streamline your home and create the sanctuary you crave, check out my books here.