Last week I showed you the wee bit of progress I made in our living room along with our Christmas decor. If you missed it, we got a new rug (a real deal at only $150!) and rearranged the furniture! Pretty affordable and easy makeover, right? I so appreciated all the nice comments on the room, especially since it was such a simple update. I received several questions on the room so I thought today I'd offer some answers and a bit more detail on the decisions we've made and plans for the space.
In a Pinterest and Instagram dominated world, I think it can be so nice to see how easy it can be to transform a blank room to one you really love right now with just a few simple changes, even if you have grander dreams for a future makeover.
Why wait for some future time or big makeover when you can love the home you have RIGHT NOW? That was my goal with this space.
A first step in transforming your space on a budget of time and money is to consider how to arrange your furniture and then bring together the elements every room needs to feel cozy and inviting.
For more detail on how a room can be transformed using what you have and can gather over time, you'll find lots of information in The Inspired Room book. As I was working on this room I definitely incorporated those same principles. You'll find helpful tips on furniture selection and arrangement, too, plus how to use colors and patterns in a room and much more.
You can get the book (or Love The Home You Have) for an EXTRA 25% off today only on Amazon, use the code "25OFFBOOK" at checkout under the "gift cards and promotional codes" section to receive an extra 25% off!
For this room, I knew the white backdrop of the walls would work just fine for now. In fact, I'll probably keep the room white long term since this room gets lots of natural light (in a darker room white isn't always the best choice), but we will be using the white we picked out for this house, Swan White by Glidden. The white currently this room is a bit vanilla/yellowy on the walls and pinky on the ceiling so I definitely plan to repaint at some point. But for the time being, it will do!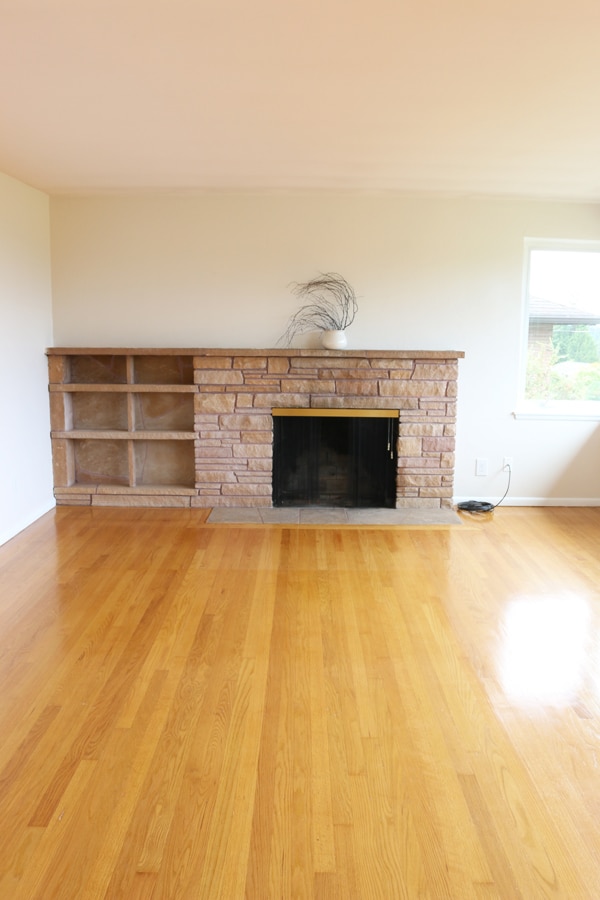 We also have the asymmetrical windows and fireplace to consider as we work on this room. The stone of the fireplace is pretty nice, but the design and coloring is not my favorite so it is something I can likely address at a future point. Meanwhile, I can work with it. Every room is going to have its challenges, limitations or stand out features so it helps to consider how you might be able to play up, incorporate, or minimize the various elements.
At our house, this first step before the holidays wasn't going to involve paint or any changes to the fireplace, windows or floors or anything else significant at this point, so I simply needed to focus on the arrangement of the furniture and a rug to make the biggest impact with the least amount of effort.
We have a beautiful view out our windows as I've mentioned, so I knew I wanted to take advantage of that but also make the space itself inviting. This is our living room so while of course we want to incorporate and enjoy the view, we also want to feel cozy in this space in the evening when it is pitch black out there (there are no city lights to look at across from us) as well as being comfortable for lounging, working or having conversation during the day. The view is a great feature, but looking at the view isn't the only purpose or use of this space.
Originally when we moved in, we put the sofa facing the fireplace (see above). That's a cozy arrangement in many rooms, and was one of the arrangements we enjoyed in our old family room. I do love facing a fireplace. But here it just felt a bit like that arrangement closed off the room from rest of the house. Since this room offers the big windows with the view, I wanted the arrangement to invite people to wander in and enjoy it, not feel like it was a place set up for a private party by the fire. And of course when the furniture arrangement focused around the fireplace none of our furniture even looked directly out at the view, so it made sense to turn things around a bit.
Since we don't have plans to buy new furniture for this room, especially right now, using what we have was our main goal.
Sources: 1 // 2 // 3 // 4 // 5 // 6 // 7 (similar) // 8 // 9 // 10
We didn't want to move our cabinet to a different wall as it is too tall to fit under the windows and too long for any other wall. Plus it anchors the space nicely, provides needed storage and allows us a place for lamps! This room has no overhead lighting so we rely on lamps for evenings and ambience.
So with the fireplace at the end of the room, the cabinet placement on one side and the location of the windows on the opposite wall as our starting point, we had an obvious location in which to center the conversation area. The window placement on the wall makes the area to the left with the gold cabinet (right as you enter into the room) not as desirable to be part of a main conversation area as it wouldn't take advantage of the view (but its perfect for cabinets and extra seating!).
We angled our bigger wingback on one side of the glass cabinet and another side chair on the other with the sofa across from it, providing a perfect conversation area nestled between the fireplace, cabinet and windows. This arrangement allows for seating with a view during the day and is cozy and comfortable near the fireplace, too.
I was pleased that the leather love seat fits quite nicely in front of the windows as it isn't too tall and doesn't block the view like the wing backs would have. Our sofa table (that previously had no home) suddenly found a nice open spot next to the sofa and fireplace, creating a perfect little niche for plants and a place where we can sit with our laptop or coffee and gaze out the window!
Once the furniture was in place, I realized all I would need to make this room feel more complete for the time being would be a rug. My furniture is very neutral and solid with the exception of the beautiful color of the ottoman. So without any other significant pattern, bold color or favorite architectural feature to carry the room, I knew the right rug would transform the space.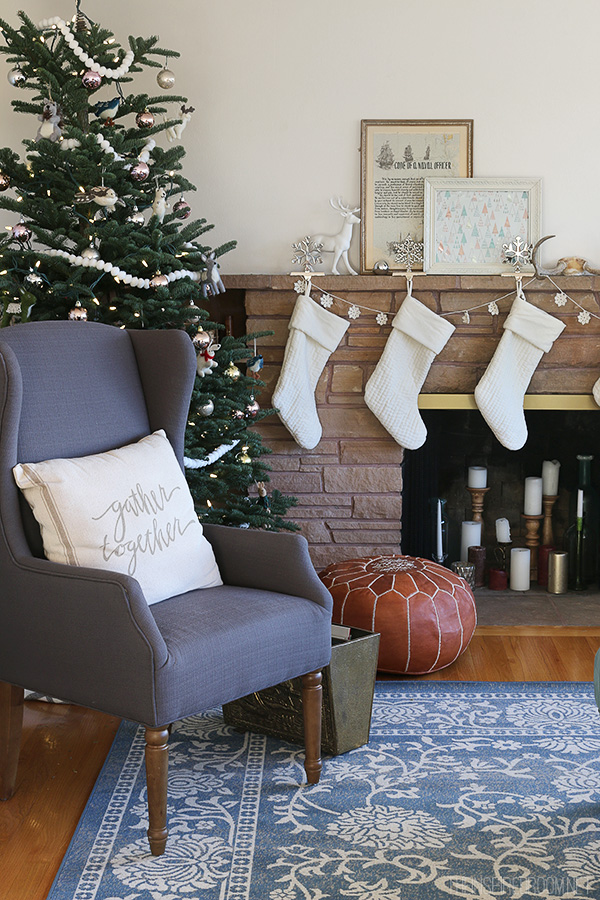 I wanted to keep this room pretty simple, but a neutral rug like a natural brown or even gray would not have had enough drama or personality for my liking in this particular room. I definitely wanted it to have more punch! As far as how I chose this particular color, partly it was a happy accident because the color online didn't quite look like what it is in real life. Ha! At first when I saw how blue it was I panicked, but only for a moment. As soon as we laid the rug down we knew it was meant to be.
The other thing I liked about this rug was that the shade of blue is distinct from my gray and brown furniture so it really livens up the color palette. Shades of blues, grays and teals all look so pretty together, I think, without feeling jarring. I also loved the bold but natural white pattern on this rug, plus the brown mixed into the the blue background gives it more of an antiqued look.
When I got home from the HGTV Dream Home (see the tour, here) I laid out the Glidden paint color palette chips from the house on my ottoman and instantly noticed that all the shades of blues and teals they used looked great my living room! I really love when several colors flow through the house and blend nicely together in a room, but I don't want them all match. I think a nice mix of pretty colors throughout the house with an occasional color surprise here and there makes for a visually pleasing home!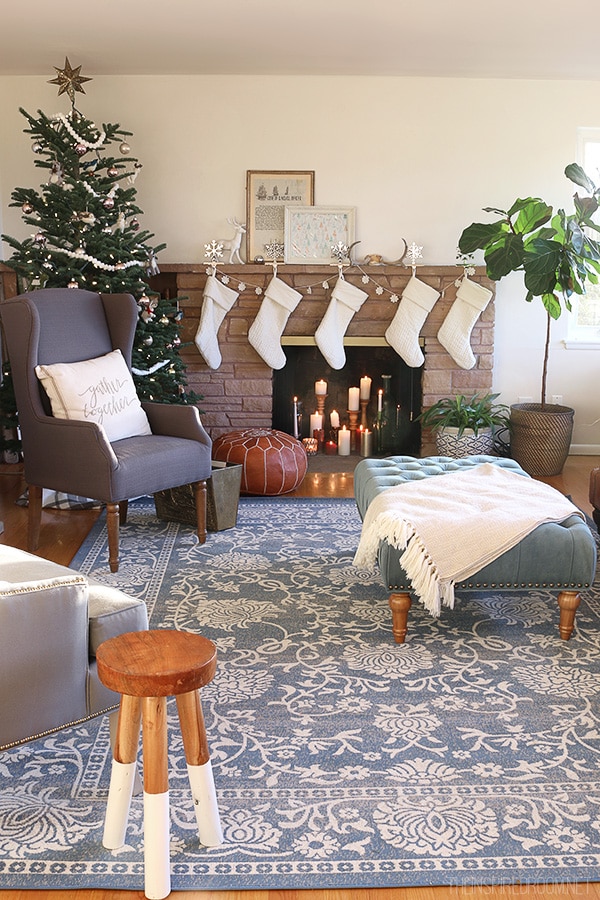 At first I was convinced I would want a second wingback to exactly match my other gray one (or get two new matching chairs, the brown trellis wingback will be used elsewhere in the house) but when I grabbed a dining room chair to test out the arrangement, I realized I could make that one work for now.
Someday we still may add the window seat built in I talked about in my vision post, but we are surprisingly happy with the current arrangement for the time being. I love to curl up on the sofa and enjoy the ambience of the fireplace. Often during the day it is just me sitting in this room so I will sit in a chair and work and just enjoy the view.
Right now the fireplace works visually with this arrangement, but of course we have a Christmas tree in the corner right now that won't always be there. I may rearrange a bit after Christmas and by then who knows what ideas might pop into my head! I am guessing I'll probably try a little makeover to the fireplace after the holidays. I may at least just flip the two gray chairs after the tree is gone.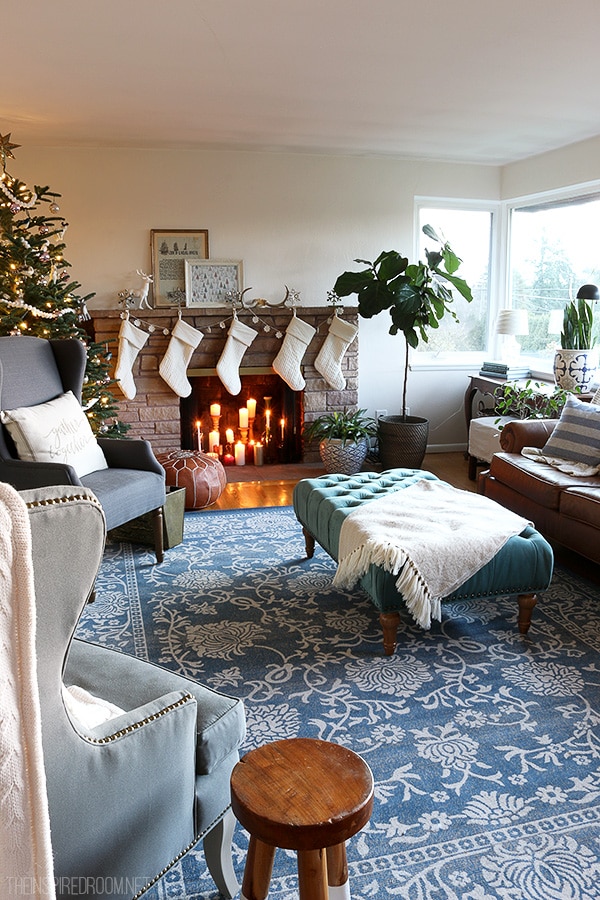 So that's where we are at right now! For sure I'll be adding blinds to the windows after Christmas (I'll share more about our choices in January!). I am looking forward to making this space even cozier! It already feels so comfortable, I love spending time in this room.
GIVEAWAY!!!!!
To help inspire you to add some pretty new paint colors or do a little nesting in your home this winter, Glidden is offering a lucky reader of The Inspired Room a $100 gift card to Home Depot! All you have to do to enter is leave a comment below :).
Winner will be selected on Thursday 10PM PST.
*THIS GIVEAWAY IS NOW CLOSED*
*********************************
More Posts:
Our Seattle House Tour {video}
Finding Joy At Home {when you're feeling like you're in a slump!}
5 Ways to Add More Cozy to Your Home
5 Reasons to Love the Home You Have {my guide on eBay}