Timber house in Washington
Man, you guys, MY HEART just about BURST out of my chest reading each and every of your comments on my last post. Thank you from the bottom of my heart for going out of your way to offer me encouragement and affirm that I've found my people here. It does my heart good to be surrounded by such a lovely group of ladies who are not only kind people but are as inspired as I am by the unique and authentic ways others create a home.
Hearing from you really made me wish we were all neighbors in real life. I really really like you guys. :)
Just a reminder that tomorrow we will be kicking off the The Love Your Home Challenge! Yahoo! Every Sunday for the next few weeks, I'll post seven simple challenges you can take part in during the week. It's going to be fun to focus in on some doable projects.
I'm thrilled that so many of you have shared that you are planning on participating, so it will be fun to share photos of whatever challenge we complete over on Instagram (use the hashtag #loveyourhomechallenge) or on Home Love Stories (it is free to join and you don't need a blog to be able to create posts! Just come share your home or projects with fellow home lovers and we will be there to cheer you on!).
The goal for The Love Your Home Challenge is to have fun and feel accomplished as we make our home a bit tidier, prettier and more meaningful to us and our family.
Meanwhile, if you are in the mood for a little decorating inspiration right now, this post has links to four home decorating articles I wrote this month over at eBay (see below)! Enjoy!
I'll see you back here Sunday!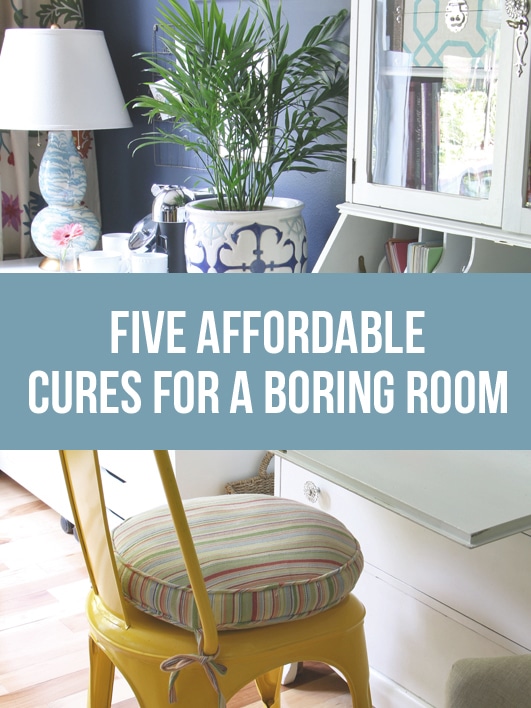 Click here for Five Affordable Cures for a Boring Room
Click here for 5 Clever Designer Tricks to Spruce Up Your Living Room for Less
Click here for The 5 Rules for Selecting Paint Colors
Click here for How to Mix Patterns in Decorating