This post is sponsored by Blue Apron
It's crazy how unsettling it is to have your home turned upside down so painters and contractors can come in and work on your house. While it is always exciting to finally have the opportunity to start the projects (so no complaints from me) it can feel a little awkward to move around freely when all your furniture is covered in plastic or shoved into another room.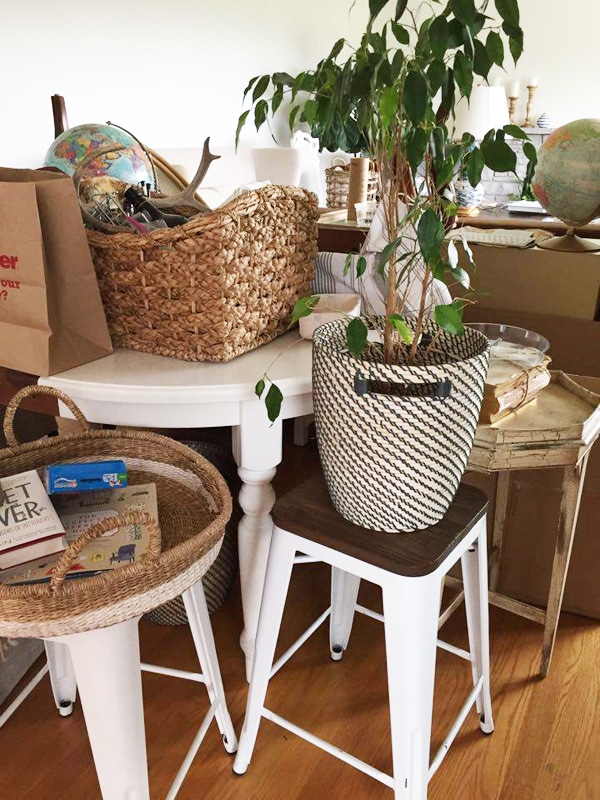 You can see the state our living room was in while we had painters here, with my dining room table buried in there somewhere! So knowing the painters were coming and this kind of chaos would soon follow, last week we really enjoyed eating one last meal sitting at our table. I was extra glad we had a Blue Apron meal ready to prepare (you will have an opportunity to try three free Blue Apron meals at the end of this post, so be sure to sign up at the end).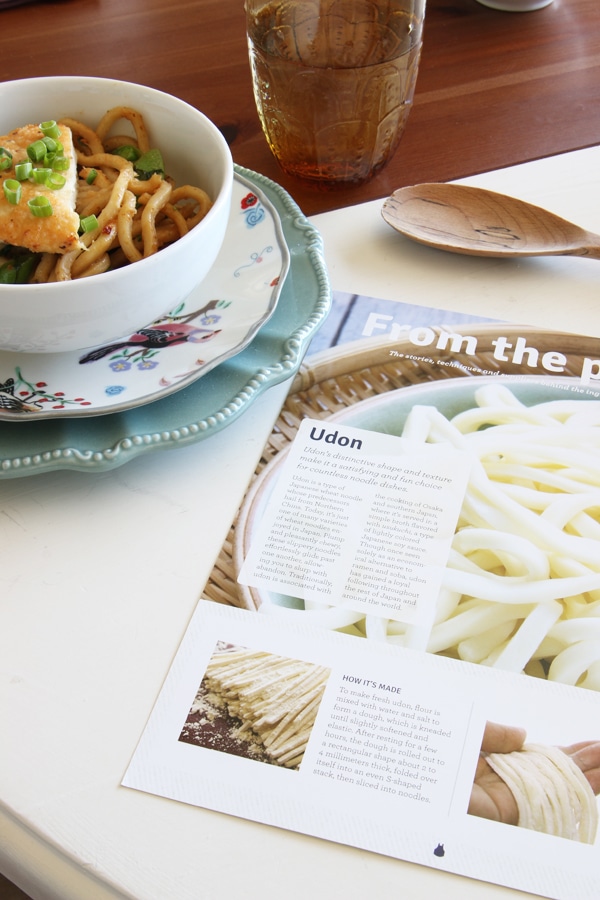 Our recipe was for seared chicken and miso udon noodles with sautéed sugar snap peas and pea tips. I'll admit I had never heard of "udon" noodles, but then again, I'm not a super creative chef. I really want to be adventurous because I love to eat good food, but I tend to fall back on a few basics I'm comfortable cooking.
I love ordering from Blue Apron, there is always a new recipe or ingredient to try. But often what is even more exciting to me is that the food is already shopped for, measured out and ready for me to prepare. I love saving time and not having a big hassle! And now I can say I also adore Udon noodles. Who knew?

While this meal was not something I would have thought to create on my own, it was so tasty and simple to make. I would definitely make it again. It was a winner!
My daughter Courtney and I always have fun preparing dinner together when we receive our Blue Apron box. The guys in our house start circling around the kitchen asking when it will be ready because they know it's going to be good!
With our last order we also received a couple of quality tools from the Blue Apron market. The thick Boos cutting board is amazing and this really sharp knife put all my other knives to shame.
I'm always happy with our Blue Apron meals and love trying something new for dinner. Blue Apron offer's farm-fresh ingredients delivered in a refrigerated box (which can be recycled) right to your doorstep so it is both tasty and convenient.
You can order a two-person meal plan or a family plan.

Each menu is between 500-800 calories per person.

Ingredients are incredibly fresh and sourced from quality suppliers and artisans.

All meals can be prepared in 40 minutes or less.
Soon our dining room will be fully painted and we will bring our table back in. We are looking forward to having another great meal and sitting around the table again! To order Blue Apron at a discount and receive three free meals, check out the discount offer below!

BLUE APRON DISCOUNT OFFER:
The first 25 readers will get THREE free Blue Apron meals on their first order! That's a great deal.
Just click here to find out more and sign up for your Blue Apron meal plan, you can cancel at any time!
Enjoy!
This post was sponsored by Blue Apron.