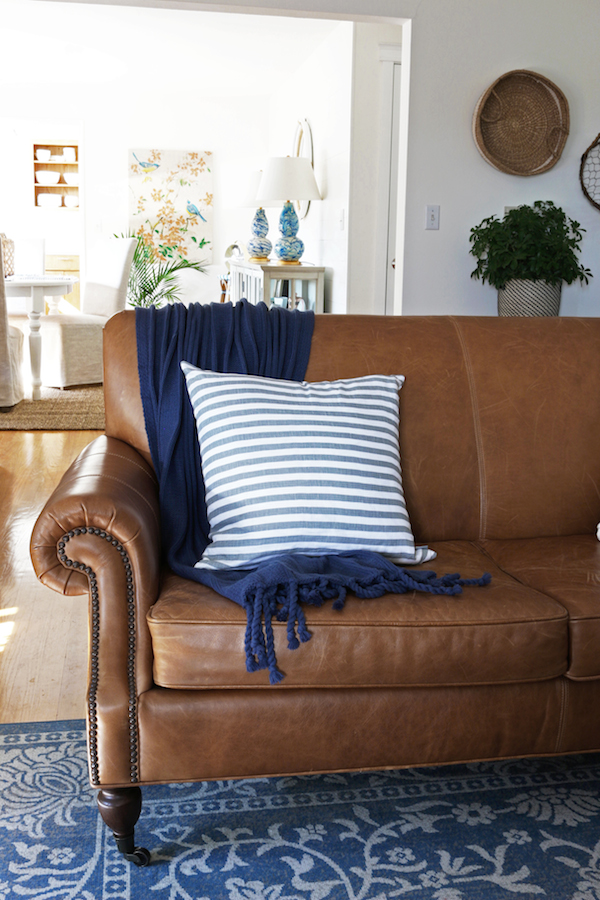 Hey friends! I took a couple of unexpected days off from blogging this past week, mostly just trying to get the house ready and decisions made for all the projects ahead. Phew! We've been making progress everywhere but the biggest transformations are just around the corner so I CAN'T WAIT!
I'll have lots more to tell you about our kitchen plans and the Dutch doors (if you missed the news, our kitchen demo begins in just a few weeks, yippee!) but today I thought I would share the plans for the other side of the dining room (for those of you who wanted to see more of the room the other day when I showed you the shiplap wall).
Nothing to hide here, it's just slow going on this side of the room. While I wish I could just snap my fingers and show you the shiny after room photos, right now it's still in process. But we've made progress bit by bit so I'm feeling good about it so far.
Here's a reminder of how this side of the room looked a few weeks ago…a blank slate!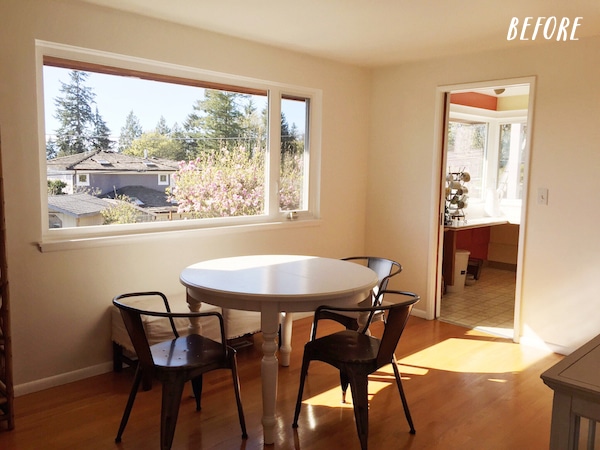 before
I've been envisioning this room as a breakfast room, a bit cozier and much more casual than a formal dining space. We set the table up near the window to take advantage of the view (our dining bench is on order). To give this bright sunny room a fresh clean backdrop, we painted the walls a soft warm white.
Below I'll share the additions to the room so far and a bit of what's to come.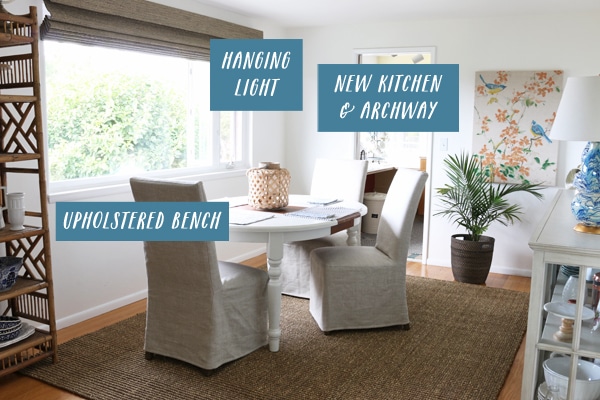 We recently installed the bamboo shades. We are super happy with them (they are installed above the windows, but we left enough of room above if we decide to add curtains or crown molding). I'll do a whole post specifically about the shades in a future post, but in the meantime, they are the Good Housekeeping Woven Wood Shades called "Bali Abaca". You can find the ones I have and more here (my affiliate link will ensure you receive the best discount available at the time you order).
Our Parson's chairs arrived and they are just as comfortable as we expected. We comparison shopped by sitting in several Parson's chairs locally, looking at price, style, quality and comfort (you can see our roundup of some great options here). The Restoration Hardware chairs were the clear winners for our needs. The linen slipcovers are nicely tailored and add a lot of softness to the space.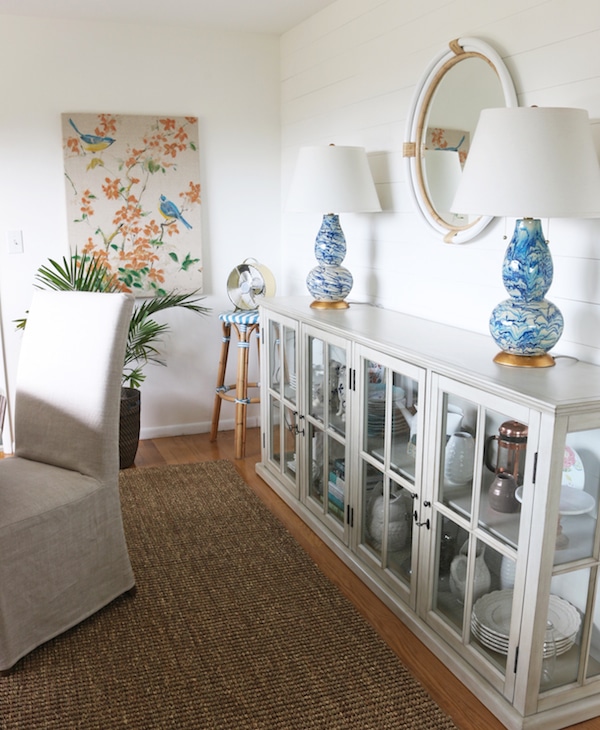 We added a new seagrass rug to add a layer of texture. I was surprised what an impact it had on the feel of the room, it just feels more "grounded" and cozy. While a rug in a dining room can be a challenge to keep clean, seagrass is indestructible! You can find the rug we chose here.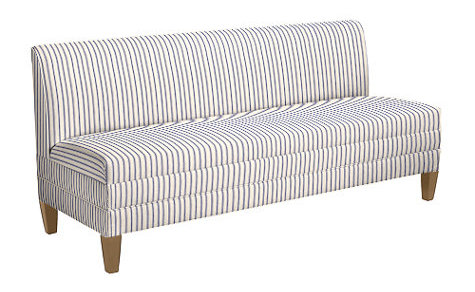 In the next few weeks my new dining bench from Ballard Designs should arrive! You might remember me talking about some options for dining benches. The bench I ordered is the Bristol Bench with driftwood toned legs and a linen and navy stripe upholstery (the sample I received shows wider placed stripes than it appears in the product shot, so it's helpful to always ask for fabric samples before you place an order).
I really wanted a long more substantially sized bench with a padded back to fill the space under the window, so I really think it's going to help anchor and complete that side of the room.
The biggest changes will be seen as we add more architectural interest to this space. Besides the new shiplap we already installed, the next step is to enlarge and arch the doorway opening between the kitchen and the dining room. The arch will frame the view to our new kitchen and of course bring more shape and softness to the room. The current opening is pretty small and uneventful so I can't wait to see how the arch transforms the look of this room.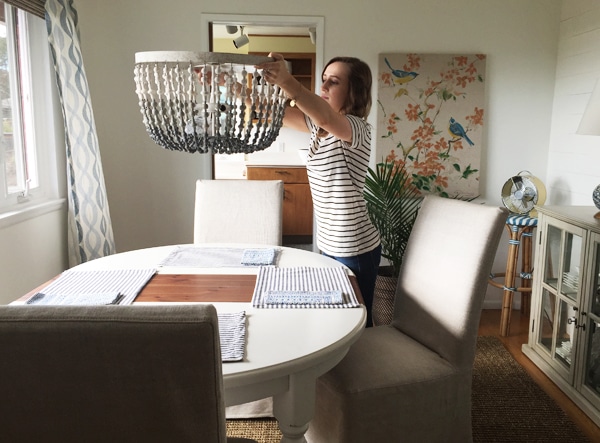 Soon we will have an electrician move light fixture box to be centered over our table so we can finally install our new wood beaded light fixture! It's been just sitting in a box forever. My mom thought our new dining light was small from the product photo I posted on the blog awhile back. To help offer perspective, my daughter Courtney is holding the light up over the table so you can get a better idea of the actual scale.
It's a large enough light fixture to make a statement, but not too big for the room. It will hang down from the ceiling at an appropriate level for the table. Courtney is only 5 feet tall so a lower height simulation was the best she could do, even on her tiptoes :). Also, note she is a very small person, so you can see by comparison how big the light actually is.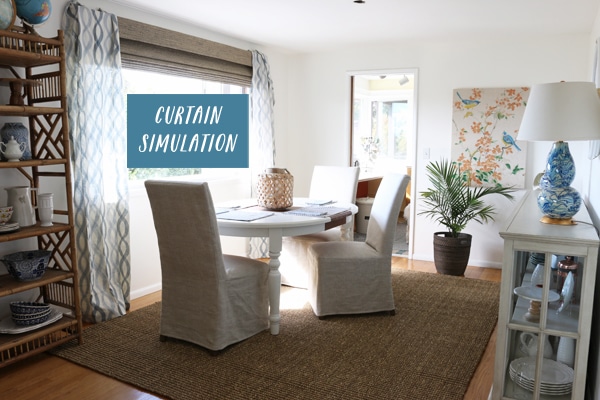 We are also considering adding sheer breezy curtains to the windows. I'm always a fan of patterned curtains to add more softness and interest to a room, but heavy curtain fabric didn't seem right in this airier space.
I found some cute sheer panels with a swirl pattern from Target online, but they only had two left. I ordered them anyway but then searched eBay and kept my eye on the Target website for the past couple of weeks just in case. Finally two more panels randomly popped up for sale. They are on their way to my house right now!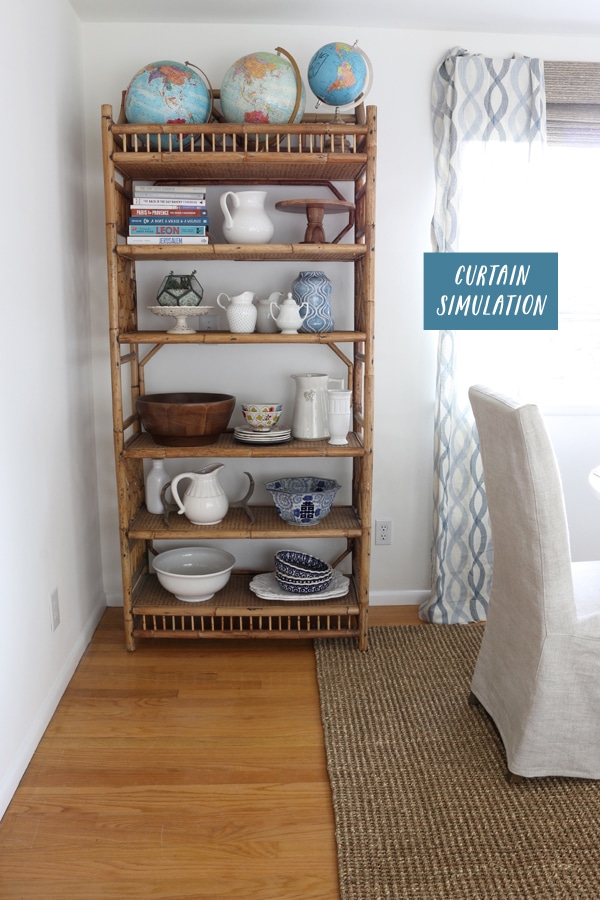 The two panels I have so far are just tucked around our shades to simulate what they might feel like. I know how we hung them looks ridiculous in these photos, but at least you can get the idea of curtains. If we actually hang curtains, they'd be on a rod outside of the window and double the fabric of what you see here. I could go either way, curtains or no curtains. I guess I'll know better once I see the bench in place. What are your thoughts?
Lastly, we plan refinish our old oak floors to a more brownish less orangish tone. The goal is for our floors to all flow together more effortlessly. There are are lots of flooring changes in this old house! While we aren't changing every floor surface, we will do the best we can on our limited budget help the house flow together style-wise and tone-wise.
So, that's where we are at so far and the vision we have planned for this space in the upcoming weeks!
Have a great Monday!
*UPDATE: See the progress on my home in my Fall 2016 House Tour!

ROOM SOURCES:
Glass sideboard (ours was the antiqued taupe color)
Rattan shelf – thrifted
Bird botanical canvas art (out of stock)
Rattan and white round mirror on shiplap wall
And as always, you can find more sources in my shop!