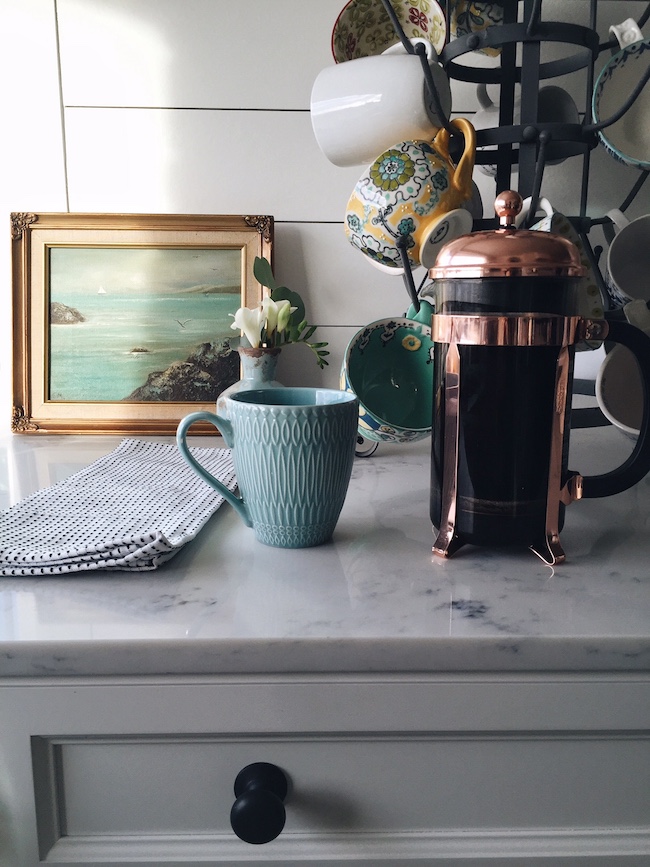 Sometimes it can feel like everyone else must have it all together. They can somehow whip their whole house and life back into shape after Christmas by January 1. Not me. :) I need until at least February to feel ready for the new year. Ha! But in all seriousness, the month of January is a great time for a home reset! Don't you think?
Now that it's already mid-January, I'm finally feeling like I'm ready to get into a winter routine! Everyone else might be on to spring by the time I am ready, but that's OK. The house is still in somewhat of a disarray from the remodeling projects, unfortunately, but it should be pretty easy to put back together again.
I was hoping they'd be done with the kitchen a few days ago, but there were a few important things we are still waiting on (like the trim piece for the round window), or took longer than expected (paint touch-ups), or even just went amiss and something needed to be taken care of. But rest assured, I'm super excited to share the reveal of my kitchen as soon as I possibly can!
The days of a house full of dust clouds and contractors will wind to a close very soon, I'm sure of that! I look forward to just flopping down on my daybed without contractors watching my every move, ha hahaha.
You can see by the photo above we are getting quite accustomed to working in and around the mess and contractors, though. Honestly I work much more efficiently when the house is empty, but you do what you gotta do. :)
While the project phase last year was really exciting for me (and we are so grateful that we had the opportunity) I am especially looking forward to the resulting nesting phase that will follow in this new year. We had projects on both the main floor (with the kitchen) and the lower level (the new floors and wall) for so much of last year that I'm super excited for all the settling in I will get to do this year!
Believe it or not, I can't wait to get back into my regular cleaning routines! Yes, I'm looking forward to CLEANING! I actually dream about the day our entire rooms are dusted and put back together for good.
I actually love the little everyday routines, like puttering around the house, tidying up or rearranging this and that.
The dogs have been so good through this whole transitional season where we were moving in and having contractors in their home. I know they'll be just as excited as I am to roam the house freely again!
It's always the little things that matter the most, like having cozy rooms that can bring comfort and inspiration.
What are some ways you would like to reset your home for 2017? It's therapeutic to say goodbye to what no longer serves your family or to simply rearrange spaces and breathe new life into where you live.
How are you resetting your home for the new year?