Coffee Maker here or here (30% off) / Mug Rack / Chemex / Mug Hooks – Ikea
It's been awhile since I did an Instagram Lately post! It's fun now and then to share a few snippets of our life behind the scenes and random updates from our family's Instagram feeds here on the blog!
But first, I want to send a big thank you and Happy Mother's Day to my wonderful mom :). And another thank you to my kids, you make your mama so proud every single day!
This little coffee station is at my girls' townhouse, isn't it the cutest?
Sources: Towel / Gold Flatware
Last week my girls and I had these delicious smoothie bowls one morning during a breakfast meeting. Basically it's a fruit and yogurt smoothie, but in a bowl topped with fruit and granola. So good, and good for you.
Last Sunday our whole clan (fur kids and humans) took an afternoon drive to Snoqualmie Falls. It's only about 45 minutes from our house, so it's a great spot to escape to if you are local.
The weather was absolutely beautiful here, so we couldn't resist getting outside. It was nice just to spend time together enjoying the view.
If you ever watched the TV show Twin Peaks you might remember this stunning setting!
Weird show, beautiful view. :) The Salish Lodge sits up above the falls, it's all so picturesque!
It was so refreshing to be able to outside after such a long winter inside. The dogs had a blast.
We had all four dogs with us and we overheard someone say we looked like a straight up a circus. I agree. Ha!
It's quite a scene to walk four furry doodles.
Day Bed // Rug // Sign // Stool // Curtains // Shades
I have to say, though, that I think Jack is really just a homebody at heart. Lily loves being outside, but I have to say Jack seems to be the happiest inside with his people.
Speaking of Jack, Friday was his sixth birthday!
Can you believe it? It seems like only yesterday we brought him home from the farm.
Lately my girls and I have had fun making essential oil rollers. We use them for everything. Our happy roller blend is my current favorite. I use it like perfume every day, it smells divine!
We don't miss artificial scents or unnecessary chemicals in our home one bit! Please let me know if you'd like more details on the oils we use and how we use them.
Blue skies and pink blossoms!
This weekend I got into a real redesign frenzy. Before I knew it, I had come up with a new vision or idea for every single room in our house (except the kitchen, I'm not redoing that, ha!).
Pretty much no room will look quite the same as it does in this post, so stay tuned for the updates to this room and others in the upcoming weeks :).
Speaking of design updates, I always have such good intentions of updating the seasonal art on my chalkboards, too.
But alas, this one still has fall leaves on it. :)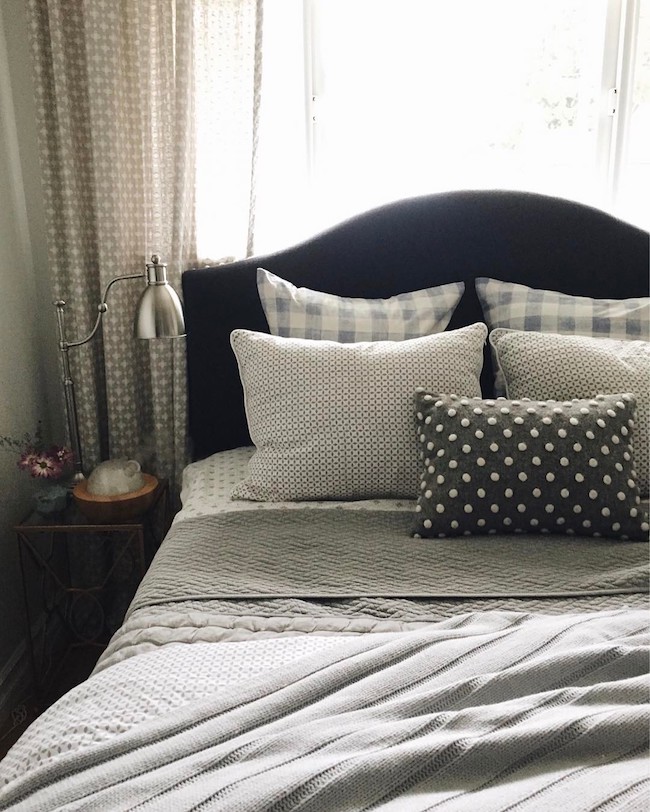 Curtains / Quilt Lamp & Mirror: Ashley Home Store / Blue & White Check Pillows / Polka Dot Pom Pillow / Glass & Wood Diffuser
I'm really excited to be able to focus on some smaller projects again now that the kitchen is complete. It is fun to always be working on the house, even in small ways. Our guest room is one of the rooms that will be getting a little spring refresh!
I love to come up with new ideas and enjoy how rooms can evolve over time.
We've been mulling over a possible small change or two in this room over the next couple of weeks, too. Design is kind of like playing dominos, one little change seems to lead to everything changing!

I haven't forgotten to show you the new floors in my office! Hopefully this week I'll have the post up.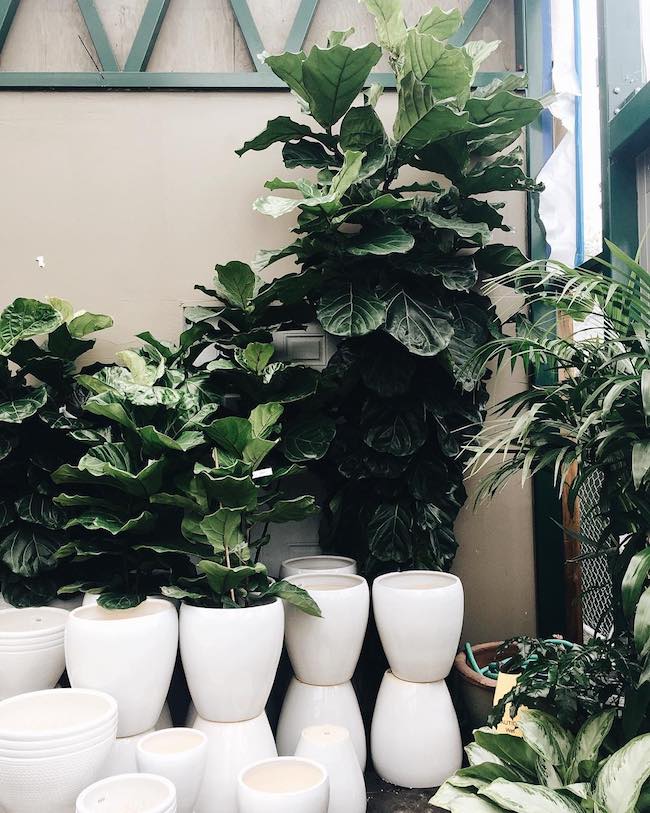 Swanson's Nursery – Fiddle leaf fig goals
Someday I'd love to have a little gardening shed like this in my backyard.
I don't love going to shopping malls, but I absolutely love going to plant nurseries!
Daybed
It's a real wild rumpus when the pups get together every week.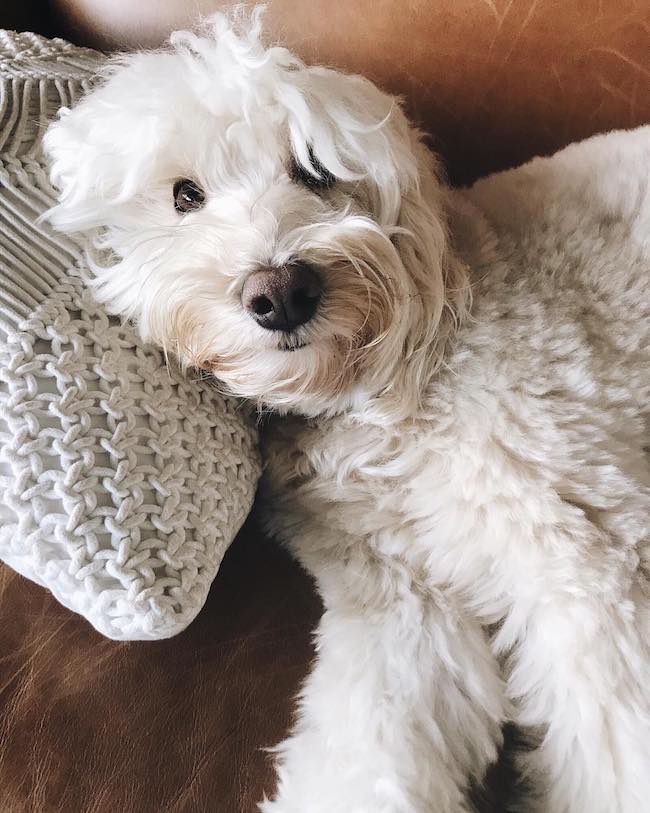 Our Lily has the sweetest face and disposition, she is by far the most calm of our pups.
If you're on Instagram, you can follow all of the pups @doodlesathome or on Facebook here.
Botanical Art Prints from Ballard Designs / Rug / Door color Ozark Shadows BM
Rug / Hardware and all kitchen sources
This sight gave me quite a little fright out of the corner of my eye. :)
You can follow Jack and his antics on Facebook and Instagram, too.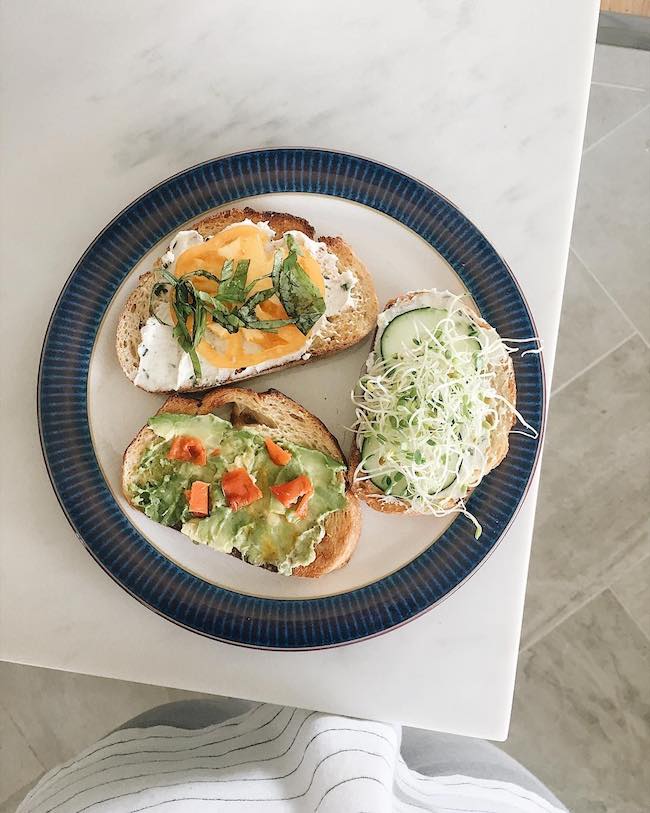 You can follow us on our Pure & Lovely Instagram (@pureandlovelyliving) to get our wellness tips and healthy home ideas. And if you follow my girls on Instagram @kynoelle or @courtneylane1 you will likely even find out where we went to coffee and maybe even what we ate for lunch. :) Because I'm sure you've been dying to know ;)
If you ever have the opportunity to come to Seattle, Kylee uses the hashtag #KyleeinSeattle on Instagram to showcase some of her favorite places to eat, drink coffee and hang out in this beautiful city we call home.
Hope you all have a great Sunday!


See our previous "Life Lately on Instagram Posts": One // Two // Three
You can follow along with our Instagrams below:
The Inspired Room // Pure & Lovely // Jack the Goldendoodle // Doodles at Home // Kylee // Courtney