Sponsored by Stearns & Foster
Guest Room Makeover
Today I am excited to introduce a fun summer makeover project for my guest room. While I love decorating, to me there's more to a room makeover than just adding pretty things. It's about paying attention to how my home feels to be in it. That means planning for comfort. It's about considering all the little details that go into making a room more inviting.
My goal is not only to create a room I love to look at, but one I love to BE in. If you aren't comfortable in the space, you won't want to spend time in it! This is especially true in a bedroom, isn't it? Since you literally spend 1/3 of our life in a bedroom, you don't want to skimp on comfort when designing your dream space.
Quality Counts
You might remember me mentioning a couple of times as I've talked about our master bedroom plans that my husband and I were in need of a new mattress.
We had an amazing Stearns & Foster mattress we loved for 15 + years. We hauled that mattress through two states, four houses and the five bedrooms we had in that period of time (including our old bedroom, pictured above, and our current bedroom). I know you probably aren't even supposed to keep a mattress that long (and no one should move that many times, am I right?), but clearly we loved our mattress.
Serendipitously Stearns & Foster (!) recently contacted me about working on a mini guest bedroom makeover and trying out one of their new mattresses in our home (um, yes and yes!). While we actually aren't quite ready to move a new mattress into our master bedroom (I'll explain the whole saga in an upcoming post!), I was ready to make a few changes in our guest room. It all worked out splendidly to start there.
I prefer to acquire quality pieces I love for my home because I tend to keep them for a long time. Because a Stearns & Foster mattress is hand-crafted with the highest quality materials, it will be in your home for a long time. It will make any bedroom, even a small one, the most luxuriously comfortable and inviting room in the house for years to come.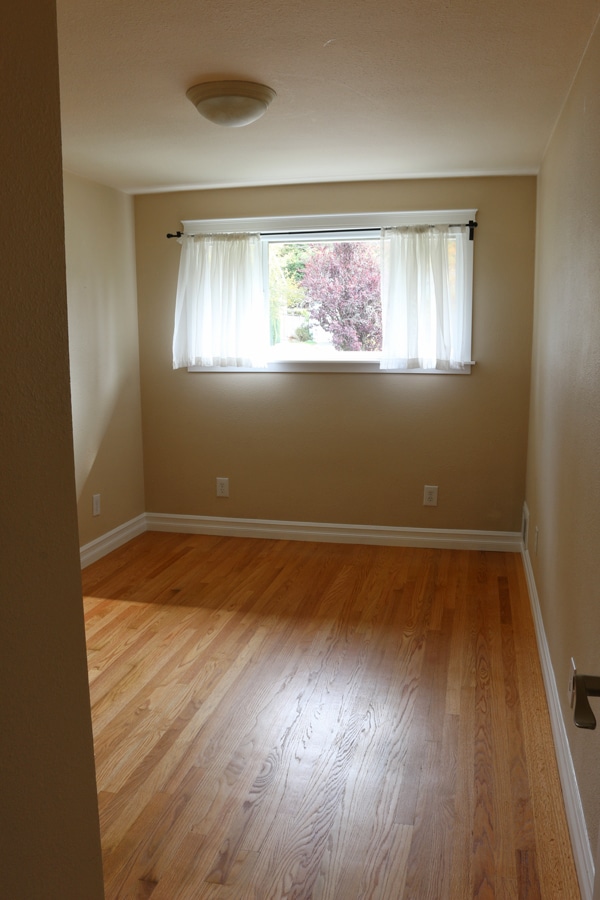 Summer Guest Cottage by the Sea
Remember what our teeny guest room looked like when we moved in two years ago? See the before photo above. It might not have been much to start with, but a blank slate is always an opportunity to make an improvement.
As a starting point last year, we gave the room a fresh coat of paint and added a bed for guests. Seasonal changes are my favorite, so I couldn't wait to make a few summer updates to this tiny room.
We had recently moved the guest room curtain panels to our dining room, leaving us with an empty rod to fill (and an opportunity for a new look). Also, I always try to eventually change out any builder's basic light fixtures in a home to add character. I was eager to finally say goodbye to the boring fixture and give this room some more spunk!
My vision for this makeover is to create the feeling of being in a summer guest cottage by the sea, a place you'd escape for a weekend getaway (and never want to leave!). If you are new here, our home in Seattle has a view of the Puget Sound. A subtle coastal ambience inside ties with the natural habitat outside (even though we are also in the city!). It also really reflects the mood I want for this space.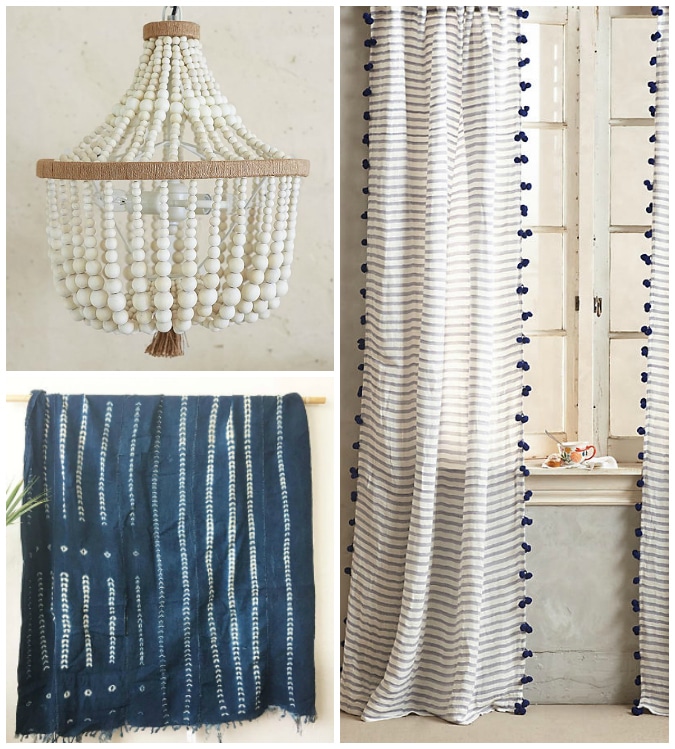 Wood Bead Chandelier // Mudcloth Throw Blanket // Striped Curtains with PomPoms
We put together an inspiration board with the design elements we envisioned for this space (above). I have to say, I'm in totally love with how this room turned out! I can't wait for you to see all of the "after" photos. It is still a small room, but now it has the style, comfort, and personality of a cottage getaway by the sea.
Hold on to your hats, kids! You will get to see the newly refreshed summer guest room on the blog next week.
Click here to enter the HGTV Stearns & Foster sweepstakes. You could win your own new Stearns & Foster mattress and $1,000 for a room makeover!
Visit Stearns & Foster to learn more!
Click here to find a Stearns & Foster retailer near you.
This is a sponsored conversation written by me on behalf of Stearns & Foster. The opinions and text are all mine.