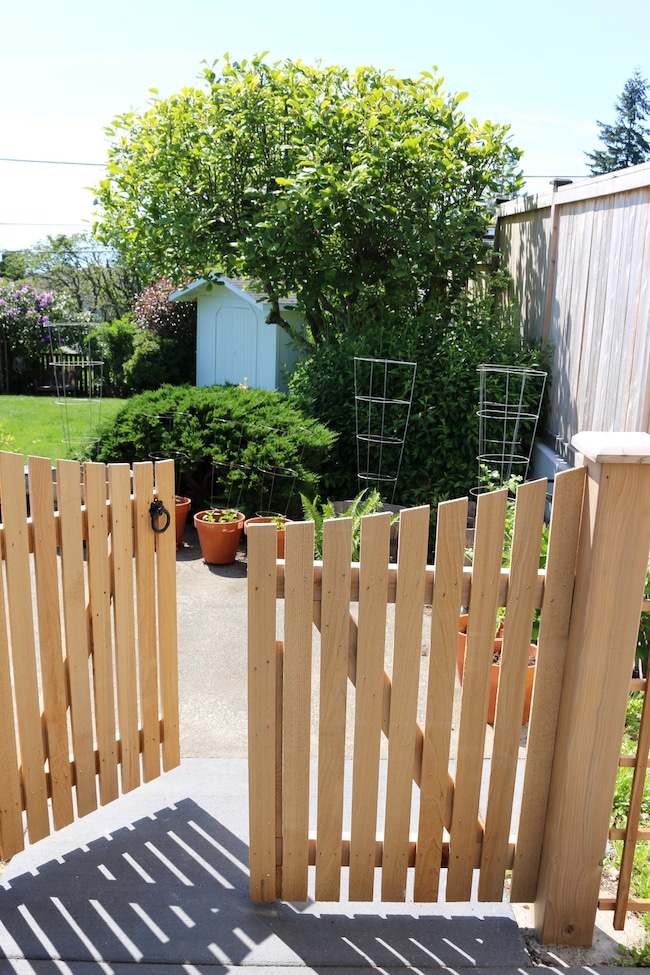 Hello! Today I'm headed to Atlanta to go to the Haven Conference. If any of you happen to be going, I'd love to meet you. I don't go to as many conferences any more (I'm such a homebody!) but about every other year I try to attend one, so this is the year. :)
Awhile back I had a question on what my container garden looks like. I've been actually meaning to put together a proper post about it for awhile, but I haven't done it yet.
But yesterday I started to wonder, what in the world IS a proper post? I don't mind showing you guys the undone or in between stages, and I do that as often as I can. Yet I do find that sometimes I just get an unrealistic idea in my head of what certain posts should be like before I share them. Then that high expectation keeps me from actually DOING what it is I intend to do.
Even if you don't blog, you may relate to this crazy cycle of procrastination or perfectionism in other areas of life, too. I will put some things off because I know I want to focus on them or be able to do them better, when I have more time … later … and then it never happens.
I might have envisioned in my mind that the ideal would be to give you the full tour of my yard (when it was fully finished and weeded, of course) and feature my beautiful container gardens once they were filled with glorious veggies. I'd add descriptions for what to plant and a thorough step-by-step of how to start your own container garden. That would be a great post! Sounds a bit like what Martha would do, doesn't it? Well, I'm clearly not Martha. :)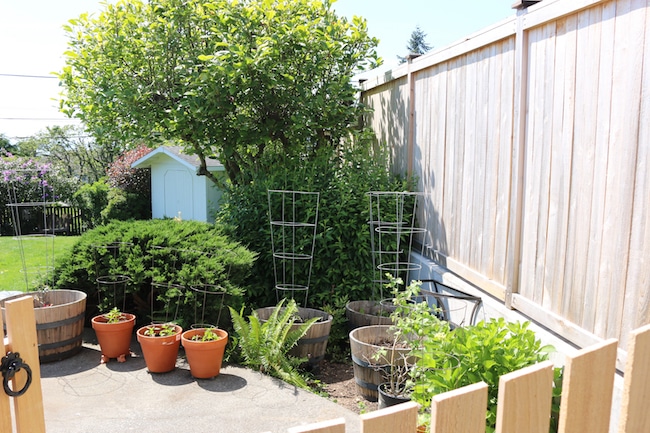 So this is what our container garden looked like when I first planted the pots. I originally wanted to build beautiful big planter boxes, but instead we opted for planting the tomatoes, peppers, and lettuce this year in the (food safe) in barrels we already had (from here years ago). It was so easy!
And I have to say I am so happy that we just went ahead and planted the garden because we've been eating delicious and healthy lettuce and kale for a few weeks now. Soon we'll have tomatoes and peppers, too!
I took these photos on my cell phone just to text to my mom back when we first planted the pots. The photos were never intended to be shared in a blog post since the plants were so small you can't even see them!
Yesterday I was thinking about the sweet reader who asked me about the container garden. Was she asking me to put together a Pinterest ready photo spread of my vegetables as soon as they were lush and ready for picking, or was she just curious to see the pots and hear about the garden? I don't know what she expected, but I know I can sometimes make things more complicated than they need to be :).
So, I told myself that if I can show my mom these photos to give her an idea of what our garden was going to look like this year, I can share them with you all for the same reason.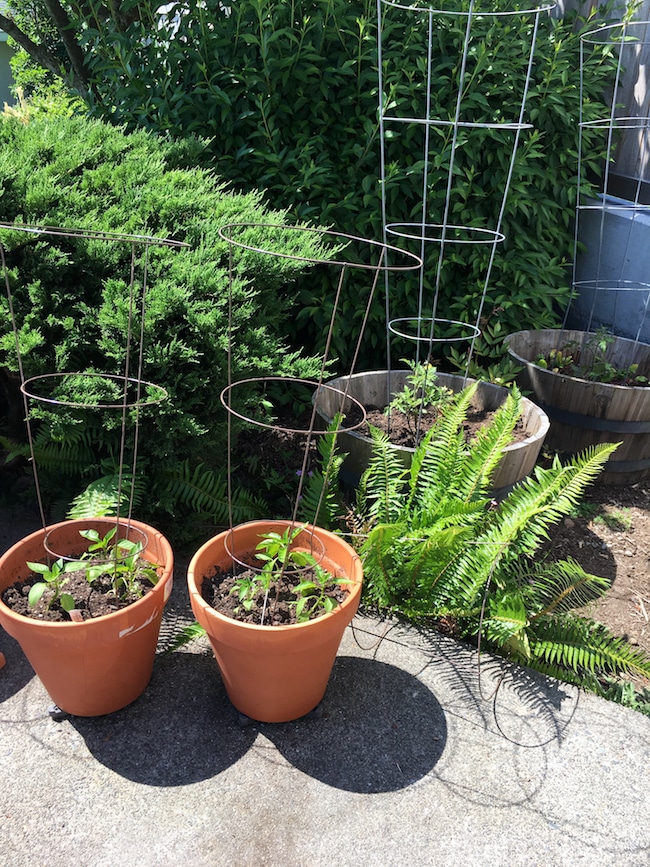 Even though I hope to share more from our yard this summer, at least now you can visualize it before the summer is over :).
If you don't have much room in your yard, or you tend to make a project like planting a garden more complicated than you have time for, a container garden can be a simple solution.
We bought organic plants and soil so we know what we are growing for our family is as healthy as it can be! It's fun to "live off the land" and prepare meals from our own humble garden.
You can find similar barrel planters online here (or the ones I have) and similar vegetable cages here.
One last thing for today, I just wanted to thank you guys SO MUCH for your help in voting for our rug designs. You guys are amazing!
The competition is over Thursday and as I'm writing this, the striped rug with the cross trim IS in the top ten, but it definitely needs more votes to have any hope of staying there. The starburst rug isn't currently in the top ten, but it is SO close that we could get there if everyone who hasn't voted yet felt inspired to give it a quick <3 via the links below!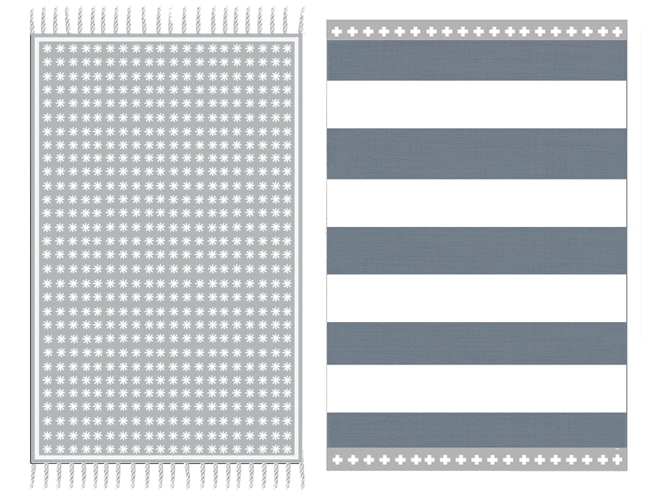 Stripes: https://instagram.com/p/BWNSuZ_DMkF/
Starburst: https://instagram.com/p/BWNSseJDyOC/
It's so easy to vote, it is just a click and then heart. If you have a few friends you could ask to help vote, too, we would be ever so grateful. The top ten rugs will be produced in 2018 by Dash & Albert, so it would be a complete dream come true for us! Thank you, sweet friends!