I have always loved the principle of form + function in design. I find that when my useful and practical household items are attractive, I actually enjoy those every day tasks like cooking, cleaning and tidying up around the house a bit more.
When functional items are pretty enough to be out in the open and the house still looks tidy and pulled together? That's a home decor lovers' dream.
So as a part of my "fall nesting" rituals I start assessing ways to bring more form and function to our everyday tasks.
I'll be honest, one of my personal pet peeves is ugly smelly sticky germ-filled trash cans. I know, ew, right? Even worse is seeing a messy trash can sitting out in an otherwise lovely space.
I don't know about you, but I find juggling messy food, plates, and opening trash or recycling can lids to be a risky and messy situation. It just is. So what can we do about it?
When simplehuman contacted me about trying out one of their new sensor cans, my heart started to pitter patter. I've actually had simplehuman cans in our home for years (their lidded cans are perfect in our bathrooms for keeping pets out!). simplehuman is known for their high-quality design and innovated products, but they have introduced another dimension of ease and efficiency with this sensor can with voice control.
This sensor can with voice control allows users to open the can at their command, whether they're rushing over with a dripping mess or simply tossing a paper towel from the sink. You ask it to open and it does! I am not even kidding you. Check it out for yourself in our little video demo, above.
Can you even imagine how much easier it is to open a can on command and deposit messy things inside without dripping stuff everywhere?
It also has a motion sensor with an extended range of access for quicker, effortless use, while the voice sensor adds more range and versatility.
Who knew you could fall in love with a humble trash can? This can truly is a dream for anyone who loves design and a mess-free, germ-free experience, too.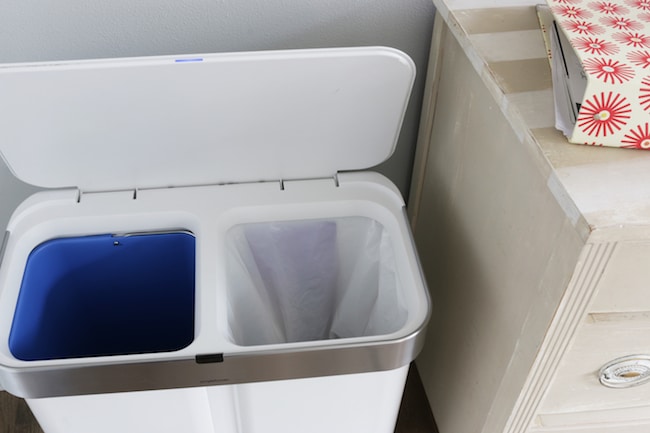 Imagine how it could help you avoid these mess makers and other potential kitchen disasters:
Dripping coffee filters
Cracking eggs
Tossing trash from the sink
Dripping meat or food containers
        Messy hands while cooking 
I would absolutely put one of these cans in my kitchen, if I had enough space for it. In fact, honestly I would have MADE room for it had I known it existed. It's that awesome.
But, I love having it in my office. It would be wonderful in a laundry room or bathroom, too. It's pretty, so convenient for everyday needs and makes tidying up a breeze.
Here are some other neat features I love:
I love that it has dual compartments–one for trash and one for recycling. I chose this can for that very reason! It's so convenient to have the two separate compartments.
The liner pocket conveniently located inside the can makes changing the bag a breeze! It makes for quick and easy dispense when taking out the trash.
It's easy to place anywhere! 6 AA batteries lasts up to 3 months, or there is an adapter for electric operation.
I love that this can is energy-efficient.
My favorite thing is when products work well and last for years! This can is engineered and tested for years of dependable use.
When idle, the sensor range is focused right above the lid, so it only opens when you want it to. Once activated, the sensor area expands, so the lid stays open until you are finished with your task or have walked away from the can!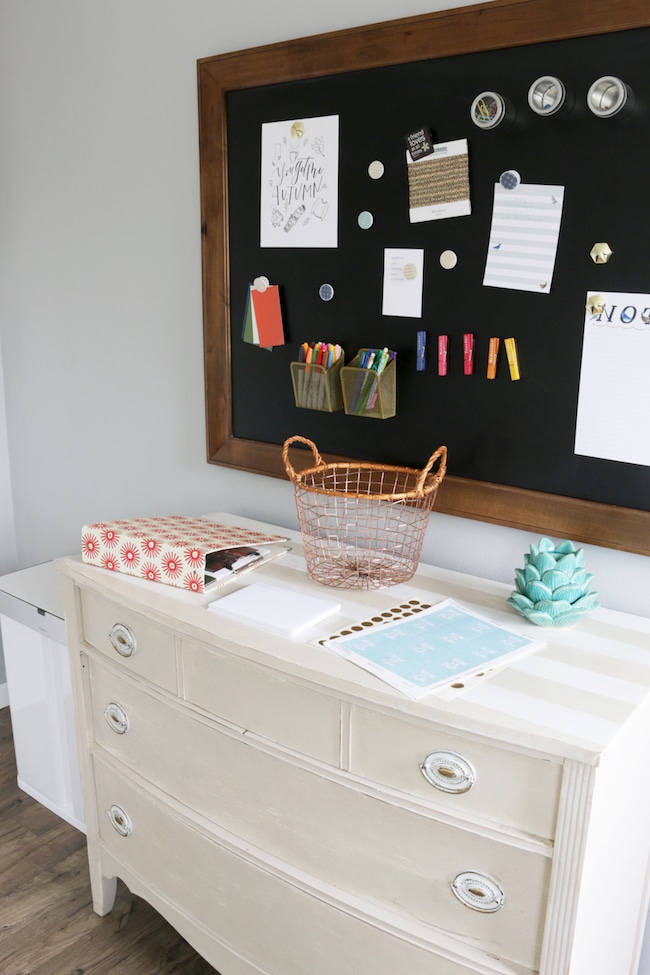 Want one of these beauties for your home?
Get one HERE (and see the other finishes and variations!)
***THIS GIVEAWAY IS NOW CLOSED!***
GIVEAWAY!
Alrighty, friends. Let's talk trash, shall we?
Comment below and tell us your dream household innovation or favorite simplehuman product to be entered for a chance to win the same trash can I have!