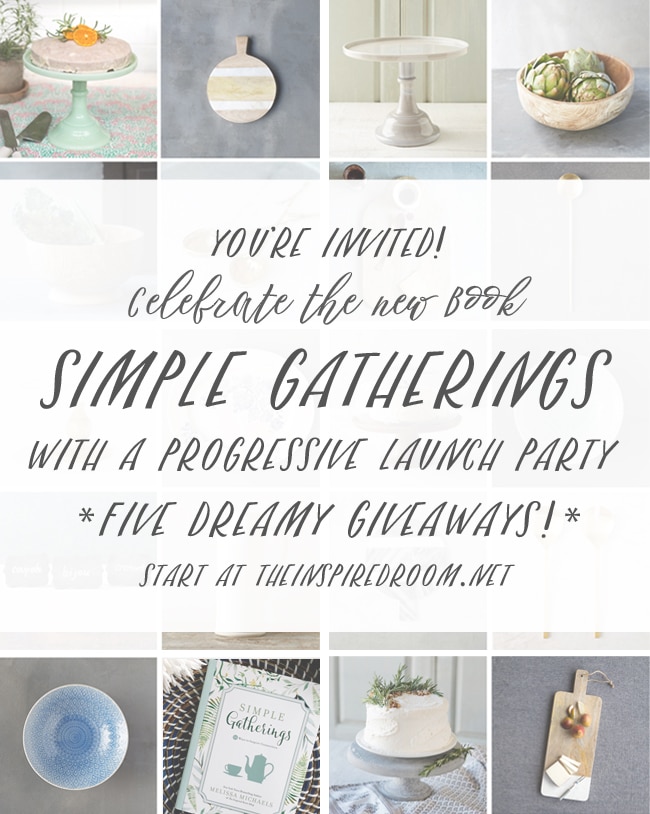 What an exciting day! My new book, Simple Gatherings, has been released into the world. If you do not have your copy, you can grab one today through Amazon or Barnes & Noble or ask about it at your local bookstore!
I hope Simple Gatherings will be an encouragement to all of us to be more confident and intentional about opening our homes. Now more than ever, I think we all crave a safe and welcoming place to gather for genuine community.
Five Giveaways!
Today we are celebrating the launch of Simple Gatherings with a "Progressive Party." Five lovely friends have invited us to gather on their blog for a fun celebratory giveaway (all five unique giveaway sets are sponsored by my AMAZING publishing team at Harvest House!).
You guys, every single prize is my favorite. Each one is so versatile for hosting! You can enter all five giveaways and possibly even win more than one set of prizes! The sources are all listed in the scrolling bar at the bottom of this page.
***At the bottom of this post you'll find source links for the prizes.
What is Simple Gatherings?
Inside the book you'll find lots of tips, ideas, photos and inspiration for creating an inviting atmosphere and hosting a memorable gathering.
Yet, Simple Gatherings is about letting go of the stress and expectation of hosting a Pinterest-perfect party.
Simple Gatherings encourages you to find more joy in your own style of preparing for and welcoming guests into your home.
Launch Party & Giveaways
In addition to getting to know each of our hostesses and entering the gorgeous giveaways today, you'll have the opportunity to take a fun hostess personality quiz through any of the host blogs. Our hostesses will share their style and you should find some fun conversations in the comments of each blog, so I hope you'll join in!
So, without further delay, below is the list of the five wonderful hostesses who offered to host our launch parties. Click through to visit each and enter the giveaways. I'm so thankful for these ladies and their generous hospitality. 
You'll find a link to each giveaway at every stop along the way, so don't worry if you began visiting the party on another blog. You can visit and enter giveaways in ANY order, but don't miss a single stop!
Thank you for gathering to celebrate with me, sweet friends.
I'm grateful to every single one of you (readers and bloggers alike) for the welcoming and supportive community you have created for all of us online!
1. Click here to visit Jones Design Company
2. Click here to visit Home Stories A to Z
3. Click here to visit Reluctant Entertainer
4. Click here to visit Rooms for Rent
5. Click here to visit Balancing Beauty and Bedlam
Below are the source links for the lovely hostess giveaway prizes!

Enjoy!!!
Grab your copy of Simple Gatherings at Amazon or Barnes & Noble!