This post is in partnership with Blue Apron // The first 25 people to sign up here will get 3 meals free!
After all the meal planning and shopping we did for our Thanksgiving holiday, we are ready to just relax and chill. Well, except we have to gear up again for Christmas! We are thrilled to host family Christmas festivities at our house this year, so we are actually looking forward to it.
But in the meantime, we will need to eat. I know! Imagine that. Especially our teen son. You don't skip or skimp on meals with teens in the house. Am I right mamas?
Interestingly enough, our son has picked up really good eating habits so he's not at all a junk food eater. That's wonderful, but it means we don't have a lot of pre-packaged food in the house.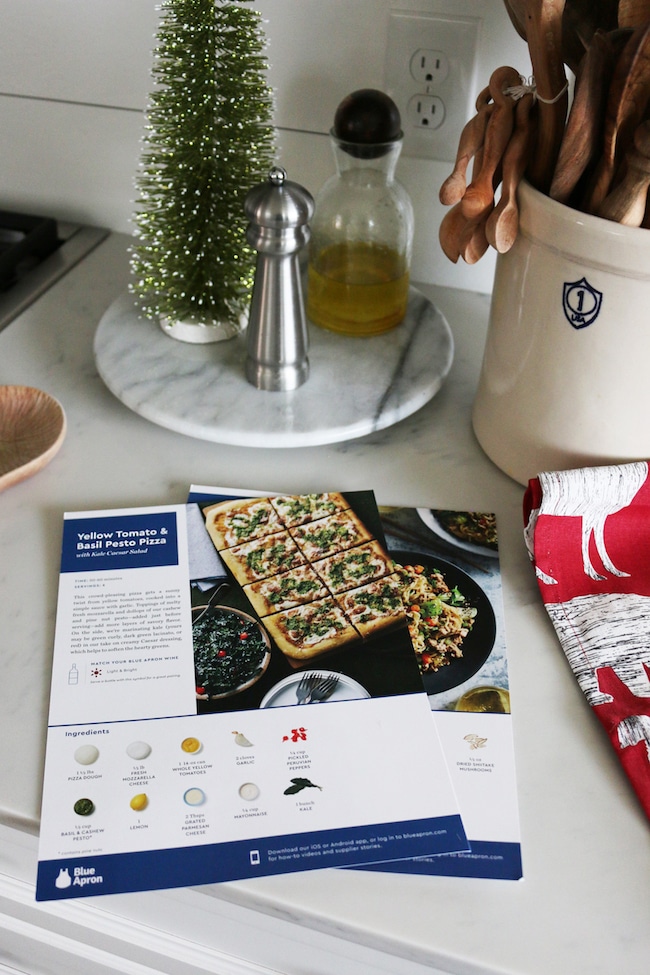 I'm pleased to say that he will actually MAKE meals if we have the ingredients on hand and ready to go.
That's one of the many things I love about our Blue Apron deliveries. We can schedule farm-fresh ingredients for  delicious meals to be brought right to our door. It arrives in a refrigerated box so it stays fresh even you aren't home when it arrives. It doesn't get any easier than that!
Good food in the house means happy teens and happy mamas. No crankies!
This week with our Blue Apron ingredients we made Yellow Tomato & Basil Pesto pizza and it was SO GOOD! Everyone was happy.
Even Jack thought making pizza was a grand idea.
It's such a relief to me as a busy mom when we are prepared and don't have to scramble to figure out dinner. I'm usually thinking and creating all day for work so when the day is over, I like to be done! I just want to fix dinner and eat, not have to figure it all out.
The ingredients are labeled and pre-measured so you don't even have to think. And there's no waste!
You just wash and chop the fresh ingredients you need for that meal.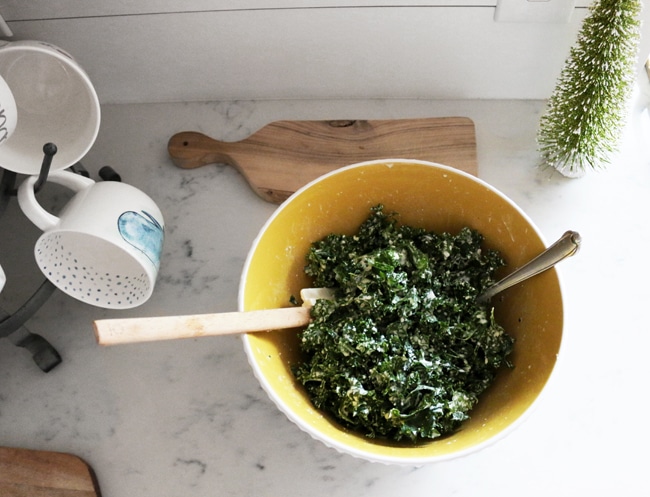 Fresh and yummy kale salad!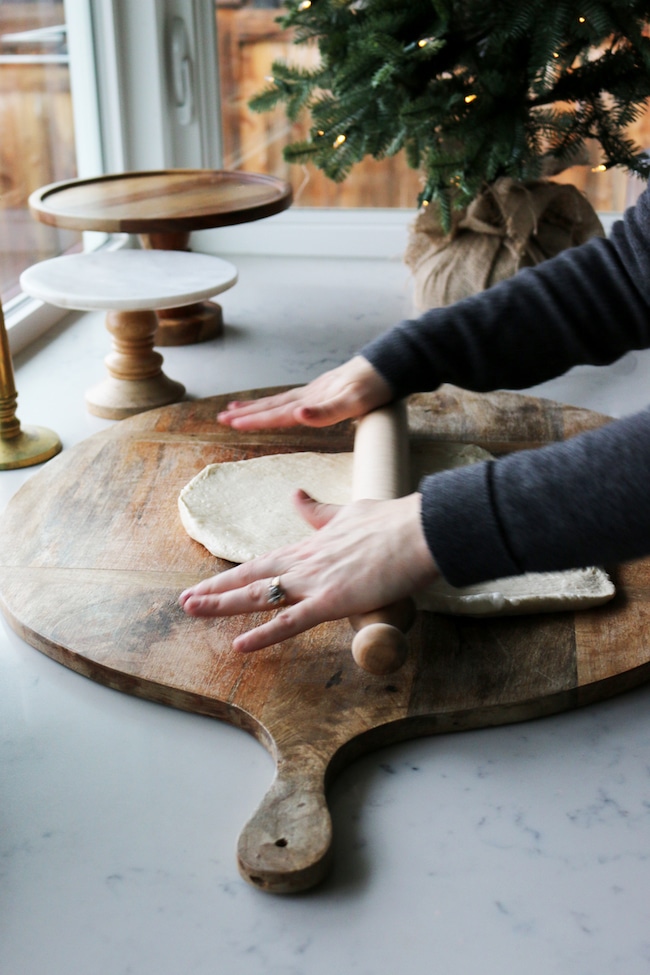 Follow a few simple steps on the printed recipe card and before you know it, your dinner is in the oven.
Your house smells amazing.
And best of all…
You get to eat really good food.
Your family is happy.
It's a perfect solution for those of us who really need to be mindful of time management in this busy season. No one wants unused groceries going to waste in between traveling and family get togethers! And if you want to cook healthy food at home more often like we do, you'll be able to do that easily with Blue Apron. Perfect for all of our upcoming New Year's resolutions!
You get eight recipes to choose from each week and you can choose any combination of recipes you'd like! Each meal takes under 40 minutes to prepare. Choose from a 2 person or family plan to suit your family size.
When you are done with the Blue Apron box, you can use the recycling locator to find recycling options in your community or return your packaging for free to Blue Apron via USPS! It's easy!
Want to try it? The first 25 readers to sign up will get 3 meals free on their first Blue Apron order! You can cancel anytime.
Just click here to claim your free meals!
Enjoy!